Gartner Supply Chain Executive Conference 2019 Part 2

I am back with part 2 of my trip report on the Gartner Supply Chain Executive Conference in Scottsdale, AZ - this week focusing on a summary of key breakout sessions. That after a column focusing on some overall commentary and the highlight of the keynote presentations this year - which were frankly less compelling compared to most previous years due to a total lack of, well, supply chain executives on the main stage. (See Trip Report: Gartner Supply Chain Executive Conference Part 1.)
Nevertheless, this conference continues to grow and has become a major force and venue in the supply chain, perhaps as much to see and be seen as for the content.

GILMORE SAYS:
I learned in this session that in many poor countries, recycling is performed by something call "waste pickers," who roam trash dumps look for materials that can be sold to recyclers.


WHAT DO YOU SAY?
As noted last week, a number of breakout sessions are sponsored by vendors and therefore have a commercial slant. They can be OK, especially if they include a user case study, but given all the other sessions I attend I skipped the vendor sessions again this year.
I will note Gartner also had some breakouts that last just 30 minutes, versus the usual 45. I thought that might make for a better experience by focusing the content to just the essentials, but I found they are simply too short to really deliver much value.
Also, in recent years far too many Gartner breakouts involved reviews of various maturity models Gartner has developed over many years, to the point at times I thought "enough of this already." Thankfully, I experienced little inclusion of the maturity models this year.
As always, even the sessions led by Gartner analysts are a mixed bag. I will say in a couple of cases inadequate descriptions of what the session was all about led me to attend ones I would have foregone for something else if I had well understood the focus.
All that said, here are summaries of some of my favorite sessions:
In one of the short 30 minute sessions near the end of day 1, Gartner analysts Dwight Klappich and Simon Tunstall presented the just released "Magic Quadrant" for Warehouse Management Systems.
The MQs of course are Gartner's way of ranking technology vendors and sometimes service providers for given product categories along a variety of factors, and the WMS MQ always seems to gain a lot of interest. The chart with the famous "dot placement" for vendors is reserved for Gartner clients, but at the conference Klappich and Tunstall cited three trends in the very mature but nevertheless thriving Warehouse Management market.
Those three trends are:

Workforce optimization: Beyond traditional Labor Management Systems (LMS), WMS capabilities increasingly include the smart allocation of DC workers initially and throughout the day to the right jobs and processing areas. The interest from shippers, Gartner says, is driven by labor recruiting and retainment challenges more than the cost of labor.
Use of artificial intelligence and machine learning in WMS: This is being driven by the huge amounts of operational data WMS spin off. Is there some gold in all those DC transactions?
The rise of Warehouse Execution Systems (WES): Once just province of specialty vendors focused on utilization of materials handling equipment, WES capabilities are being release by traditional WMS providers - which may have some advantages in terms of seeing the full picture of DC operations.
Next, the best breakout session title for sure was one from Gartner analyst KC Quah, which he called "The End of S&OP as We Know It."
The session itself didn't completely live up to the provocative title, but was good enough. Quah said several trends were bringing dramatic change to the now decades old basic S&OP process model.

Those include:

Digital revenue models, such as anything now positioned as a service, where customers pay for using equipment versus buying it. Quah said that the revenue stream might be more volatile than normal sales, bringing challenges to the financial planning aspects of S&OP. I am not so sure about that - think subscription revenues might actually be more predictable.

Quah also cited "circular economy practices" (see below) as a change agent. I am not so sure on this one either - think this area will have minor impact on S&OP.

Next, Quah noted the growth autonomous decision-making by supply chain software, and I will agree with that one. If AI is making all the forecasts, as it is apparently doing at German etailer Otto with great results - who needs the demand planning step as part of the S&OP process?

Quah believes technology will take over aspects of traditional S&OP processes, even as new visualization, automated scenario analysis and AI tools that find plan gaps change the dynamics of S&OP meetings.
Quah believes it will take at least 3-5 years for these major process alterations to occur - there is too much resistance to change - but will be commonplace in 10. I will simply say the speed of business today may indeed make many current S&OP processes obsolete.

I also attended went to a session on the aforementioned circular economy, which turned out to be very good.

As you may or may not know, "circular" all about reducing waste. It involves moving from linear model of sourcing raw materials, making something from that, using the end product and throwing away what's left, to a model where you reclaim, recycle and re-use products, which can then also be the source for making the products themselves.

It's a big issue: waste expected to grow from about 2 billion metric tons currently to 3.4 billion by 2030, with most of growth coming from Africa and South and East Asia.

I learned in this session that in many poor countries, recycling is performed by something call "waste pickers," who roam trash dumps look for materials that can be sold to recyclers.

Paulette Frank of Johnson & Johnson did a nice job summarizing the company's efforts to reduce waste and improve the lives of these trash pickers in Brazil.
Long story short, J&J invested in a basic facility and some equipment to move trash pickers into a building and create a real process. It then lined up a couple of recyclers who would agree to buy the materials, now far more efficiently collected, who would then sell the recyclable materials to J&J suppliers - but it's not easy.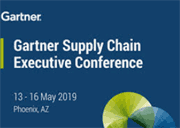 For example, J&J is adhering to something called the SA-8000 standards that specify a bunch of strict guidelines for how employees are treated. J&J found that proved a barrier to getting these recycling co-ops off the ground, and that it was better to relax those standards to enable real improvement in the workers lives for many versus something better for a very few.

But end of day J&J has only been able to stand up a few of these facilities. Frank sees hope and is working to certify sources globally, and allow more manufacturers to tap into these resources.

Finally, my friend Greg Aimi of Gartner led another short (too short) session ideas for logistics cost optimization. He made point there is big difference between short-term cost reduction and strategies to build a truly lower cost logistics operating platform.

He said it is useful to consider three levels: short-term operational improvements, from things like reducing waste, renegotiating with carrier contracts, making sure routing guides being followed, etc.

There are also medium term opportunities that he categorizes as "reconfigurating" current strategies. That might include things like increasing focus on metrics that really drive cost reduction, modest network changes, and working with 3PLs to identify cost reduction opportunities.
Longer-term are more transformational programs, and are associated with requirements to make some real investments to get there. Includes adopting new technology, big revamps of the existing network, etc.

My takeaway: it's useful to have portfolio of initiatives across all three levels and time frames.

I attended a few more but am out of space. Hope you have enjoyed this summary of Gartner 2019.


Any reaction to this summary of Gartner breakout sessions? Were you there? What did you think? Let us know your thought at the Feedback button below.