Trip Report: Gartner Supply Chain Executive Conference 2019

Thankfully, I am now at the end of the Spring conference season, after a number on the road. It's actually hard work, since I attend virtually every session available, often do daily video reviews, etc., but in the end it's really worth it because so many readers enjoy these summary reports.
This week, I was out West for the Gartner Supply Chain Executive Conference, as usual in Scottsdale, AZ at the beautiful JW Marriott Desert Ridge - perhaps for the last time. More on that in a moment.
Thousands of you watched my daily video reviews, which you can find here: Gartner 2019 Day 1 and Day 2.

GILMORE SAYS:
Hinssen noted how much platform leaders, from Facebook to Alibaba, are leveraging consumer data and that if your not on that train you will be left behind.


WHAT DO YOU SAY?
As many know, the Gartner conference is rooted in the same basic event that was started by AMR Research back in the 1990s. After Gartner acquired AMR in 2009, Gartner infused additional organizational and marketing muscle into the conference, largely to the good. I am sure the event is now much more profitable for Gartner than it ever was for AMR.
Gartner can really throw some muscle at this - it said it had more than 50 analysts at the event, simply a huge number.
There were more than 2500 attendees this year, up from 2200+ last year and 1500 or so a couple of years ago. What percentage come from vendors/consultants versus regular supply chain professionals I am not sure.
Clearly the event has some momentum, though all told I felt the content was again a little down this year. That included not having a supply chain executive as a keynote speaker in the first two days, when it was the presence on stage of supply chain executives that was part I believe of what propelled the conference upward in recent years and made it the increasingly popular event for executives to attend.


Momentum feeds on itself, and right now, whether you believe the content is outstanding or just OK, the Gartner conference is the place to be seen, especially for supply chain technology vendors and consultants.
It's also important to understand that a good percentage of the breakout sessions are sponsored by various technology or consulting vendors, and the price tag isn't cheap, some $100,000 for a sponsor package that includes a presentation slot. But Gartner doesn't seem to have difficulty filling the sessions with sponsors, and the sessions are well attended from what I can tell. I usually skip them unless there is an especially interesting topic or end user case study, as three or four breakout sessions per day not vendor sponsored are enough for me.
The theme of this year's conference was "A New Era: The Convergence of Physical and Digital Supply Chains." I will just quickly note that was the almost identical title from an outstanding presentation by John Phillips of Pepsico a couple of years ago at this same Gartner conference, which in fact was later cited as SCDigest's presentation of the year. This is the second year in a row that theme was around digitization, after two years of "multi-modal" themes, which involved the need to be both efficient and innovative in supply chain at the same time.
All told there was certainly a lot of content presented. This week, I am going to focus on the keynotes, and will be back next week with highlights of some of the breakout sessions.
The opening day keynote featured Gartner analysts Amber Salley and James Lisica on the conference theme. It was entertaining enough but would not say really ground breaking. Both made the point that most companies don't really have the infrastructure or ecosystems in place to aggressively move forward with digitization, even as surveys keeps saying digitization is high on the CEO priority list.

Which to me always begs the question: what is supply chain digitization? It is often defined from my view not as some holistic thing but rather as a collection of technologies: AI, advanced analytics, robots, drones, IOT, etc. We can do better.

An interesting point by the Gartner analysts is that today, much of the work being done to support digitization is really about getting current systems - ERP, supply chain planning and execution, etc. - up to speed to provide a platform for all these next generation digital technologies. Given where companies are really spending, I wonder if pace of going digital is perhaps not as rapid as we might think.

I did like Garner's framework that as we move from the last era to this new digital one, we need to evolve the focus in several key areas, such as on building ecosystems not just integration, and move to autonomous from automated, and to synchronized from optimized. I think that evolution sounds right - but that we may be further from this new state of affairs than might generally be thought.

Also, Gartner's Salley is optimistic employees replaced by AI and robotic process optimization can be redeployed for new tasks that require more human skills. That will be true for some, but I am afraid not the case for many more, where else is the ROI from investing in the automation tools?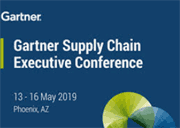 The external keynote on the opening day was from advertising maven Linda Kaplan Thaler, who took some unconventional approaches to grow her business from nothing to a major force in the industry in just 10 years - including creating the famous AFLAC duck commercials.

It was entertaining presentation for sure, and she said whether for a person or a supply chain you need GRIT - guts, resilience, initiative and tenacity. That's a nice framework, and Thaler believes the US has lost some of its grit in recent years, in part due to the movement to build self esteem in our children no matter what they do that started a 2-3 decades ago.


Thaler had some nice advice - get conformable being uncomfortable in this crazily dynamic world; break large, seemingly impossible problems into a series of smaller ones; move the spot light to include others in your smart ideas; return to making more small talk - it's how you create relationships with others in the smart phone world.

She says the evidence clearly shows that the most successful people are the ones that take the biggest risks. Is that true of supply chain too? Probably not in the same way, but there is probably some truth to it as well. It was a good, entertaining presentation, though little connected to supply chain.
The Wednesday opening keynoter was entrepreneur and innovation consultant Peter Hinssen.
Hinssen's message was not that different than all the other speakers I have seen on digitization and innovation, that is, you are at risk of being disrupted, you need to fail fast, you need to build an innovation culture, etc. That said, Hinssen was very entertaining and funny.
I liked his analogy that for companies right now it's much like much like "A Tale of Two Cities" being both the best of times (innovation, role of supply chain) and the worst of times (threats and pace of change.)
Hinssen talked about need to think and plan for not today, not tomorrow, but the day after tomorrow. But he cited research showing 93% of effort is today, 7% tomorrow, and 0% for the day after tomorrow. Based on feedback he got from one executive, he added in the effort of dealing with the crap from yesterday, which drew a good laugh.
Some good takeaways: companies need to develop fluid processes from static ones; you need cognitive diversity in innovation teams, and it is good to think of innovation in terms of an hour glass. At the top - look broadly at a lot of ideas; but then just the best ones make it through the pinch point and move to execution for trial and then scaling. Hinnsen said the execs good at leading the top part of the hourglass process may not be good at the bottom half, and vice versa.
Finally, Hinssen noted how much platform leaders, from Facebook to Alibaba, are leveraging consumer data and that if your not on that train you will be left behind.
I am out of space. Colgate-Palmolive topped the best supply chains list for 2019. More on that, and the best of the breakout sessions, next week.

Any reaction to this Gartner conference summary? Were you there? What did you think? Let us know your thought at the Feedback button below.