Year of Living Distribution Dangerous Redux

In 2008, I wrote my first version of this column upon the 10 year anniversary of a very interesting - to put it mildly - more than a year I spent helping to design and implement a new Warehouse Management and carton sortation system at totes Isotoner. Here in the year of the now 20th anniversary, I thought I would repeat the story, with a few more details thrown on.

Current SCDigest Materials Handling Editor Cliff Holste and I led the design and implementation of the project throughout 1998, then both working for systems integrator Forte Industries, recently acquired by Swisslog.

My family still calls it the "lost summer," as I for a period I was working seven days most weeks and hellacious hours. The good news is that forced my wife to do all of the lawn mowing - a trend that happily continued for many years.

GILMORE SAYS:

In the end, we made it through the Christmas shipping season, not as efficiently as we had hoped, but I was told still in total at a very attractive cost versus the three DC comparisons.


WHAT DO YOU SAY?
The project started when totes, the iconic umbrella maker (at the time was owned by private equity company Bain Capital) was presented with the opportunity to buy slipper/glove giant Isotoner away from Sara Lee - at a very attractive price. Isotoner at the time was one of the best brands in retail, but its operations were a mess and, as a result, also its bottom line.

This enabled totes not only to negotiate a great price, but see huge opportunities to reduce supply chain costs, especially in distribution, where Isotoner's ratios were totally out of whack.

We visited an Isotoner DC in Edison, NJ where you could barely walk through the facility for the number of workers in the place. I am pretty sure we were told operators peaked at an astounding 800 during the Christmas shipping season. Many were doing light repairs to product that had come into the DC from Asia with quality issues.

In the other Isotoner DC in Greensboro, NC, workers stood in long lines to get assignments from supervisors sitting at folding tables - despite having a WMS. The manager had left by this time, and in his office we found retail chargeback notices from major department stores laying here and there that would make your head spin - one for $180,000, I remember.

The result was a plan for a new, combined 500,000+ sq. foot facility consolidating one totes DC and the two from Isotoner in a distribution park in northern Cincinnati. New WMS and RF for the first time in totes' operation. There would be high-speed carton sortation, fed by an innovative split case picking system, designed by Holste. There was also auto print and apply of UCC-128 shipping labels for the retailers.

All this on a fast track. We started planning in late 1997 for a building and system that was to be live by early July 1998, right before peak season kicked in.

There were lots of troubles.

The shuttering of the Isotoner DCs, especially in Edison, was not handled well, and almost delivered a fatal blow. The full case picking system was to rely on reading case-level SKU bar codes to trigger the print and apply. Operators working out the string in Edison under a manager who did not understand the impact wound up frequently labeling cases for delivery to Cincinnati with different numbers of items (12, 24, 36) of a SKU using the same case bar code - a situation not realized until the inventory had largely been received and putaway in the new building.

This was simply a disaster, with a workaround of sorts eventually implemented where full case pickers stopping at a check station before placing cartons on the conveyor system, where Isotoner items were often repacked or relabeled. It mostly worked.

Totes had very heavy split case volumes, with thousands of SKUs - the bane of soft goods companies with style, color, size attributes for base items. Holste designed an automated system where cartons were routed to any of 24 zones in zone picking sequence, with cluster picking of short "trains" of cartons used in each zone, from where they moved on to the next zone or shipping. That design has become more common today, but was very new back then. The WMS provider had never seen it. Most companies used a straight pick and pass approach.

Ultimately, we made progress. Crucial was the very capable Doug Baker, then director of engineering, now still VP of operations at totes. Very smart, relentlessly logical.

We tried training the trainers. Then director of distribution Dick Jeans put together some very nice training/process materials - none of which was enough, of course. There were totally new processes across every area of a 500,000 sq. foot building. I spent countless hours helping out process areas and individuals, sometimes stationary at a "help desk" in the middle of the DC that for weeks was always busy with a long queue.

I learned you determine pretty quickly which existing supervisors "get it" and those for whom the change from the manual mode is just too much.

Carton cube data of course was not very good. That led the WMS to occasionally build pallets at the end of the sorter diverts that wound up to be nine or ten feet tall. Sometimes, you just had to laugh.

The WMS had all sorts of problems, a whole story in itself. Changes to code were being made on the fly. Sometimes they worked, sometimes they didn't.

I went "native." I rarely went in to my own office at the systems integrator. I became part of the totes team, and in fact the CEO suggested that if I happened to be looking for something new...I had an entry card of course and pretty much had the run of the place. On Labor Day weekend, they gave everyone Sunday and Monday off after two hard months, and I was in the WMS "war room" by myself on Sunday morning cleaning up some things when the CEO stopped by. We were the only ones in the building, and had a nice chat.

The weekend before the scheduled go live in July, we planned a physical inventory, and there were big WMS problems, despite "testing" by a major consulting firm that frankly added almost no value to the process.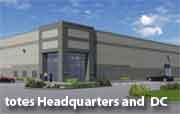 I left late that Sunday night, and actually slept enough that I didn't get back until 8:00 am or so. When I entered the office area, my usual route in, I saw a couple of the IT guys looking ashen. I never fully understood what happened, but somehow in the tiredness and stress, the original inventory file had been blown away, with no new file to replace it due to the WMS problems.

A modestly dated copy was eventually recovered from an offsite tape backup later that day. So "go live" became "go home." We finally shipped a very small order at about 10 pm that night. There at the time were Baker, Holste, myself, Jeans, one order picker - and the CEO. He wanted to see an actual order shipped and billed. He even applied some UCC-128 labels and scanned a few bar codes.

On that first order - and several thereafter - the picker hilariously showed up with a pallet with just one carton on it, because the WMS had been configured to "empty location" as its first allocation criterion. Again, you had to laugh.

Somewhere along the lines, the VP of operations, whose name I will keep private, had in effect a nervous breakdown. Though he returned to visit a few times he never came back to work. You could say we all had some stress.

In the end, we made it through the Christmas shipping season, not as efficiently as we had hoped, but I was told still in total, at a very attractive cost versus the three DC comparisons. It got much better still the next year.

Towards the end of all this, I accepted a job as an industry analyst with META Group, later bought by Gartner. They wanted me to start right away, but I told them I couldn't possibly leave until the Friday after Thanksgiving, the date when traditionally nearly anything going to retail for the Christmas season had to be out the door. It was hard to leave after what actually was probably the most memorable single year of my life.

Everyone should have such an experience.

Do you have any similar sorts of project stories you can share? Any funny things that you have seen happen on a major project in your company or as a vendor/consultant? Let us know your thoughts at the Feedback button below.