The Gurus Are Back! 2018 Supply Chain Predictions, Part 2

OK, we're back with another set of supply chain guru predictions for 2018.
That after some great observations and prognostications last week in this column from Dr. Mike Watson (OpEx Analytics/Northwestern), Gene Tyndall(Tompkins International) and Mike Regan (TanzAc Technologies).

But we have even more gurus here this week with some equally excellent insights. So let's get right to it, in the order I received them.
GILMORE SAYS:

While cost per unit, total delivered cost, and other cost reductions will always be critical factors in where to produce, Gopal says, emerging as the most important decision-drivers will be risk, control and market proximity.




WHAT DO YOU SAY?
Marc Wulfraat, president of MWPVL International, is one of the more interesting supply chain consultants out there. In addition to his normal work in supply chain and logistics, he has carved out a great niche as the foremost expert in ecommerce fulfillment generally and Amazon and Walmart specifically.

Wulfraat notes that in 2017, Moody's Investor Services identified 26 distressed retailers with troubled financials that could make them potential bankruptcy risks. The number represents a stunning 19% of the retailers that Moody's tracks and it surpasses the list of 19 recorded at the peak of the Great Recession. It is likely to get worse in 2018, even here in good economic times, Wulfraat adds.
"This profound turbulence in the retail landscape is not just about distressed retailers," Wulfraat says. "Talk to any major retailer with a healthy balance sheet and the story of the day is that the business is shifting from away retail to on-line, and that store closures are being planned."
He notes for example the recent announcement that Walmart is abruptly closing 63 Sam's Clubs stores, of which 10 will be converted into regional ecommerce fulfillment centers.
In the face of that, he notes that "Amazon will continue its record-level spending on distribution infrastructure build-out in 2018, which is good for suppliers of buildings and equipment, and bad for Amazon's competitors."
He calculates that in 2017, Amazon added about 26.6 million square feet of distribution space in the US and another 12.6 Million square feet in the rest of the world. In 2018, MWVPL is aware of an additional 23 million square feet of distribution space being added by Amazon to the US market, and the company expects that this number will be closer to an incredible 30 million by year-end 2018.
Amazon, I say, is simply taking over the world, and the traditional retail model is simply dying rapidly.
Rich Sherman has had a long career in supply chain as a practitioner, analyst and marketer. He is now with the Global Supply Chain Practice & Center of Excellence at Tata Consultancy Services.
His prediction: 2018 will marks "the year of digital clarity."
What does that mean?
Sherman notes we been "digitizing" the supply chain for 50 years. The biggest difference between now and then, he says, is connectivity.
"Mobility, sensors, monitors, and the Internet of Things enable connectivity to automate the collection of data at every point of the supply chain from the point of demand cognizance to the point of supply origination," Sherman says - and this happening in real time.
Sherman also predicts in 2018 that blockchain technology will be demystified.
He says that "This highly secure, shared database will evolve into a channel platform in which all of the data now being collected can be deposited. The data will be authenticated and secure and ledgers maintained to enable secure access and tracking. It will be the E2E repository of channel data forming the basis for supply network analytics and visibility."
As that occurs, applications will be developed like Lego blocks to plug into this new data platform.
Sherman also believes that companies not investing heavily in supply chain analytics are making a huge mistake.
"As companies advance their analytic maturity, their competitors that aren't implementing advanced analytics fall further behind," he says. "At some point, the advantages from mature analytics based on new data sources and learning over time will be impossible for some competitors to overcome. There is no skipping historical learning and unable to catch up and compete, laggards will face extinction."
Dr. Christopher Gopal is a long-time supply chain consultant and is now also an executive in residence at the University of California San Diego's Rady School of Management.
He thinks that in 2018, companies will get more rigorous about evaluating all these new digital and robotic technologies, asking such questions such as:
• What is the actual application for these technologies in the organization?
• How do we assess the ROI for these technologies? The returns, yes. But, more important, the costs and time frame to value?
• How much do we spend in pilots, and how much will the actual full-scale implementation cost, and what sort of time frame are we looking at?
• What are the risks – of failure, non-performance, people, and resource allocation?
• Who in our company can put the "I" into "AI", and how do we manage it?
• And, if we're a medium-sized company, can we afford it?
"These technologies are by no means inexpensive, and few currently really grasp the total costs and effort involved. This will require a hard-headed analysis of the true incremental benefits, risks and costs," Gopal smartly adds.
He also believes more re-shoring will actually take place - driven as much by supply chain risk as changing economics.
While cost per unit, total delivered cost, and other cost reductions will always be critical factors in where to produce, Gopal says, emerging as the most important decision-drivers will be risk, control and market proximity.
"Risk in terms of geo-political risk, government actions, trade restrictions and tariffs, supplier financial health and government control and, of course, compliance with Corporate Social Responsibility factors," Gopal says, noting that brand equity is becoming an important factor in the re-shoring and sourcing debate.
Our friend David Schneider of his own consulting companies and for many years before that a supply chain practitioner says that I gave him a tough exercise.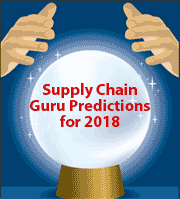 "The combination of the new tax laws, low unemployment, improved consumer demand, increasing interest rates, increased industrial capital demands and shifting trade policy creates a complex multi-variable problem that defies simple predictions," he says.
Braving ahead nevertheless, Schneider says "Carriers are going to increase rates. They have to. To retain the current drivers they have and attract new drivers they will increase driver pay, pay for unloading and traffic delay, pay for mandatory training and certification."
Schneider also predicts that carriers are going to be more selective on the route they cover and which customers they will service.
"Data analytics give the carriers some of the same tools as shippers - they can look at what they are hauling in the lanes, and look at the demand they see through the different 3PL asset light freight networks to rationalize their networks," Schneider notes. "Watch for carriers shifting capacity from competitive lanes to non-competitive lanes. Watch for carriers to get aggressive for the backhaul or repositioning lanes. The major carriers have been doing this for a few years now - watch as the middle-sized carriers start to pick up the same tools and skills."
Schneider also observes that there is much pent-up demand for new material handling and logistics systems. The issue? Integration is still very difficult, as systems integrators are swamped and the capacity of automation controls houses that support supply chain, are oversold.
As a result, "One trend building momentum is small integrators and controls houses being acquired by larger equipment manufacturers as the owners of these small companies want to sell out to retire," Schneider says. "Acquisition is now the easy method for larger companies to improve capacity and service offering. We've seen some of the mega players in automation eating the large players in material handling (e.g., Honeywell acquiring Intelligrated)," and Schneider predicts that "this will be the year of the now larger fish eating the small fry."
Wow – what great stuff. And I just highlighted a fraction of the full predictions from these great gurus. Look for their full text predictions over the next couple of weeks in our OnTarget newsletter and some video predictions from many of these gurus on Monday in our Supply Chain Video News broadcast with CSCMP.
I'd love to hear reactions or predictions of your own.

Any reaction to the guru predictions? What resonates with you? What are some of your 2018 supply chain predictions? Let us know your thoughts at the Feedback button below.