2017 Supply Chain Predictions from the Analysts


OK, this week, the final installment of my three-part series on supply chain predictions for 2017.


That includes my summaries of predictions from SCDigest's virtual supply chain guru panel, broken into part I and part II.


We then published full text predictions from our panel, again broken into two parts: Predictions from Supply Chain Gurus for 2017 - Full Text Version Part I, Predictions from Supply Chain Gurus for 2017 - Full Text Version Part II.
GILMORE SAYS:

The challenges for manufacturers to go consumer direct - apart from potentially angering retail channel partners - is that making this move requires being able to pick, pack and ship individual items.


WHAT DO YOU SAY?
It was all very good stuff. Take a look.


This week, we wrap it up with predictions from the analysts at Gartner and IDC.


Let's start with Gartner's prognostications for overall supply chain, though this first prediction mirrors a similar one also offered by IDC around the same time: "By 2020, 10% of large enterprises in supply-chain-dependent industries will have established a chief robotics officer (CRO) role."


The robots are coming in manufacturing, distribution and beyond, that's for sure, and I guess many companies will need an executive in charge of their strategy and execution.
"With continued growth in demand, use and deployment of smart machines and robots, companies must elevate the management of these increasingly critical assets from simply the operational engineering role to a more strategic C-level management level," Gartner says. 


It adds that "For companies with extensive use of robotics across manufacturing and logistics, we see companies creating a CRO position that will blend engineering, IT and human capital management skills to develop the management structure to oversee all facets of the robotic life cycle."


Companies have long histories and best practices in managing human workers, Gartner notes, but "development of effective principles, processes and disciplines for managing automated workers are nascent at best."


I can't help myself - like what kind of incentive programs are most effective?


More seriously, Gartner says "We believe companies must begin to make a paradigm shift from purely bottom-up (engineering) operational thinking to top-down (C-level) strategic thinking about the role and management of robots."


I generally agree with this, but wonder about who then calls the shots on robot deployment - the chief supply chain officer, or the new CRO in control of robotic strategy? I believe the CRO role will be for some companies, but not most. Then again, Gartner only said 10% of companies would create CRO positions, while IDC had a higher percent.


Gartner also forecast that "By 2021, 30% of large enterprises will make CSR [corporate social responsibility] as important as price and service in their selection of a 3PL partner."


Increasingly, CSR is being driven further into logistics and, for most logistics leaders, is fast becoming a must-have rather than a nice-to-have when selecting a third-party logistics partner, Gartner says.


It notes, as we reported last May, that a new CSR rating was added to the factors used to calculate the annual Gartner top 25 supply chains list. 


Gartner also observes, and I think correctly, that for shippers and 3PLs, CSR is really focused on environmental issues, such as fuel usage and CO2 emissions in distribution and transportation operations, rather than broader CSR issues (living wage, investment in local communities, etc.), though that may be changing.


Gartner cites DHL's GoGreen initiative, under which it has embedded environmental responsibility into its business operations. DHL believes that this has increased customers' preference for its brand and strengthened its market position.


Gartner notes it may be a challenge for mid-size and smaller 3PLs to make major investments in environmental programs, though I will note certainly some have done so (e.g., Saddle Creek and natural gas trucks), and to the extent that improved logistics strategies reduce fuel use and other costs, they are less investments than just what a 3PL should be doing, finding out how to reduce operational costs.


Gartner says that the CSR maturity of 3PLs will be "an equally important factor to winning new business" as cost and service. I think that may be taking it a bit too far, but certainly it is already a decision factor. I think it will be more like companies will set some minimum standard for CSR that a 3PL has to meet to be in the finalist group of candidates, rather than CSR an equal factor to the traditional decision criteria.


Gartner also does a series of predictions for global logistics, and one of the predictions there is that so-called autonomous trucks won't be dominating freight movement any time soon - but will eventually.


In fact, Gartner predicts that "By 2021, less than 1% of long-haul, over-the-road freight will be carried by autonomous trucks."


However, with some rough estimates, Gartner says that even with a 1% share, that might still mean something like 36,000 self-driving trucks on US highways in five years.


"That would be a pretty remarkable accomplishment in and of itself," Gartner says. 

Gartner does note the technical progress that is being made here, with huge investments, and that autonomous trucks - with a driver as back up - will likely start doing long haul moves on major highways, leaving more challenging local delivery activities to humans.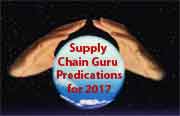 Gartner also says that autonomous trucks will have some modest impact on the driver shortage, the bigger impact will be in the increase in the miles driven per vehicle per year, which will greatly increase total trucking sector capacity.


Self-driving trucks will eventually change the blue collar, somewhat gritty freight transportation sector into a high tech business, Gartner says. That's an interesting thought.


IDC had a series of predictions for supply chain as well, but I liked some of the general supply chain observations made prior to the predictions.


Those include: "Data has become digital capital," and "Systems of record [meaning ERP] constrain supply chain evolution."


Of the 10 total predictions, I found this one especially interesting: "By the end of 2017, 35% of supply chains will be actively using supply chain control towers integrated with expanded use of integrated business planning."


I was glad to see IDC's recognition that how a control tower is defined is all over the map. IDC notes that some see it in terms of global visibility to freight movements, others as an analytics engine, and still others as an automated decision-making tool.


IDC says the evolution of control towers means they will soon have elements of all three capabilities.


"The modern control tower must have equal facility to look backward (and learn from past actions) as well as forward (facilitating operation of the supply chain)," IDC says.


But it notes that "Cultural change [in adopting control towers] can be significant, with certain decisions becoming automated and no touch."


I need to get back into this area a bit, but clearly the primary focus of what is generally considered the control tower market has been on the global shipment visibility side (e.g., GTNexus, now part of Infor, offerings by several 3PLs and others). JDA has a control tower solution that provides broader supply chain visibility combined with the type of the analytics capability IDC references. There are others. More on this soon.


In its predictions for manufacturing, IDC has this one: "By the end of 2020, 50% of all manufacturing supply chains will have the capability, either in-house or outsourced, to enable direct-to-consumption shipments and home delivery."


The line between manufacture and retail - and vice versa, I would add - is getting very blurred for sure, and ecommerce is clearly pushing manufacturers in new supply chain directions.


The challenges for manufacturers to go consumer direct - apart from potentially angering retail channel partners - is that making this move requires being able to pick, pack and ship individual items, not just handling cases and pallets.


That seemingly simple change actually requires major modifications to physical layouts of existing warehouses or finding new facilities, changes in software, potential materials handling automation, new process expertise, etc. Add it all up, it's a lot to do, though many manufacturers will simply outsource it, as do many retailers.


But IDC smartly notes that for manufacturers, "It's not just direct-to-consumer orders either, but any order that is fulfilled to the site of primary consumption. So, in the B2B world, it's about fulfilling directly to the points of customer consumption or usage."


In other words, ecommerce at the consumer level is driving changes in customer expectations and supply chain capabilities in B2B too.


Manufacturing supply chain networks for manufacturers will almost certainly become more complex as a result of this evolution, IDC says. I completely agree.


Ok, that was more good stuff. We will explore more of these analyst predictions in more detail next week in our OnTarget newsletter, so look for that.


Any reaction to the analyst predictions? What resonates with you? What are some of your 2017 supply chain predictions? Let us know your thought at the Feedback section below.