Trip Report - MHI 2016 Part 2 - An Outstanding Panel Discussion


Last week, I attended the annual conference of MHI, at the beautiful Hilton el Conquistador near Tucson, AZ, and provided my overall summary and review, which you can find here.


As noted then, this is a conference that has some big ambitions to become a major supply chain event, attracting a broad mix of supply chain and logistics practitioners beyond its core MHI member attendees. It will be a challenge, for a variety of reasons, but for the last three years, the content has been very good, and for now at least MHI has the financial clout to make investments in this event.


I would have gone regardless, but attended this year as moderator of what turned out to be an excellent panel discussion, loosely connected to MHI's upcoming Materials Handling Roadmap, scheduled to be released in 2017. The first Roadmap was released in 2014, and was a solid piece of work, presenting a broad overview of the issues and technologies that will be central to logistics in coming years.
GILMORE SAYS:

Ecommerce is "standing the logistics industry on its ear right now," Rader noted, saying that 10 years from now logistics likely will be radically different than what it is today.




WHAT DO YOU SAY?
But things change fast, so an updated document is needed and underway. To produce that, MHI once again is holding a series of conclaves across the US (four in total) where 40-50 practitioners of all sort gather for a day and a half talking through a variety of issues, and that feedback then becomes core content to the final Roadmap.


This year, those discussions are oriented around four main themes: workforce issues, technology, the consumer, and infrastructure - all obviously very big and broad topics.


So I worked with MHI to assemble an expert panel to talk through a variety of topics under those four main themes, and in front of a packed room kicking off the conference on Monday morning, the panel hit it out of the park - one of the best panel discussions I have seen, and that's quite a few.
The panelists were: Jonathon Rader, FedEx; Mike Regan, TranzAct Technologies; Bill Ferrell, Clemson University; Fab Brasca, JDA Software; and Mike Kotecki, Dematic.


I could fill up five columns with what we covered over 90 minutes, but will do my best to summarize here. For each topic, I offered some intro thoughts or data points, then mixed it up with the panel in those areas in which they had expertise.


When it comes to workforce, I noted there of course are multiple dimensions of this, starting with sort of the blue/white collar split. The so-called "talent crisis" in supply chain has a mostly white collar slant (not enough qualified supply chain professionals, with a wave of baby boomer retirements looming), but there is also a perceived shortage of blue collar labor in distribution, transportation and more.


Are these real issues? "Absolutely," said Rader, noting FedEx is really feeling it. While a bit more focused on the blue collar side and distribution center labor, Rader said that "a lot of people just don't want to work in the logistics industry anymore," and that there is even some of that on the white collar side. The industry needs to work to bolster its overall reputation and attractiveness, he said.


I asked Regan the same basic question about the truck driver shortage - is it real? His answer: "It is as significant and serious as you could imagine."


He noted there was a mini-crisis in the US trucking sector relative to capacity in Q4 2013 and Q1-2 2014, which then abated as the freight market slowed. However, Regan believes that if economic growth gets anywhere around 2.5%, that capacity issue will quickly arise again, and that if we hit 3%, we will see "the motherlode" of capacities crises.


Many carriers have increased driver pay 20% or so over the past two years, but that's not enough, Regan says. Wages need to go higher, and shippers are going to have to pay for it. Drivers also need to be treated better by shippers across multiple dimensions, from not being treated as if they barely exist at many DCs to excessive waiting times and more - issues which some driver studies find are as big as the level of pay.

To me, it's fairly simple: for both DC labor and drivers, the market wage simply needs to rise to bring in enough new participants. That will increase logistic costs, for sure, but it's no different than the market pushing fuel prices higher. Automation will help eventually, but not in the short term.


On technology, I started with some survey data from SCDigest that had respondents rate the attractiveness of a variety of (mostly) new generation supply chain technologies. Supply chain visibility took the top spot, far ahead of things like 3D printing, but Brasca noted the difference between information and insight when it comes to visibility.

"You have lot look at what's the decision support that goes with that information, where's the intelligence of the system behind that, to deliver something that's actionable," he noted, adding that while the start is to improve managers' ability to make decisions, increasingly the software will deliver the recommended solutions to those managers.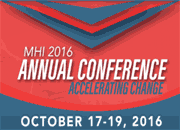 This of course is tied to the subject of so-called '"advanced analytics," and Kotecki said that even though he works for a company normally associated with hardware systems for materials handling, the majority of Dematic's R&D investment now is going into software and analytics, though he noted the advances in order picking robots is proceeding rapidly and is likely to really impact DC operations very soon.


Ferrell said he thinks the general trend right now towards "distributed information" to improve local decision-making is likely to reverse, with more data being managed centrally where "algorithms can make the decision." Yes, that is where we seem to be heading.


On consumer, I noted the tremendous growth in ecommerce sales, rising 15% or so quarter after quarter - meaning it will double in less than 5 years. This will have a dramatic impact in many areas, including store and supply chain network designs, which I think has not yet been fully understood.

Ecommerce is "standing the logistics industry on its ear right now," Rader noted, saying that 10 years from now logistics likely will be radically different than what it is today.

Kotecki noted the dynamic of most companies chasing just one - Amazon - that is able to somehow just focus on growth versus profits, and how the move beyond ecommerce to omnichannel has now made the sourcing question far more complicated. The decision to source from regular DC, a store, or an efulfillment DC needing to be made in real-time, based on current variables.


Brasca said the real challenge is how do you connect the traditional supply chain - which was largely focused on achieving and leveraging scale - with this new world. This opportunity is not achievable when ecommerce is set off as a separate operation, Brasca said, and if you want to make money in ecommerce, you must find a way to achieve the financial benefits of scale with the new requirements for "eaches picking" and last mile delivery.


But he noted that it is exciting times in transportation, where for years we were generally focused on the same issues of capacity and fuel costs and shipment consolidation - now we have an exciting new set of problems/opportunities for logisticians to grapple with.


Lastly on infrastructure, Regan said attendees should go back after the conference and tell their CEOs that "we are basically living off the investment in infrastructure that was made in the 1950s," and that significant ramifications are looming if new investments are not made soon.

He noted recent ATA projects that freight movements will increase 35% over the next decade - "Where is that freight going to go? Regan asked. He also said that in the face of this situation, still "every common sense approach to increasing US freight productivity" (such as longer and/or heavier trucks) which could have a major impact on reducing infrastructure needs can't make it across the legislative finish line.

There is so, so much more, but I am out of space. I think I will soon issue a more complete transcript of this outstanding discussion in our OnTarget newsletter. Regan said it was among the best panels he has been a part of, and that's quite a few. 


What are your thoughts on workforce, technology, consumer or infrastructure issues?Let us know your thoughts at the Feedback section below.