Trip Report - MHI 2016 Conference: Time to Cross the Chasm?


For the third year in a row, this week I attended the annual conference of MHI, a trade association of materials handling related technology (software and hardware) and service providers once known as the Materials Handling Institute of America. The event was held at the wonderful Hilton el Conquistador near Tucson, AZ.


The conference has been around I believe for decades, but until 2014 was almost exclusively for MHI members, who range from WMS software vendors through DC automation solution companies to racking equipment providers and more - quite a range indeed.

But under MHI CEO George Prest, the organization has become much more aggressive, and is clearly swinging for the more general supply chain fences.

GILMORE SAYS:

The APX exec noted that they still use a Bluetooth bar code ring scanner versus just "looking" at the bar code through the glasses because it is actually faster and avoids ergonomic issues associated with tilting heads to get the read angle right.




WHAT DO YOU SAY?
MHI wants to make its conference a "world class supply chain event," attracting attendees beyond its own MHI members. In the past, the conference had some good content from outsiders, but was at least as much dominated by meetings of the numerous MHI industry groups. Starting two years ago, that aspect is somewhat downplayed, and the external speakers and content are on the rise - though perhaps flatlining versus last year, as I will explain below

The past two years have started out with an "executive conference" on Sunday, which was at best modestly attended though with outstanding, prominent speakers. While there was a separate fee, it was like an intro to the overall conference.

This year, oddly, the executive conference wasn't connected at all to the main conference, to the point you wouldn't even know it was existed from the main conference web site. And I did not know it existed until after I had made my travel arrangements. The lineup looked good again, but that's as much as I can report.

With that, the conference opened on Monday in part with a panel session I moderated relative to a second "Materials Handling Roadmap" document to be published by MHI next year, The research and analysis for the Roadmap are focused around four main areas: workforce, technology, consumer, and infrastructure - all really big and broad topics for sure - with our excellent panel weighing in from a variety of angles.


I simply don't have room for a full report on the panel in this column, but will do so separately next week. Here, just a couple of notes just on workforce: Mike Regan of TrazAct Technologies believes the US truck driver shortage is very real, and that if the economy ever gets back to 3% growth, major issues with transportation capacities and rates are sure to follow.
Jonathon Rader of FedEx says the "talent crisis" is also very real, and that both white collar and blue collar employees are increasingly less interested in careers in logistics, noting the challenge in attracting and keeping workers in distribution center operations really is at crisis-type type levels right now.
A Monday keynote was from Buddy Bush, who despite the name is a female consultant in the HR area. Her focus was basically millennials in the work force, though I was glad she started out by pulling up examples of media asking "what's going on with this generation?" going back to the 1970s - she says it happens like clockwork about every 10 years.
There's no doubt millennials are looking for a positive work environment ("I am valued and not just a cog in the machine"), and comments from employees of companies on sites such as Glassdoor really do have an impact on whether many millennials will come to work from you.
Millennials really do want to feel like they are doing something that has social value of some kind, and Bush cited the example of a recruiting company that received lackluster response from a program to increase revenues but got much more engagement when the goal was turned from a financial one to focus on "finding jobs for 2500 workers."
Millennials also value work flexibility very much, and there is more companies can usually do to provide that than they realize, Bush said. Millennials also want a lot more communication - at least daily from their managers - than past generations. The good news is that this increased communications is basically free, Bush noted.
All that said, retaining millennials for long periods will remain a challenge, and perhaps the goal really should be to simply extended tenures a bit versus expecting long term retention. Bush noted an example of one company that was very clear about its expectations during the interview and hiring process - "We expect you to stay for at least two years" - that had some impact on the results.
There was a lot about drones at the conference - like, really a lot - but it was mostly interesting.

In a Monday, Jonathon Evans, CEO of Skyward, a provider of a software management platform for drones and the pilots that fly them he says is needed to "deploy drones at scale," noted the huge surge in qualified drone pilots in the US since the FAA changed its qualification rules in late August.
Before then, an operator had to be a licensed pilot for traditional aviation before he or she could become authorized for controlling a drone. Now, such a certification can be received after a week of classroom and hands on training. The ease of qualifying has already led to the certification of some 13,000 drone operators since the start of September.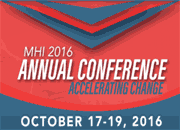 Evans noted that virtually any job that involves a human going up on ladders, lifts and other equipment to inspect machinery, facilities or some other object is likely to soon move to drone-based systems. Skyward cutely launched a drone at the outdoor breakfast Monday, and an hour later attendees saw crystal clear aerial views of the hotel and conference center, then converted that to elevation views.
That using a $3000 drone you can buy from Amazon. A $1000 version is coming soon.
Evans and his funky CTO "X" agree that in logistics, parcel delivery is further off than other applications that are being deployed right now. That idea was then carried on in a later session on disruptive technologies that included a presentation by Matt Yearling, CEO of PINC Systems, which provides several drone-based applications.
That includes drones taking inventory of trailers in large yards outside distribution centers, which fly at speeds upwards of 40 miles per hour and read RFID tags attached to trailers. Even for very large yards, a full inventory can be taken in maybe 30 minutes. Such a system really only makes sense for large, densely packed yards, Yearling said, but for those applications there is a high ROI.

Another promising application is for outdoor warehouses, sometimes referred to as "lay down yards," as might be used by some types of industrial distributors, major construction companies and others. Such storage areas are notoriously challenged in terms of maintaining inventory and location accuracy even when employees use mobile data terminals.
But again, by using drones and RFID, inventory and location accuracy can be tremendously improved, Yearling said.
Most promising of all may be taking physical inventories inside the DC using drones, an application Walmart has said it is testing. In that app, a drone flies the aisles (usually during off-shifts), using imaging systems to read location labels and license plate bar codes on stored pallets. This takes just a fraction of the time it does to use humans to take such inventories, allowing some companies to execute the process every day, Yearling noted.
In that same session, we heard from an executive at APX Labs, which has developed DC applications using smart glasses, in which things like picking locations are made visible to workers using the glasses, such that for example you might create a "virtual put wall" without physical lights normally required.
Deployment of smart glass applications is farther along that I realized, and the APX exec noted that they still use a Bluetooth bar code ring scanner versus just "looking" at the bar code through the glasses because it is actually faster and avoids ergonomic issues associated with tilting heads to get the read angle right.

There is a lot more, but I am out of space. It was a good conference this year, but I would say the content quality did not advance as it had the previous two years. That was part the result of not enough variety. There was a panel on the Roadmap, then a discussion lab. Ditto for Workforce. We had a keynote session on drones, then two panels with drone providers. I've got it already.
MHI is making incremental progress in attracting non-members. I saw badges from companies such as Target, Home Depot, and others, but the pace of that shift appears to be modest. At some point, MHI will need to "cross the chasm" and make some major efforts to expand the audience - and thus lose some of the "inside MHI" aspects of the event. That will cost some money - we will see if MHI is ready to further pony up to the bar to make that change happen faster.

Did you go to MHI 2016? What are your thoughts? What does MHI need to do to expand the conference? Let us know your thoughts at the Feedback section below.