Trip Report - CSCMP 2016 Part 3


Really milking it this year, I am back with one more column summarizing CSCMP's 2016 annual conference in Orlando a couple of weeks ago.


I first offered an overall summary and review of the conference and keynote speakers, as can be found here: Trip Report - CSCMP 2016 in Orlando.


Last week, I reviewed some of the education sessions I attended. As previously noted, there were seven such opportunities across the three main days of the conference: three educational sessions across 16 tracks both Monday and Tuesday (that makes six), plus a choice of one of three 90 minute "megasessions" on Wednesday, which really aren't so "mega" considering the regular educational sessions are now 75 minutes long. But I digress.


GILMORE SAYS:
Most insightful of all, Reade said companies and vendors need to start thinking more holistically about product flow across the DC.




WHAT DO YOU SAY?
As almost always, I attended something in each of these seven slots. Last week, I reported on how Dell has taken a bold and interesting approach to developing an innovation culture to drive progress in Sustainability; how Nike is moving from a traditional linear supply chain model to a "responsive" supply chain, driven by ecommerce changes; and highlights from an interesting panel discussion on the future of warehousing, in which the insightful Steve Reade of DSW shoes noted (among other observations) that we need to break down operational silos across different process areas of the DC to look more holistically at optimizing total product flow.


When I sat down this week to highlight more of the sessions, something really hit me: here just two weeks later, it is already getting hard to make sense of my notes, which seemed clear enough at the time. I will combine that with the observation that it seems all conferences, such as the MHI event in Phoenix next week, are emphasizing session content that attendees can take back and use right away, to drive perceived value.
So I am combining my growing difficulty making sense of my CSCMP notes and the perceived need for ideas that conference attendees can use right away to say there needs to be a better way. First, more conferences and speakers should make conference presentations available to attendees (CSCMP does so with a modest delay if OKed by the speakers). The silliness of attendees taking pictures of slides with their phones because the slides won't be available later is a key symptom of this condition (yes of course, I am aware many companies prohibit slides from being made public - we need to work on this).


Second, an even better idea: speakers and panelists should be required to submit a "Cliff notes" version of their presentations. That is in effect what I am doing here with these summaries, but just think if rather than needing to rely on madly scrambled note taking, session attendees had access to the key points in some kind of document for each session. If done well, that could make a huge difference in attendee value and satisfaction, it seems to me.

But until then, you will have to make do with my summaries.

There was a Wednesday morning megasession on supply chain innovation that was presented by the AWESOME organization, a group dedicated to supporting and promoting woman in supply chain, founded several years by DCS Logistics CEO Ann Drake.

The moderator and all the panelists naturally enough were women, and though it started a little slow, in the end it was a very good discussion that covered a lot of ground. But it did make me more resolved to develop a supply chain innovation framework, because we really don't have one. 

Heather Sheehan has somehow managed to retire at a fairly young age (part of a plan) from industrial giant and Lean-focused manufacturer Danaher, but she had some consistently insightful thoughts on innovation generally and Danaher's approach specifically.

Sheehan noted that Danaher formally assigns "stretch goals" to supply chain managers to drive innovative thinking - a stretch goal being defined as some target that a manager has absolutely no idea how it can be achieved. The stretch goal concept is not new, of course, but Danaher seems to have institutionalized it in a way most companies have not.

Danaher's sales teams call on primarily industrial customers. Its buyers procure lots of industrial goods and components. So someone there awhile back had the bright idea of using Danaher's internal buyers to test drive marketing campaigns, new product launches, presentations, etc. That effort now regularly identifies message gaps, where the buyers got confused from the materials, etc., to great benefit to the Danaher sales and marketing teams.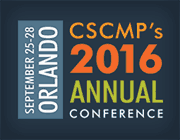 That is certainly one great idea from the conference you may be able to start using very soon.

Darci Harris of Mars Chocolate said her company often formally evaluates innovation processes and cultures in potential service providers such as 3PLs and co-packers, and that while it of course insists on competitive prices, the companies which demonstrate high levels of innovation are often selected even if they are not the lowest price alternative. I may write a more detailed article about this panel in our OnTarget newsletter soon.

On Monday, a panel discussion on the "Uberization" of the US freight market was a bit commercial, in that it featured two providers of new age freight solutions talking up their companies, but nevertheless it was interesting, as there really does seem to be something going on here.

Brett Parker is president of Cargomatic, which provides a Cloud-based software to match shippers and carriers, especially small trucking firms, and he said the key opportunity here is to address the high levels of inefficiency and "friction" that exist in freight markets, where it is often too difficult for a shipper to simply find a truck.

The Cargomatic app, for example, illustrates on a real-time map of what trucks/carriers are available in a given area, which can be filtered in many ways. From a pricing perspective, Parker said in some cases, Cargomatic sets the rate for a given move (like Uber), whereas in others shippers set the price and then sees which carriers are willing to take the load.

A 3PL called Deringer said it is using Cargomatic, and found it doesn't necessarily get better rates from the service, but that at those competitive prices it really likes the visibility and real-time information Cargomatic provides. It gets almost real-time proof of delivery, for example, and now finds a truck in minutes versus perhaps hours when working through brokers.

I had never heard of Matchback Systems, but founder Todd Ericksru's company is trying to solve the mismatches - and usually lots of deadheading - in moving import and export containers. 

Frequently, import containers move inland and then are later shipped empty back to a port, when there was an exporter nearby to the importer needing a container.

This is a multi-billion dollar freight savings opportunity, Ericksrud said, as his system looks across the data to suggest potential collaborations, almost like continuous moves in regular truckload freight. Makes a lot of sense to me.


On Tuesday, Mani Janakiran of Intel gave a very interesting presentation on the company's incredible use of advanced supply chain analytics.
Using a variety of tools, some home grown using general purpose analytics platforms, and others built using LLamasoft, Intel has just about completely modeled its entire supply chain at a level I believe is rare, on top of which it just keeps adding on analytic applications.


That includes a "supply-demand solver" that looks out over some horizon, and not only identifies where there is a gap in S&OP plans, but also suggests how the issues might be best resolved. Another called "inventory surveillance" provides a neat visual simulation of how inventory will flow across the supply chain to customers over some period of time, and again identifies likely problem areas. 

This is all just amazing - I would like to know who else if anyone has taken analytics this far. Intel is now also working on "cognitive" analytics, which as best I understand it keeps track of what decisions were made and why, how those played out, and what would have happened if other choices were made. This is data and insight that few companies can capture today.

Finally, Arnold Maltz and Mohan Gopalakrishan of Arizona State gave a presenting on forecasting for products with intermittent demand - which it defines as SKUs with zero demand in some periods over a given horizon - an increasingly vexing issue in a long-tail world, also a prominent challenge in service parts logistics and other sectors.


The bottom line here: there is no magic bullet, many companies get by OK with rules of thumb or experience, but from a statistical approach the Croston Method (developed in the 1970s) is the best we have, though some software companies have proprietary approaches that may do better. To be honest, was looking for a little more out of this presentation.

So I am now finally done with CSCMP 2016. Will be at MHI next week, leading a panel discussion. Say hello if you get the chance.


Did you go to CSCMP 2016? If not, why not? If yes, what are your thoughts? Any reaction to the educational session summaries this week? Let us know your thoughts at the Feedback section below.