Inventory Performance 2015 - Interesting Comparisons
Ok, here in the dog and back to school days of August, I decided to milk one more column out of our annual work with the working capital data supplied again to SCDigest from REL, a Hackett Group company.
Last week's column summarized inventory turns by over 60 industry sectors (created by SCDigest from REL's less granular grouping), as well as which companies had the highest and lowest turns in each of these sectors. (See Inventory Performance 2015 Part 2.)
This week, a couple of more things. First, this interesting chart in REL's own report, summarizing working capital performance over the past decade overall and in its individual components, as shown below: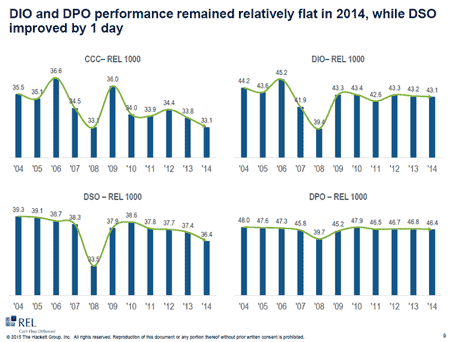 If you view the full size image, you will see overall cash conversion cycles are down about 7% from 2004 (an improvement). Inventory performance as measured by Days Inventory Outstanding (DIO) has improved about 2.5% over the same period, though is basically flat with 2010. And despite all the articles about big companies stretching out payments to suppliers over the past few years, Days Payables Outstanding (DPO) levels have contracted since 2004 and 2010, meaning payments are actually being made slightly faster on average.
With that relatively brief introduction, below you will now find a list of select grouping of companies in the same sectors and the inventory turn numbers in 2014.

Think you will find it interesting.

Sports Apparel

Nike: 3.9

Columbia Sportswear: 3.0

Under Armour: 2.9

Food Wholesalers

US Foods: 18.3

Sysco: 14.7

Industrial Distributors

Graybar: 10.5

Westco: 7.7

Grainger: 4.2

Fastenal: 2.1

Mass Merchants

Walmart: 8.0

Target: 5.8

Sears: 3.9

Department Stores

Nordstrom: 5.0

Kohl's: 3.2

JC Penney: 3.0

Dillard's: 3.1

Macy's: 3.0

Belk: 2.7

Grocers

Whole Foods: 20.7

Kroger: 13.7

Safeway: 12.0

Apparel Retailers

American Eagle Outfitters: 6.5

Express: 6.1

Urban Outfitters: 5.5

The Gap: 5.1

L Brands: 5.0

Chico's FAS : 4.9

Home Products Retailers

Home Depot: 4.8

Lowes: 4.1

Metals Manufacturers

Nucor: 7.0

Worthington Industries: 6.4

US Steel: 6.2

Alcoa: 6.2

Food Manufacturers

Nestle: 7.5

Kraft: 7.5

General Mills: 7.4

Kellogg: 7.3

Mondalez: 6.2

Conagra: 6.1

Heinz: 5.7

Campbell Soup: 5.3

Hershey: 5.1

JM Smucker: 3.8

Consumer Packaged Goods

Clorox: 8.4

Church & Dwight: 7.5

Kimberly-Clark: 6.9

Procter & Gamble: 6.2

Colgate-Palmolive: 5.2

Energizer Holdings: 3.7

Semiconductor Manufacturers

Broadcom: 7.7

Advanced Micro Devices: 5.4

Intel: 4.7

Texas Instruments: 3.1

Pharmaceuticals

Merck: 2.7

Roche Holdings: 2,5

Hospira: 2.5

Bristol-Myers Squibb : 2.4

Eli Lilly: 1.8

Pfizer: 1.6

Personal Care Products

Revlon: 4.2

Avon Products: 4.1

Coty: 3.0

Elizabeth Arden: 1.9

Estée Lauder: 1.7

Computer Network Equipment

Juniper Networks: 31.7

Cisco: 11.8

JDA Uniphase: 6.0

Construction Related Equipment

Deere & Company: 5.9

Oshkosh Corp.: 5.9

Terex: 4.0

Caterpillar: 3.3

Joy Global: 2.4

Soft Drink Manufacturers

Coca-Cola Bottling Co.: 14.7

Coca-Cola Enterprises: 13.6

Dr Pepper Snapple: 12.2

Pepsico: 9.8

Monster Beverage: .6.4

Coca-Cola: 5.8

Chemical Manufacturing

Celanese: 6.6

HB Fuller: 6.3

W.R. Grace: 6.2

Dow Chemical: 5.8

Eastman Chemical: 4.7

Dow Corning: 4.3

DuPont: 2.8
It is fascinating to me to see the competitors with very similar turns - but more often than not there are rather significant differences in those values within each sector.
Why, for example, are turns at Pepsico so much higher the Coca-Cola's? I don't know for sure, but suspect it is because a significant share of Pepsico's business is from snack foods, which have to turn fast due to freshness issues.
But why does chemical maker HB Fuller have nearly three times the turns of DuPont? I have no idea, just that there are many variables in inventory levels, from service policies to supply chain models to trade-off management and much more, often including skills and processes.
And as we noted last week, toy maker Hasbro had slightly better turns than rival Mattel (6.0 versus 5.4), but if Mattel had equaled Hasbro's level, it would have generated an extra $58 million in cash flow in 2014.
Ok, I promise I am done now for 2015. But I'll be back for more next year, with a few expansions, based on some of the requests I have received in recent weeks.
Any reaction or other analysis to this inventory data? Why do you think turns vary so much within a sector? Let us know your thoughts at the Feedback button or web form below.