Trip Report - National Retail Federation Big Show 2015

I spent a couple of very hectic days at the National Retail Federation Big Show 2015 at the Javits Center in Manhattan, and as usual it was a good experience.


The exhibit floor was very full of attendees, and had a lot of the "buzz" (literal and figurative) that characterizes all successful trade shows. I didn't hear official figures, but attendance had to be at least as large as in 2014, somewhere in the 30,000 range. Obviously, the attendees are primarily from retailers, but I saw quite a few people with badges showing consumer goods manufacturers as well, as a growing number of course have their own stores too (regular and outlet) and/or are pursuing ecommerce strategies.


I report on this show for several reasons: our own sizable retail audience; the fact that in the end, what is happening in retail impacts most of our supply chains; and that there are often some interesting developments that are worth noting for all of us as consumers.
GILMORE SAYS:
"Some vendors see this wide area approach as having applicability for distribution centers as well as stores, but after my discussions I am not optimistic about this happening for a good number of years."


WHAT DO YOU SAY?
Many of you have viewed my Day 1 and Day 2 video summaries. Written trip report here today.


From a big picture perspective the dominant themes for the third straight year were Cloud, mobile, omnichannel and "advanced analytics." Virtually 100% of new software solutions are Cloud-based and embrace mobile. This is simply where the train is headed. Development on these new age platforms is simply substantially easier and faster than on more traditional technologies, among other reasons for the migration.


With regard to omnichannel and analytic solutions, there are certainly no lack of potential vendors - there were dozens of each on the show floor. For omnichannel, a couple of demos from solution providers convinced me just how challenging it is to effectively plan and execute across a complex channel environment - which for global companies adds the variable of "country" into the channel mix. And as I have long said, omnichannel is simply mostly a technology driven problem - your systems can either support one pool of inventory across channels or they can't. If they can't, then you must unfortunately maintain separate inventories by channel, as just one example.
I am still struggling a bit understand what makes "advanced" analytics different than we had before, and how analytics based planning solutions differ from more traditional ones. Some folks at an analytics-based vendor called Manthan helped me a bit further down the knowledge path, which I will summarize like this: advanced analytics differ in large part from traditional analytics in being more predictive and prescriptive, versus providing insight to what has already occurred.


Advanced analytics solutions differ from more traditional approaches basically in how the math works. Manthan claims analytics can include more variables in producing an answer than heuristic and optimization-based tools, and that (at least in Manthan's case) the tools are capable of "machine learning" that will improve results over time.


I am sure more traditional planning vendors have a different view - more on all this soon in SCDigest, I promise. For some reason, the analytics-based solutions for forecasting, inventory, replenishment, etc., all seem to be retail focused, and I am not sure why.


I got mixed feedback on where item-level RFID is at in retail. A few vendors painted a very bullish picture. On the other hand, Intel's Scott Thomas has concerns it's just taking too long to gain traction beyond the relative handful of the same names we keep hearing (Macy's, American Apparel, Walmart, Zara, Kohl's, a couple of others).


Thomas thinks it's because it's just too hard and expensive to get things set up inside a store. Intel was demonstrating a simpler system that could easily tie together readers across a store. Intel is not pushing RFID systems, but rather trying to goose the market so it sells more servers and analytics to leverage all the data.


I will note, however, that the Impinj booth seemed to be quite busy with retailers interested in at least looking at its xArray system, which provides what I call "wide area" reading capabilities. A pizza box sized reader with various antennas is mounted on the ceiling, and can provide continuous reading of products/tags, versus the more intermittent data updates achieved when using portal readers at the entrance from the back room and handheld readers for occasional physical inventories. One xArray can cover some 1500 square feet, with multiple systems deployed to cover the floor space of any particular store.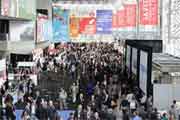 French company Tagsys demonstrated a different approach to wide area reading, also with a pizza box size device it calls a hot spot, but rather than using ceiling based antennas, it wirelessly connects with low cost readers at the floor level, which it claims will provide better reading results, aesthetics and flexibility. But Tagsys somewhat oddly didn't want to say much else, awaiting a 2H launch of the product, so maybe I will catch up later.


Some, including both Impinj and Tagsys, see this wide area approach as having applicability for distribution centers as well as stores, but after my discussions I am not optimistic about this happening for a good number of years. The read distances and coverage areas are just too small, and would require a ton of hardware to cover even a medium sized DC. We'll see.


In better news, apparently you can now very reliably move a pallet through a portal reader and identify every carton that's on it. That wasn't true not long ago. However, reading tags inside a carton on a high speed conveyor is still quite a challenge - what tag is in which carton? Impinj exec Larry Arnstein says too many companies/vendors try to solve the problem through "physics" - turning up read signals, shielding areas on the conveyor, etc. Arnstein sees the solution as coming from smarter analysis of the data coming in from the readers - you can kind of triangulate to determine which tags are in which box.


A couple of just general notes on large, well-known companies: Both Manhattan Associates and Oracle each made acquisitions of POS companies in the last six months ago, mobile POS-based provider Globe Bay in Manhattan's case, and Oracle of the more well-known Micros. The Manhattan move continues that company's move to offering a comprehensive retail solution from its supply chain roots, while with Micros Oracle gets a specialized retail distributed order management solution in addition to the POS capability. Interesting how this is playing out.


Perhaps no supply chain-related company has transformed itself more over the past year than Zebra Technologies, after its acquisition of the wireless systems and bar code scanning business of Motorola. This is taking what was almost exclusively a bar code printer and label company into more of a systems provider, albeit one that relies mostly on a reseller network.


The Motorola brand name, by the way, is simply gone - something that surprises me. It's not being run as a separate business unit, which also surprises me. However, Zebra is apparently bringing back the old Symbol Technologies brand (which Motorola had acquired) for some scanning products. That's interesting too.


Also interesting is that Zebra has now launched its own Voice solution in the US. Motorola had relied solely on Voice partners in the US (e.g., Voxware, Lucas). It did have its own Voice solution in Europe through its Psion unit, and that is what has now been brought to the US market. This perhaps opens up opportunity for its resellers that sell Voice from Vocollect, but won't make its existing Voice partners happy.


New JDA CEO Bal Dail delivered the NRF keynote presentation Sunday afternoon. I wasn't in town yet, but caught up with him on Tuesday. He said his main theme was that "Bricks are the new black," meaning that even in a multi-channel world, physical stores are essential to retail profitability, but only if stores are re-energize both in terms of consumer experience and omnichannel capabilities, such as "intelligent fulfillment."


I had hoped to have room to describe some of the interesting solutions, but I don't. You can see those brief product reviews in the Day 1 and Day 2 videos, and as usual we will break each out into a separate video clip next week.


New York City was packed with visitors, by the way.

Any reaction to our review of NRF? Were you there? What did you come away with? Let us know your thoughts at the Feedback button (email) or section (web form) below.