Trip Report: NRF 2013

I am fairly fresh back from New York City and the Javits convention center for the National Retail Federation's "Big Show" for 2013. It was an interesting couple of days.


Thousands of you have watched our Day 1 and Day 2 video reviews. I hope by early next week that we will have the longer videos broken down into shorter segments so you can just look at something that is of specific interest to you. Look for that in our On-Target newsletter.


GILMORE SAYS:
"I have been told the lower level will be expanded even further in 2014. Why care about all this? Because it shows the level of interest in retail-related technology right now."

WHAT DO YOU SAY?
This is the third consecutive year I have attended NRF after a fairly long absence, and you might reasonably ask why Supply Chain Digest is reporting again on this retail-focused show. Three reasons: (1) I try to emphasize supply chain related themes and new technology solutions; (2) Many of the trends in-store in the end have an impact on the consumer goods supply chain one way or another; (3) As long as I am looking at the first two, I might as well report on some of the many just plain interesting things that might be worth noting for us as shoppers - or even trigger parallel ideas for the supply chain.



That said, here we go. NRF told me they thought the week would end with attendance at about 28,500, up a bit from last year. I will tell you to me the show felt packed - busy from early until late, at least on Monday and Tuesday when I was there. In fact, for the first time this year, they kept the show floor open from 9 am until 6:30 pm, versus the usual close at 5, responding to demand from exhibitors for more floor time. Let me tell you, that is a long day, but while attendance faded a bit towards the end, it was strong enough to support that decision - probably fueled by attendees who came in Monday morning and maybe didn't get to the show floor until noon or something.
Also for the first time, another pretty large area of display space was opened down a level from the main show floor, driven of course by more demand for booths than the existing area could support. Often, these secondary areas see poor foot traffic, and I was wondering if that would be the case here too, using myself as a case study, as I stuck just to the main level on Monday. But Tuesday proved me wrong, as the lower level was quite busy, probably buoyed by putting one of the seminar areas at the back of that hall.


I have been told the lower level will be expanded even further in 2014. Why care about all this? Because it shows the level of interest in retail-related technology right now.


Which is a nice transition into what I view as the three key themes of this year's show, clearly driving much of that retail interest. Those are:


1. Multi-Channel Commerce: There is simply tremendous pressure for retailers to get really good at this, and as I have mentioned before what is in a sense different than most operational challenges is that this is primarily in fact a technology problem. There are many things some retailers would like to do (e.g., order on-line, pick-up in store) that they can't do yet simply because their existing systems won't support it. On a bus ride back to the hotel, a technology manager from LL Bean agreed with me on this.


Actually, the current in vogue term seems to be "omni-channel," and in fact I ran into a guy from Macy's with the title "Director, OmniChannel." Here, there and everywhere were booths with tools of all sorts to support omni-channel capabilities. It seemed like that is why a lot of attendees came. What is cool about omni-channel is that it really ties at the hip merchandising and the supply chain (fulfillment).


2. Advanced Analytics: This was last year's top theme, still prominent this week, but down a notch. There are just some really smart applications out there now for taking lots of information (Big Data) and/or data from multiple sources and turning it into insight/decision-support and increasingly automated processing based on that analysis. It is being used for new approaches to forecasting, as just one of many examples.


Much of it is cool and a megatrend, I believe, but I had two separate conversations with retailers who worried their organizations just were not ready to really embrace leveraging this much data, even if the analytics are meant to simplify that for you. But it is coming nevertheless, and will change supply chains and more.


3. Everything in the Cloud: Most everyone was pitching some sort of cloud platform, at times even contorting themselves to get a cloud message out there. This is just where this is all headed, at high speed.


Past those three main themes, some quick news: Bill Simon, head of Walmart Americas, said in a keynote presentation that Walmart is committing to increasing sourcing from US manufacturers by $50 billion over 10 years. It is assumed this means ramping up to an average of $5 billion more per year. That would represent just about 2% of Walmart's total US procurement, but interestingly Simon said a lot of the focus will be in sectors such as apparel, furniture and appliances that have been decimated domestically due to offshoring.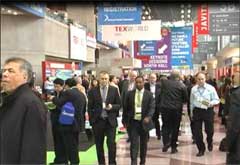 Ken Bonning, head of logistics and IT for Kohl's, won a Silver plaque award for what appears to be general service to NRF and the retail industry. I liked this quote from Bonning: "excellence in execution will almost always trump a clever strategy."

I do not have much space left, but here are some of the most interesting products/solutions I saw over two days. More detail in the full videos, which again will be broken out early next week.


TXT Maple Lake: Supply chain planning company for retail and consumer goods. European TXT recently acquired Canadian Maple Lake. Nice looking product, and a planning option many (including me) may not be aware of. Counts Levi's, Tesco, Louis Vuitton among 300+ customers.


Wincor Nixdorf: Has fully commercialized its "360" bar code scan tunnel system for grocery checkout (we just saw a prototype in 2012). Moves items on high speed on a belt through a scanner array, with downstream bagging areas and payment system. Company says it has three Euro customers, and much interest in US. The system used at NRF is being shipped directly to a major US grocery chain's test lab. Key point is that if this works, it would reduce interest in item-level RFID in consumer packaged goods to speed check out.


Newland: With recent mergers leaving US RF/wireless terminal market as a near duopoly between Motorola Solutions and Honeywell, here comes a Chinese based provider trying to enter US market after apparent success in Asia, Australia, and some Europe. New US offices focused on building distribution channels. Not surprisingly, Newland says devices are lower prices than leaders. We will follow this up.


Manhattan Associates: Interesting new Store Commerce Activation product is a sort of hybrid between a "light" warehouse management system for in-store inventory tracking and a centralized application to enable ecommerce fulfillment from any store/inventory location in the network. Well thought through, based in part on input from a major specialty apparel chain.


3VR: A "video analytics" provider that introduced solution that can use existing store security video systems to determine number, gender and age range of store customers, as well as other information such as conversion rates. Cool on its own, execs there said the technology is also being used in supply chain, such as analyzing conveyor flow and bottlenecks and "heat mapping" picking areas in a DC.


BlueRidge and LogFire: Pure cloud-based DC/store replenishment solution and warehouse management provider, respectively. Former makes strong case why cloud offers better total value prop for planning applications (faster processing), while the latter is part of clear trend of WMS finally moving to the cloud.

JDA Software: Says it is really working to integrate RedPrairie's fulfillment capabilities with its multi-channel commerce solutions after their merger. Wayne Usie adds multi-channel is forcing retailers to get more aggressive about integrating planning and execution.


All I have room for here. More video summaries from ProMat next week. Hope to see you there.


Any reaction to Gilmore's NRF trip report? What did you see as interesting solutions there? Let us know your thoughts at the Feedback button (email) or section below.