When it comes to U.S. logistics infrastructure, I keep getting mixed signals.
I'm not long back from the always excellent Supply Chain Executive Forum at Georgia Tech, under the leadership of Dr. John Langley, which was focused this session on Infrastructure Challenges. I heard a lot there about the real infrastructure issues that we face, and came away pretty convinced something needs to be done (more below).
On the other hand, shipper concerns about U.S. ports infrastructure have largely dissipated (for the moment) as delays and congest abate. A combination of shippers taking advantage of alterative ports to Long Beach and some significant improvements in the efficiency of container handling at some of the ports have combined to make the killer delays experienced in 2005 seem like very old news . As we noted in last week's NewsBites, forecasts are for congestion to be mild even in LA/Long Beach through the rest of the year, even as container volumes continue to rise. (See Container Volumes Continue to Soar, but Congestion Should Stay Mild, Says Latest NRF Study.)

Then at a transportation panel I recently moderated at the i2 User Conference, a group of very knowledgeable transportation pros from companies like Michael's stores, Penske and Dell were pretty unanimous in their opinion that U.S. logistics infrastructure was not in a "crisis" that should cause anyone to lose a whole lot of sleep. It's not that they didn't see some issues, but I will paraphrase their comments as being that the grave concern in some circles about infrastructure has been over done.
So who's right? I would say, as is the case in many issues, probably a little of both.
The reality is that those on the "crisis" side of things tend to frequently overstate the case. Technology, necessity and other factors generally drive solutions to problems that the handwringers usually underestimate.
But then you look at the data, and wonder if those acutely worried about infrastructure are more than a little right on this one.
At the Supply Chain Executive forum, we heard from Dr. Michael Meyer, a professor of Civil Engineering, head of the Transportation Institute there, and frequent participant in Washington DC committees and elsewhere on infrastructure issues. His main message: If you think it's bad now, just wait a few more years.
We have had a paltry level of growth in new highway "lane miles," while the growth in both car and truck "Vehicle Miles Traveled" continues to rise dramatically. The forecasts, as they stand now, paint a similarly depressing picture through 2035, whether you are concerned about your morning commute or trying to get your company's goods to market. Congestion is starting to spread further and further outside of large urban highways. Despite the current respite in port congestion, the combination of continued 10% annual growth in inbound container volumes and not much new port capacity being built suggests the problems will return sooner rather than later. Meyer showed estimates that said inbound volumes would rise from about 18 million TEU's (Twenty-foot equivalent units) in 2006 to about 60 million by 2024. There appear to be no real plans, yet, on how to handle this surge.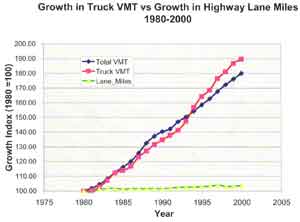 The dollars required are massive. As just a couple of examples, Meyer said to just barely keep pace will require $61 billion investment in Chicago and $45 billion in Dallas-Ft. Worth for roadwork alone.
So it's going to take a lot of money, and even by very optimistic assumptions the likely level of such funding alone won't be enough avoid increasing bottlenecks.
Should we be concerned? Meyer thinks so. He believes that "investment in Transportation Infrastructure is key to national, state and metropolitan economic success."
Bruce Danhke of Skytech Transportation said at Georgia Tech that he was deeply concerned about the level of opportunities for his kids and grandkids if we don't address these logistics infrastructure issues. The cost and performance of our logistics systems will put the U.S. at a competitive disadvantage to many other parts of the world.
Most of us are aware of the efficiency of Chinese ports versus those in the U.S., and Meyer noted it is spending massively on logistics infrastructure – with a lot fewer complications in getting things done. When the government decides a new port is required, they just build one, as the massive new (and as yet very little used) port south of Shanghai (built in just two years) demonstrates. No worrying about Not in My Back Yard protests there. Not a good system to live under, but a heck of an advantage for getting certain things accomplished.
In a future issue, we'll cover more on this topic, including some of the things that are being done, and some of the things that could be done. Dr. Langley noted to me this week that in a separate personal meeting he had just had, a Washington transportation official suggested we may need to look at some unconventional approaches, as the cost and effort to put down all concrete and rail lines we need is just too much.
All of us should pay a bit more attention to this issue, in my opinion. In a highly competitive, increasingly just in time, supply chain driven world, barriers to the flow of goods across over the road and rails can be just as important as those we focus on through our plants and distribution centers.
Is U.S. logistics infrastructure facing a looming crisis or not? Does it really impact national competitiveness, or is it just a bit of a headache. Will technology and ingenuity and maybe even panic come to the rescue, or are the challenges to big? What, if anything, can really be done? Let us know your thoughts.