I find something interesting almost every time I have a conversation with companies about their global supply chain challenges. For most enterprises today, it presents a significant and growing issue, and one for which most of them are still relatively immature in their development.
We got some great comments last year on our column The Global Supply Chain: You Better Be Good, which basically suggested that for a growing array of companies, being a leader in global supply chain and logistics excellence wasn't just a "nice to have" – it would be a key determinant of overall corporate success. I said that I wasn't sure enough CXOs fully appreciated that.
I recently spoke to a VP of Logistics at a hard goods company who said there has been a sea change at his company in the past year – the CEO had suddenly come to realize that just moving more and more production offshore wasn't enough. To please Wall Street and deliver real results, they had get a lot better at executing global strategies. So now they have been hiring managers with real global supply chain experience (in some cases from the retail industry), working on the many cross functional processes needed for effective execution, and looking a lot harder at what technology they need to make it all work (more on that in a moment).
Last year, management consultants McKinsey and the American Chamber of Commerce conducted a survey that found a majority of companies believe they are behind their competition in a number of areas related to sourcing and logistics from China, such as lead times, quality, and total cost. What makes this especially interesting is that almost always, as we've discussed before, companies tend to over rate their own performance. But when it comes to global supply chain and logistics, a great many feel they are behind. Half of them are right in terms of the competition, and nearly all are right in terms of where they need to be.
I consistently hear stories from companies and consultants who say the savings expected from offshoring initiatives just aren't materializing. I find this common condition results from one or both of the following:
The company did not do a thorough enough job to begin with in estimating total delivered cost, including the cost of increased inventories, real yields from offshore plants, and other factors, and was therefore trying to hit a target that was unattainable.
The potential savings were estimated well, but too much of the savings are being dissipated through mediocre execution.
It depends on the company, but for many there are real opportunities to improve in both these areas.
The other issue that keeps cropping up is the area of risk. I had another conversation recently with a supply chain exec, who understandably also wanted to comment off the record. He told me to reduce costs, the company was in fact taking major risks in its global supply chain, some understood, some hidden, that would keep costs lower for the present, but could have a huge financial and market impact if some unfortunate events occurred.
One theme I continue to hear is that technology support for global supply chain and logistics is simply well behind most other areas of the supply chain. Our friend Dwight Klappich at Gartner recently wrote that, "Even sophisticated companies that have more global supply chain experience and were early adopters have only automated a small fraction of their global trade operations."
We took all that together and did some thinking and research on this topic, and have just released a report on The 10 Keys to Global Logistics Excellence. As the name implies, we identify 10 key capabilities that we see as the platform for being a standout performer in the global supply chain. It's got a technology slant, but we found that in this area especially, thinking about the technology has clear implications for people and process as well.
I think you will also enjoy the Diagnostic tool we've developed that can help you evaluate where your company is along these 10 factors. It will be a useful self-assessment, and we believe provide some guidance about where you might want to consider beefing up process and technology.
This work takes time and money, and we want to thank the sponsor of the report, RedPrairie, for making it possible.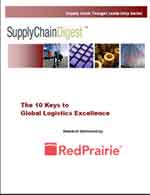 "Unless companies that are offshoring make majorIn the report, we quote well-known technology guru Erik Keller, who notes that changes [to their IT solutions stack], they will run into quality, compliance and logistics problems sooner rather than later."
I've seen some evidence of more companies appreciating this lately. A decent number of companies, such as HP, have launch "e-visibility'' or related systems in the last 1-3 years. A lot of visibility tools started to just answer the basic question of "Where is it?", but many now see it is the foundation for better planning and execution.
We think you will enjoy the report and Diagnostic. As always, we'd love your feedback.
Do you agree most companies are still very early in the game in terms of global supply chain and logistics? Where are the areas that are most ripe for improvement? Why is technology support in this area lagging? Let us know your thoughts.