What is known is that WalMart just weeks ago issued a large request for proposal (RFP) to a number of inlay and tag providers in support of its item-level tagging initiative.
With the RFP, it is possible that WalMart might procure the tags and then have suppliers order them as needed off the master contract.
"It makes sense to consolidate the order and drive the price as low as possible," Liard observed. "WalMart is probably interested in seeing just how low the prices can go."
Right now, inlays are priced about 7 cents each for large orders.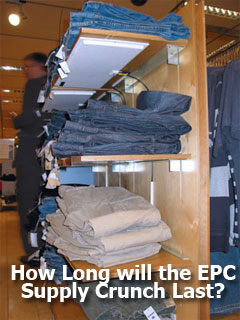 The potential for the WalMart business may have some inlay and label/tag suppliers reserving some of their capacity for this potentially huge new amount of business.
That's important, because it isn't clear whether WalMart suppliers needing to tag their apparel shipments have to secure their own inlay or tag/label supplies, or rely on WalMart. Obviously, the program could be delayed if supply is constrained with very long lead times.
Liard notes that when EPC did not take off after the first WalMart tagging initiative in 2003-05, some RFID tag capacity was shuttered, or dedicated to other types of tags beside EPC. For example, Alien Technology closed a tag factory in Fargo, ND in 2009 – before WalMart's new apparel initiative was known. In addition to WalMart, retailer American Apparel is in the midst of an item-level roll out across its chain, and others such as JC Penney are also expected to take action soon, adding to the market volumes.
However, a spokesperson for Alien says that while capacity is tight, the company hopes to get back to normal lead times soon.
"Gen 2 IC, inlay and label supply is running very tight right now. This is due to healthy demand increases in many segments, certainly not just apparel, and not just Walmart," said Alien's Victor Vega. "Although some of our lead times are extending, we do not see any reason to believe that our lead times will not remain under 6 weeks, long term."
ABI's Liard noted in may have been a smart move for UPM Raflatac to have invested in capacity with a factory in China to go with existing facilities in Europe and North America.
"They decided to invest while many others were pulling back," Liard observed.
As things play out, Xterprise's Frew says apparel suppliers need to look at a number of options to maximize flexibility and potentially best manage supply constraints.
Suppliers should "look into alternative approaches to the common method of using converted price tickets with attached EPC tags," Frew said. "Some suppliers are interested in "wet inlay" approaches with bulk encoding as the means to get EPC codes into cases of products."
With this approach, inlays with an adhesive backing are applied say to the plastic packaging of an item during the production process. After the items are placed into the shipping carton, a bar code (or RFID tag) on the carton is read, and all the inlays inside the carton are encoded with their own unique EPC numbers.
That approach may not only be lower cost than converted hang tags with an EPC chip, but also take the converting processes out of the loop as a potential supply bottleneck, Frew said.
Toby Rush, president of RFID solution provider Rush Tracking Systems, says that while supplies are tight now, in the end the higher volumes and capacity being added may finally move the price of EPC tags down after being stuck in basically the same place for a couple of years.
"Assuming the demand from apparel tagging holds, the price point and volume curves we have been hoping for may be realized over the next 12-24 months," Rush said.
What are you seeing out there in terms of EPC inlay/tag supply and demand? How do you see this playing out? Let us know your thoughts at the Feedback button below.