The key issues driving the move: inventory management, being closer to the majority of its customers, quality management, and fighting counterfeit products that have been coming to market in Asia.
"We'll make more money this way -- because we'll have better quality and a better image," the company's founder, Farouk Shami, is quoted as saying regarding the change in supply chain strategy this week in the Wall Street Journal.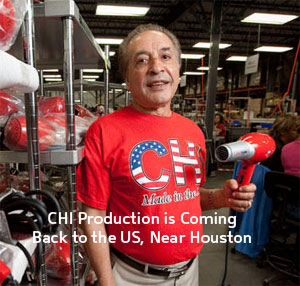 For example, the company currently spends about half-a-million dollars a month fighting counterfeit products made in China. Moving design and production thousands of miles away may thwart much of that counterfeiting, Shami believes.
In China, counterfeiters may source parts from the same suppliers that sell to the real brand owner, for example. Changing that dynamic may make it harder to knock off branded goods.
NCR, GE, Emerson Electric, and other high-profile companies have recently announced strategies that would bring at least some production back to the US. NCR, for example, recently announced plans for a major new electronics facility near Atlanta.
Of course, labor costs in the US and Western companies are simply much higher than in China and other developing economies. That means, in general, more automation must be used in the US to reduce labor content – a strategy Farouk is pursuing, along with changes in product design to reduce manufacturing labor and costs. Still, the company is estimating the raw, per-unit manufacturing cost will increase by $2.50 – a number it hopes will be made up in inventory savings and faster response to market.
It is also important to note that the Farouk hair irons, called "Chi's," live at the very high end of the market, retailing for around $150.00 due to their unique design that minimizes damage to hair from their use. That is several times higher than standard irons.
But, that is exactly the type of product that US manufacturers should look at for possible return of production to the US, or changes of plans to outsource to China, BCG's Stalk told us, where margins are high and demand is hard to forecast – making the cost of inventory overstocks and understocks quite high.
"You have to be willing to pay more money in some supply chain steps to reduce total supply chain costs and, of course, that's where it breaks down in many companies, because some functions have to absorb those costs," Stalk told SCDigest. "It often really takes CEO leadership to cut through all that, and many CEOs, of course, don't understand it."
Are you surprised by the Farouk appliance story? What about Immelt's comments? Are NCR, Farouk and others just aberrations, or part of a real trend? Let us know your thought at the Feedback button below.
SCDigest is Twittering!
Follow us now at https://twitter.com/scdigest