Credit, of course, is now much harder for most suppliers to access than before. It is possible in a CBS relationship that a manufacturer might actually contract for a larger block of time/capacity than they would for an equivalent order for a specific part, since the capacity can be used more flexibly in response to actual demand.
Suppliers, in turn, can use that commitment as a source of collateral to secure the short-term financing many require to maintain their operations.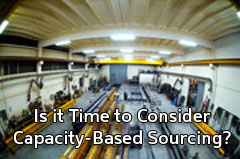 With Benefits comes Risk
Like most things, there are downsides to a capacity-based sourcing approach as well. The most obvious is that, for whatever reason, the capacity is not used in the contract period. The impact of this will vary depending on contract terms, but, in general, it will mean the buyer must pay out some money to the supplier.
There is also some risk that a new product for which capacity is reserved requires expensive new tooling or other costs that would have been factored in upfront if the company was buying parts in the traditional way. Another step may be required that wasn't anticipated in the original capacity "buy." The proportions of total capacity procured may get out of whack with the work actually given to the supplier – e.g., the relationship of machining hours to welding isn't the 2 to 1 expected, but more like 3 to 1.
But, as usual, the biggest challenges are likely to be in the process and the people.
Parker says, for example, that using a CBS approach, "The key title is not commodity manager, but "capability manager."
While, at one level, the role is very similar to that of the traditional procurement manager, there is an important difference: the most important piece of knowledge is now longer the functional requirement of the part being purchased, but rather a process-oriented understanding of how the part is produced.
Since the procurement organizations of most companies are structured around specific commodity and part types, often in teams, making this type of transition for some categories of purchased items a challenging one.
Procurement planning will also change substantially for those components. For example, Parker says, "The planning process will develop recommendations for what percentage of the estimated required capacity should be reserved and how far in advance this should be done" – much different from the traditional approach to supply planning.
Of course, contracting will become much different as well, and, in a sense, more complex, with more variables that probably need to be covered in the contract. Actual purchase orders will reflect capacity or hours, not units.
Software could also be an issue. It is almost certain that existing procurement and planning systems will not support this type of transition as is. The effort to make this change, through configuration, custom code, or new software, will vary widely from company to company.
That actually sounds to us like a daunting list of challenges, and Parker agrees.
However, he says that "The new realities presented by the current global recession, however, have generated renewed interest in CBS because of the compelling benefits it offers in the areas of flexibility, cost control, and risk mitigation," benefits he believes will persist long after the eventual economic recovery.
What are your thoughts on capacity-based sourcing? Are you using any form of it currently? Do you agree with the potential benefits? Or is it just too hard to implement? Let us know your thoughts at the Feedback button below.
SCDigest is Twittering!
Follow us now at https://twitter.com/scdigest