Last week, I provided my general review of the JDA Software Focus user conference in Las Vegas (see Trip Report: JDA Focus User Conference 2014). I filled up my whole column with general observations on the event and JDA's strategy and direction, leaving me no room for a review and comment on any of the presentation sessions.
Especially after the merger with RedPrairie (following i2 and Manugistics in prior years) JDA has become such a large force that a part 2 I believe is well justified. As always with these reports, I strive to uncover more universal insights and learnings that are useful to a general audience, not just JDA customers.
On Sunday, as I have for several years, I was able to attend the excellent JDA Demand Optimization Council meeting as a sort of honorary member. The DOC is made up of many of JDA's top consumer goods and retail customers, under the tricky constraint that it can't contain any two direct competitors - a limitation that is increasingly tough to manage, but needed for members to present and discuss openly.

There is always a theme, and this year it was collaboration. As I have done at other events in the past, I conducted a survey of DOC members prior to the event. It was a small sampling, with responses from 10 retailers and 10 manufacturers, but it was revealing, and I am not sure would have changed materially if we had 1000 respondents.
I will summarize like this: manufacturers are much more interested in collaboration generally, across a wide variety of areas, while retailers really care about one thing, and that is lead times, with fill rates a related second place. Manufacturers rated the value and benefits of collaboration much higher than retailers, which didn't, for example, want much "collaboration" from vendors say for shelf management - "we can do that ourselves just fine," was the message.

The chart below shows results from the retailers around what they see as the barriers to collaboration, on a scale of 1 to 7, with 1 being the highest. The scores shown represent the average of all responses.
Surprise! Retailers view the lack of manufacturer expertise in collaboration as the top barrier, far above the limits of the own skills (I will note manufacturers also rated their skills higher that of retailers). The top barrier for manufacturers: lack of clear ROI from the collaborative efforts.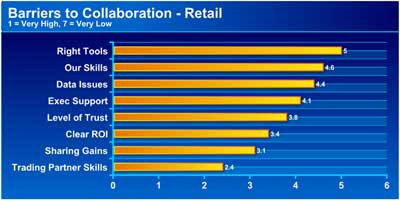 Also at the DOC, Kevin Smith, ex of Kraft, gave a familiar yet at the same time compelling presentation on the reality and impact of the well-known Bullwhip Effect. Smith is proposing a different approach in consumer goods manufacturing, one that focuses more on steady production schedules rather than whipsawing them around in the name of being "flexible" - more on this soon.

My reaction: MIT's Jay Forrester first identified the Bullwhip Effect (it was actually called the Forrester Effect for a while) in the early 1960s, and then Stanford's Hau Lee (with Procter & Gamble) reinvigorated the concept in the early/mid-1990s. So here we are, 50+ or so years later, and it seems not all that much progress has been made. How can that be?

In the breakout sessions, the most interesting - and I must say at the same time frustrating - session I attended was from Chris Doersen of Penske Logistics on what he called "Dynamic Load Selection."

I believe there is really something here, but I just couldn't quite get it yet. Here is what I think it is:

A given shipment in a daily pool of shipments to be planned and executed is assigned a "delay tariff." What is that? Well, that is the question, which should have been clearly defined upfront, but which I believe basically is a prorated share of a good rate for a point-to-point move. In other words, if it is half a trailer's worth, the delay tariff would be equal to 50% of that good point-to-point rate.

Unless it has to go to meet delivery commitments, that shipment is not promoted to execution today unless it can be included as part of a load that delivers a lower cost for the move than the theoretical cost (delay tariff) of shipping it tomorrow instead. So it forces a kind of optimization around total cost.

Penske was able to accomplish this approach this without any custom code - the delay tariff is just like another rate in the system. Various parameters in the JDA TMS can be adjusted to get the results needed for the current shipment pool, such as changing the minimum weight or cube required to build an acceptable load.

That is about as much as I know. I may not have all that exactly right, but believe it is close - and I promise to learn more. But Penske says it is reducing freight costs by an impressive 5-8% for one client over and above the regular way of doing load optimization, and greatly reducing the amount of time load planners have to fuss around building and adjusting loads. More on this soon. I am also not clear if this concept can only be well-leveraged in the JDA TMS, or if it can be achieved in other systems out there as well.

Edwards Life Sciences described how it has piloted JDA's Inventory Optimization tool to see if it can impact inventories. Part of its challenge is that it has very long logistics lead times to many markets, due in large part to how long it can take its heart valves to clear customs in many countries (crazy long).

The pilot focused on one specific product. The upshot is that the I/O tool recommended moving product significantly upstream versus the more in-country oriented approach to inventory positioning Edwards was using. So, for example, inventory at the plant warehouse in Puerto Rico was originally 34% of total network inventory, whereas it has now moved to 54%. Inventory at a Singapore DC that serves the whole Asia market rose from 17% of the total to 27%.

Total inventories for the product are down 16% after the recommended changes, and Edwards plans on implementing the I/O solution in Q3.
Inventory optimization tools factor in supply and demand variability into their recommendations, which is why they can produce answers and results that aren't obvious in a spread sheet. Not long ago something sort of mysterious, I/O has really moved into a mainstream solution.
Pascal Zammit of tire maker Michelin gave a solid presentation on how it has successfully embraced supply chain segmentation. Before, it used a one size fits all approach, basically what it calls a "store and sell" strategy that used a lot of local DCs, supplied by its plants.

With all the complexity of SKUs in the tire market, that often led to out of stocks and lost sales.
Now, Michelin segments by both product and customer - for example, some dealers have little or no storage, while others have more. Some dealers can well forecast, while others cannot. And of course, there are huge differences in volumes by tire type.
So Michelin now incorporates four delivery models: the same store and sell approach, but now also a high speed third party distributor, a deploy-to-order model from a central DC to local stocking points, and a make to order model, although that may not be what you think. Michelin can't make just four tires on-demand yet, if ever. This is more like, for example, a pre-order for certain tires for the winter season (pre-ordering guarantees supply).
Dawn Bogia from JDA's training department did a nice presentation on measuring forecast accuracy. Here to me really was the key point: in the last session of the day, on a topic that is not exactly new, the room was packed. I had to stand at the back, in a room full of many very large and sophisticated companies.
I will summarize this session in more detail soon, but a couple of key points. Forecast accuracy, she said, is not just a measure of a given demand planner, but rather reflects on the performance of a company's entire demand management process and organization, and needs to be viewed that way. I agree. Second, too many companies have limited measures of accuracy. Overall accuracy could be high and look good, but in fact be lousy at individual stocking locations, which is where it really matters.

I am more than out of space. There are always good sessions at Focus, and that was true in 2014.

Any reaction to Gilmore's review of the JDA Focus conference sessions? Let us know your thoughts at the Feedback section below.