Ok, at last an open week here where as usual we publish the highlights of a number of supply chain predictions from our 2014 guru panel about what will be key themes and trends for the year.
In general, they are not detailed sort of predictions, rather more commentary about where different aspects of the supply chain are headed.
In this column, due to space constraints, I'll just pluck off some of the more intriguing comments from our panel of supply chain prognosticators. Next week in our OnTarget newsletter, we'll publish the complete full text comments. Next week in this column, we'll cover highlights of the predictions of a few leading supply chain analyst firms (Gartner, IDC, etc.).
Gilmore Says:

"Expect to see higher rate increases in 2014 if you want to secure capacity from your carriers," Mike Regan predicts.

---

Gene Tyndall of Tompkins International says that 2014 is likely to be seen as "the Year of the Customer," as there has recently been a renewed focus on the customer experience.
As a result, Tyndall says, "We will see massive changes of operations strategies - which determine capabilities, business and operating models, customer experiences, and supply chain strategies - not just by retailers, and CPG companies, but by all businesses. "Personalized Omnichannels" will dominate the supply chains going forward."
But how will companies deliver personalization and still remain profitable? "It is well known that the cost of customer services can easily overrun the cost of infrastructure and processes. It takes superior skills to balance these two, and we will see new tools and models for dealing with this vis-a-vis online ordering growth," Tyndall predicts.
Dr. Paul Dittmann of Global Supply Chain Institute at the University of Tennessee (and formerly Whirlpool) offers a ranked list of the seven key supply chain challenges for companies in 2014, based in part on recent research UT has conducted.
Perhaps surprisingly, at least to me, "talent management" comes in at the top of the list.
"Acquiring talent is only the first step," Dittmann notes. "Leading firms retain top talent by having plans to develop and providing the right challenges for its future leaders."
The rest of his list of top focus areas for 2014, are (in order after talent management): formal supply chain strategy development; improving global supply chain performance; better integration of demand and supply; improved trading partner collaboration; supply chain network optimization; and advanced in risk management.
Hard to argue with that list, but it is interesting that perennial favorite "cost reduction" isn't there formally at all, though certainly it is embedded in most if not all of the seven focus areas. How does Dittmann's list match up with yours?
With regard to demand-supply integration, Dittmann says companies need to move to "next generation S&OP" to get there. Time to tune up even successful S&OP processes and technology support for evolving requirements and competitor progress.

As we have the last few years, we asked Mike Regan of TranZact Technologies to offer his predictions for what is likely to transpire in the transportation and logistics arena.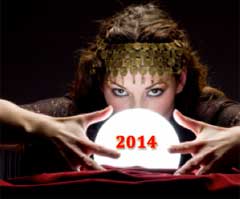 First Regan believes trucking capacity in the US is likely to continue to tighten.
"Capacity will be a big story because in 2014, shippers will experience firsthand the correlation between economic and freight activity," Regan says.
He notes many experts have said that if the US hits sustained growth in the GDP of 2.5% or higher, shippers would have a hard time finding trucks to move their freight before long. And it appears that is at long last where the economy is at.
"Expect to see higher rate increases in 2014 if you want to secure capacity from your carriers," Regan predicts.
He adds that capacity will be further impacted by a new wave of mergers and acquisitions in the trucking sector, as an improving freight environment gives many trucking company owners a chance to "head for the exits."

"We will see an increasing number of acquisitions in the trucking industry," Regan predicts, "As acquiring carriers then rationalize the combined networks, shippers will have fewer options.
He also expects "LTL carriers to be more aggressive with accessorial charges as they look to be compensated for how their equipment is being used and for additional demands being placed on their drivers."

Art Mesher is the just retired CEO of Descartes Systems and winner a few years ago of CSCMP's Distinguished Service Award. He first really made a name for himself as an analyst at Gartner, where he invented in the late 1990s the concept of the "three V's" of supply chain (visibility, variability and velocity) still popular today.

He thinks in 2014, companies will need to take that three V thinking to new levels.

Most of us have at least heard of the the four P's of marketing: price, place, promotion and product. "In 2014 it will become clear that constant presence of networks and the transparency of supply chain channel members will create a new world of concurrent engineering and omnichannel behavior that will drive "clean slate supply chains" (i.e., physical and systems reinvention)," Mesher says.

Marketing and supply chains will mesh over these new networks and become structurally co-dependent, he adds. This will create a new set of governors of "web commerce," or what will be the new four P's: proliferation, presence, proximity, and personalization.

Big thinking here! You'll need to read the full text predictions next week to really get your brain around these concepts, but Mesher believes we are starting to see big changes to supply chain networks, that a lot more local intelligence will be embedded in those networks in a distributed fashion, and that a raft of new technologies will enable companies to start thinking about this clean slate approach for supply chain and enterprise software that promise more flexibility and much lower costs. More on all this before too long.

We again asked Marc Wulfraat of MWPVL International (and SCDigest expert columnist) to offer some predictions relative to distribution processes and technologies, and as always he has some interesting thoughts.

He predicts, for example, that "make-to-order" packaging will likely start to take-off in 2014.

It would work like this, he says: The order management and/or warehouse management system communicates to an on-demand case-making system to produce a custom carton size for every order in advance of packing.

"For any high volume shipper that currently ships using standard carton sizes, this innovation takes out cube, lowers the cost of shipping, speeds up the packing function, reduces shipment damages, and reduces waste," Wulfraat says, adding that for many going in this direction "will be a no brainer."
He also expects strong growth in automated "goods to picker" technologies and that wearable computers - including smart glasses - will start to gain traction.
Karin Bursa of Logility has some predictions to supply chain technology, and she believes 2014 is the year so-called "supply chain analytics" will really start to take off, an assessment I largely agree with, as a host of software vendors have lately been touting new analytic capabilities.

Supply chain software applications usually contain piles of data, "but many companies struggle to understand how to assess and leverage it," Bursa says. Next generation analytic tools will enable many to unlock the value hidden in that data mine.

As just one of many examples, Bursa says analytics can create prioritized lists for supply chain planners relative to what areas are likely to offer the largest payback from looking at in more detail. We're going to do a lot more in this analytics area very soon.

Finally, we asked Jim Barnes of enVista for some predictions relative to the retail supply chain, and among those he offered was that he is "confident that Amazon and others will develop a last mile delivery strategy that is less dependent upon the FedEx and UPS duopoly by utilizing either their own carrier network or partnering with regional couriers and carriers. Amazon like other larger e-com companies (Walmart.com) cannot afford to put all their eggs in one basket with UPS or Fedex. Last mile delivery costs can be as high as 20% of a etailer's operating expense, and therefore there lies the opportunity for costs reduction by becoming vertically integrated or positioning more inventory closer to the customer (pick up locations)."
Again, analyst predictions here next week. Full text predictions from our gurus next week in OnTarget. Would love to here any prognostications you have for the coming year.

Any reaction to our 2014 guru predictions? Have any predictions of your own you can share? Let us know your thoughts at the Feedback button or section below.