I am literally just back from attending and presenting at the South African chapter of APICS, and know you will be interested in what I heard and saw. The organization and conference are actually called SAPICS, and software company RedPrairie both in South Africa (SA) and in the US (David Levin and Jim LeTart, respectively), Imperial Logistics (Corbus Rossouw from this largest 3PL in SA with a strong presence also in other parts of Africa and in Germany ), and Jenny Froome, who helps manage the conference, were all involved in getting me there and producing a world class event.
Gilmore Says:

SABMiller then went back to really understand the relationships between variables and constraints and how they impacted the final plans. Turns out that many of those that had been added didn't really impact the final result.

---

I will summarize a number of the interesting sessions I attended while there for three days, but first I offer some impressions of this beautiful country overall, after my first visit there.
South Africa is a G-20 country with very advanced businesses and supply chain practices, and I heard from several people that the country is especially advanced in demand planning and forecasting processes. I happened to run into Peter Counihan, CEO of US material handling company Fortna at SAPICS (turns out he is a native South African), and he said Shoprite, one of the largest retailers there, has a 2 million square foot DC that is as impressive as any you will find in the world (US retail DCs usually top out at about 1.5 million sq. ft., I believe).
While SA has a number of global businesses (e.g., SABMiller), for now most believe it has major opportunities for growth in the near term just within SA itself and the rest of the African continent. People are worried, however, about the potential for ineffective government within SA and the still large problem of corruption in many areas of Africa.
The Chinese intrusion, especially with regards to locking up deals for raw materials in Africa, is a concern. So is the just finalized acquisition of the large Massmart retail chain by WalMart. That included a two day symposium earlier where the pros of the deal were argued one day and the cons the next in a well publicized event. The biggest fear was that in-country suppliers to Massmart would be replaced with ones from China and elsewhere, though it turned out Massmart was globally sourcing more than most realized. In the end, though many are nervous about the deal and naturally somewhat sad to see a local success being taken over by a US giant, a significant percentage believe that WalMart will help drive overall improvements by example in the country, which still has some pockets of supply chain inefficiency.
Some other quick observations: the Green supply chain movement is very strong there, and certainly more so currently than in the US; there is a "seriousness" about the interest in supply chain, from just how they focus during the sessions to how much care they take with session evaluations, that we don't see often in the US (there were 1200 attendees, a big number relatively to country population); SA companies seem to frequently use supply chain academics there (and sometimes from the UK) as supply chain consultants, and if my sampling is accurate, in very hands-on, practical ways - the profs are rolling up their sleeves and providing very practical knowledge. One example: a unit of Imperial that used an academic to very precisely define how many "avoidable miles" it had in delivery operations and how total miles driven could be cut by about 7%. If you would like to enter the SA market, be aware of "strike season," which comes almost annually, and forces companies into a number of mitigation strategies before and during.
I also saw some excellent sessions:
Rudi van Schoor, a manager at SABMiller's South African operations, told an interesting story on how the company's move to more sophisticated supply chain planning and scheduling software generated some important lessons during implementation. The new software gave it the power to build increasingly detailed models of what would represent optimized production and inventory plans. But as variables and constraints were added and added, not only did the project get delayed, it also became increasingly muddled about what was really happening in the model. Almost unheard of, Schoor and team went back to the board, which had pushed the project to deal with rising costs amidst growing complexity, and said the already late project needed to be put on hold and rethought. That took guts.
SABMiller then went back to really understand the relationships between variables and constraints and how they impacted the final plans. Turns out that many of those that had been added didn't really impact the final result. In the end, by recasting a simpler and better understood model of its production operations, the company achieved the results it originally sought. It's better to be "mostly right than precisely wrong," Schoor noted. Very good. More detail on this in On-Target soon.
Professor Nick Binedell of SA's Gordon Institute of Business Science gave an excellent and entertaining presentation that did as good a job as I have seen in summarizing an impressive amount of detail about business and demographic trends across the globe. Let's just say there is a lot to know. I don't know if he invented the concept, but I liked his "3 C's" of pressure facing companies today: Change (increasing at a more rapid pace), Complexity (likewise growing rapidly) and Competition (growing and global).
One among a number of key points: the attractiveness in terms of clearly growing demand from emerging markets will largely only be realized by innovations in product and supply chain to meet the different needs of those customers, of which low cost is key. It will be difficult for Western companies to think that way - "you are what you eat," Binedell said. So, success may depend on "appropriating" local innovation through acquisitions and partnerships. A growing number of Western companies understand this, he said.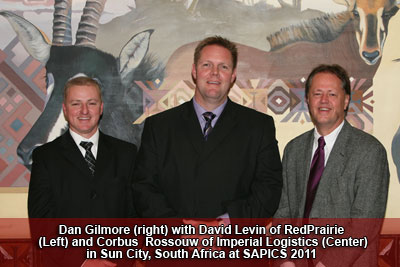 Dan Gilmore at SAPICS - See Full Size Image Here
Pharmaceutical and over the counter medicine maker Adcock Ingram faced an unusual problem - after being spun out from a parent company and then acquiring existing DC space, turns out the local utility could not deliver the power needed to drive the required new air conditioning system. This was a crisis that needed to be solved in just four months, said Kirk Nash, and every solution initially considered, from solar panels to making blocks of ice at night, had major issues. Finally, the company found a solution called Variable Refrigerant Volume technology, which has been used successfully in office buildings but never a DC.
Taking a huge risk out of necessity, Adcock went with system, combined with changes in lighting systems, installing a building management system, making changes in battery charging, etc. The fortunate result was a huge success that reduced total DC power consumption in half as needed, and saving huge numbers of rands in electric bills, so much so the company is installing VRV in another DC without the power delivery constrains. More here.
Brian Maskell of US company BMA Inc. absolutely convinced me that most accounting systems not only do not well support Lean operations, they can be the actual enemy of Lean in the way they push towards siloed efficiencies rather than holistic ones. Where are "value streams" in the general ledger or management reports, to take an easy example? I was a little less clear on what made a "Lean accounting system," or rather in some ways not sure if most large companies could ever get to Maskell's prescriptions, such as just getting rid of the work order on the shop floor. Still, he said Boeing has in fact eliminated some trillions of IT system transactions annually in its production operations through such an approach. We will pursue this in more detail.
There was a lot more, but I am out of space. I used the invitation to revise for my presentation of my list of "Supply Chain Megatrends" for 2011. You will see those soon here.
Had a great time with a great crowd - would love to go back, and encourage you to take the opportunity if you get it.
Do you have knowledge of South Africa? What are your thoughts on their supply chain practices? Any reaction to Gilmore description of the event or individual presentations? Let us know your thoughts at the Feedback button below.