I hope you enjoyed our supply chain guru predictions from last week, featuring thoughts on key trends in the supply chain for 2011 from the likes of Dr. John Langley of Penn State University, Gene Tyndall of Tompkins Associates, Jim Barnes of enVista and the analysts at Gartner. (See Supply Chain Guru Predictions for 2011).
We are back this week with another round of predictions from the other members of our virtual panel, who also offer some provocative thoughts. Again, I am just summarizing the highlights of each guru's predictions. The full text of each expert's comments will be featured in the Trends section of our On-Target newsletter early next week.
Mike Regan is the long-time transportation industry executive currently CEO of TranzAct Technologies, who always has some interesting things to say about the state and future of logistics.
Gilmore Says:

Regan believes very few shippers are actually budgeting for increases of this magnitude. Consequently, they will likely be shocked by the numbers they see in their financial statements.

---

Regan believes it will be a tough year for shippers.
"Shippers will see freight costs (rates and the fuel surcharge) rise over the course of the year by as much as 6% to 8% as they are reintroduced to the concept of a seller's market," Regan says. "The actual percentage of increase in costs will be determined by two variables: the desirability of the shippers' freight and the extent to which there is an economic recovery. Coupled with the increase in fuel prices, which will mean higher fuel surcharges, it is entirely possible that shippers could experience a double digit increase (10% - 12%) in 2011."
He notes that "Very few shippers are actually budgeting for increases of this magnitude. Consequently, they will likely be shocked by the numbers they see in their financial statements, which will result in awful meetings in which they scramble to explain the 'unforeseen' variances/increases to management. Shippers who think this is an unlikely scenario are not paying attention to what has been happening in the fuel markets."
He also thinks shippers will find there are real consequences from increasing government regulations, especially CSA 2010.
"The CSA initiative, which had been talked about for two years, is now a reality," Regan says. "There is no shortage of information about the CSA program, yet it is surprising how few shippers are changing their processes to mitigate the risk associated with using a carrier with an unacceptable rating. Just one accident involving the wrong carrier will provide shippers with a very costly education."
Marc Wullfraat is a long-time consultant generally focused on distribution and materials handling areas, now running his own firm, MWPVL International.

Among other predictions, he thinks in 2011 we will see "increasing oil prices, with fuel settling between $4-5.00 per gallon by year-end, and continued deflation pressure on the value of the U.S. dollar," noting that "none of these economic signals are particularly optimistic and the question is whether or not companies will respond by continuing to batten down the hatches."
Despite those concerns, Wulfraat says that "there are clear signals that capital spending will increase in 2011. One of the key areas to watch for will be the market for automated material handling systems and particularly solutions that involve the semi-automation of full case and split case order picking," - a trend we of course have been noting on the pages of Supply Chain Digest and Distribution Digest as well.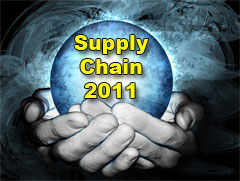 He adds that "any distribution operation with 50 or more direct labor associates should be paying close attention to the advances being made in the automation/semi-automation of the case pick area because there are some real competitive advantages emerging in certain verticals such as the foodservice industry." Wulfraat also notes the "emergence of industrial robots for high volume full case picking distribution operations and I think we will be seeing a lot more from companies like Seegrid and Kollmorgen."
Steve Murray is a principal at Supply Chain Visions, who I have found always has some interesting insights into the state of the supply chain.
"The US is at a "tipping point," Murray believes, that will require changes to maintain the country's economic and political leadership.
The US "must begin to in-source more manufacturing capability, focus on creating demand for that capacity internally and be more competitive with global providers. And we must absolutely hold onto engineering and product development as a core competency," Murray says.

In 2011, he thinks Washington will take some actions with the continued pressure on the jobs front that will impact the supply chain.
"There will be incentives to invest in building up US capacity in ways that put people to work. There is little interest from the general population in seeing profits being paid out to executives or distributed to stockholders," Murray says. "There is growing resistance to work being offshored. The President and Congress will peddle a buy American strategy and back it up with incentives."
He thinks that for a variety of reasons, "empty manufacturing and warehousing space will begin to get utilized. Providers of manufacturing and warehousing equipment and automation should see a direct benefit from the growth and from tax incentives for new equipment."
He adds that we will see a " capacity crunch in transportation. Truck /trailer manufactures will see demand for their products, with an emphasis on clean, fuel efficient trucks and lightweight trailers to replace older equipment."
Rich Sherman, long-time supply chain industry analyst and consultant and now at the Supply Chain Council, thinks 2011 "will be the year of the emerging 'Smart Supply Network' that converges cloud computing, mobility, GPS, telematics, and Auto ID into a paperless supply network utilizing smart transactions to convey information across the network to the appropriate parties for global flow control in real time."

This will empower "real-time analytics for integration of planning and execution to respond to demand variability at the point of consumption. Supply Chain professionals will have end to end visibility with decision support to adjust the flow of good in response to demand variation," Sherman says, noting such platforms are already emerging.
We offered some thoughts from Gartner on supply chain for 2011 last week, but the analysts there offered a separate set of predictions for global logistics from our analyst friends Dwight Klappich and Greg Aimi, among others.
Those prognostications included these two very interesting items:
Supply chain security has taken a back seat to cost reduction during the last three years. A major port disruption is likely within the next five years, however, which will force SCM organizations to formalize risk management.
"Co-opetition"— notably, partnering with potential competitors — will become a transformational SCM strategy, allowing early adopters to move beyond incremental performance improvements.

We also received a number of interesting predictions from the analysts at IDC Manufacturing Insights, who believe that in 2011 companies will recognize the "inherent complexity" in their global supply chains, and thus "will look for ways to drive out unnecessary complication through segmentation, simplification, and the use of business intelligence."
While there is inherent complexity in rapid lifecycle, global supply chains, IDC says thar "complication has also been the result in business process, IT applications, and inefficient decision making."
IDC also believe that in 2011 "Factory investment will be driven by capabilities rather than capacity."
Today, "Manufacturers have the capacity but not the capability to fulfill customer needs and to manufacture new products at the speed of innovation," IDC says, and will invest to better meet variable customer fulfillment needs globally and producing innovative products at the pace the market dictates.
Ok, that's it for round 2 - another set of very interesting predictions and observations. Again, full text comments from all the contributors in On-Target next week. Hope you enjoyed them as much as I did.
Any reactions to our contributors' supply chain predictions? What would you add? Please send us your predictions for 2011 at the Feedback button below.