I'm back from the JDA Software user conference in Orlando, an event in a sense I have attended since 2003, our first year of SCDigest, when I attended the Manugistics conference that year, before JDA acquired "Manu" in 2006.

The event in a real sense is even more important this year than last, even after the JDA acquisition of i2 in early 2010, as the company late in 2012 closed its somewhat odd merger with RedPrairie. I say "somewhat odd" because it was RedPrairie's private equity owners New Mountain Capital that acquired the then public and about twice as large JDA and took it private.

But New Mountain decided to keep the JDA name, headquarters location, and most of its leadership team in control of key positions (including CEO Hamish Brewer). The now combined companies had 2012 revenues of about $1 billion - a substantial size for a supply chain software company.

JDA continues to push the Cloud solutions approach it started championing at Focus 2012, and Brewer said in a media and analysts briefing that 36% of Q1 sales were Cloud-based deployments.

---

Its conference is more important than ever now because the merger for the first time really created a company that combines planning/optimization solutions with so-called supply chain execution (RedPrairie) to deliver a comprehensive supply chain software suite, and because it has risen to quite a large scale in terms of size and the number of customers it has; thousands of companies now use JDA software, so a large percentage of SCDigest readers are affected by what JDA says and does.

I realize already here that I need about twice the space that I have to cover the JDA news from the conference, keynote and breakout session highlights, and some analysis and recommendations for JDA. Look for a part 2 next week.

The attendance was in the 2600-2700 range, a big number for this industry. I was told about 25% came from the former RedPrairie base.

RedPrairie had two tracks on the agenda (Warehouse Management and Workforce Management), and Brewer called out several areas where he sees real opportunity to gain leverage from the combined companies: (1) better WMS-TMS integration; and (2) integration of JDA's existing e-commerce/multi-channel solutions with RedPrairie's fulfillment solutions for a true end-to-end capability in this hot space.

The latter makes perfect sense, and the former is long overdue. Companies with both WMS and TMS, including RedPrairie itself, have struggled to really come up with a 1+1 = 3 proposition, which is why so few of them win both sides of the customer equation. Maybe JDA can crack the code.

If you smartly read between the lines there, what I said implies the JDA TMS (which is mostly the former i2 solution with some Manugistics capabilities added in) will be the go forward product, and RedPrairie's TMS gradually retired (with what a user told me is a pretty generous six-year support plan). But really that is ok, because the current JDA solution is frankly much broader and more functionally rich anyways.

Though announced a month ago, the conference was also sort of the coming out party for the news JDA eight software suite and platform. If not for the RedPrairie merger, this would have been the major theme of the conference, but because of it the new release had to share the main stage.

I will say this is a very impressive effort, putting more than 30 applications under a common platform, look and feel, adding a powerful workflow capability to tie it all together (coming from i2's technology in this area), overall technology enhancements (including an interesting hybrid in-memory processing approach), "in-line" analytics (the analytics come embedded right in the application workflow), and new applications, including something JDA calls Demand 360. That new solution enables demand planners to slice and dice data in new ways and stay connected to the original forecasts, steps which are often performed outside demand planning systems today.

There are this very good reasons why JDA eight was recently selected as an SCDigest cool new product of the month.

I think under-appreciated from attendees and analysts is that Brewer said JDA's broad portfolio of solutions will be organized into six "suites". Those are: retail planning; retail execution; all channel commerce; warehouse; transportation; and manufacturing and distribution planning.

As one consultant said to me at the conference, these will be the six "elevators" that will in the end determine which of all the combined JDA/Manu/i2/RedPrairie solutions make it to the go-forward solution set. Users should pay close attention to the detail here - these suites are where the investment will go.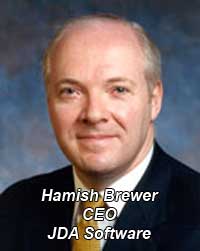 JDA continues to push the Cloud solutions approach it started championing at Focus 2012, and Brewer said in a media and analysts briefing that 36% of Q1 sales were Cloud-based deployments. An executive for high-end blue jeans manufacturer True Religion made the smart observation in a panel session that it makes little sense for a fast growing company to get itself tangled up in hiring lots of IT staff and managing applications when it can have someone else take care of all that in the Cloud.

I am simply not going to have room to cover highlights of key sessions here. Since there were some excellent insights and case studies at Focus applicable to readers whether they are JDA customers or not, I am going to have to save those for next week. With what room I have left I will use to offer keynote presentations highlights and provide a few final thoughts for JDA.

Digital genius and inventor Ray Kurzweil gave a keynote presentation on what the real ramifications are for the never-ending exponential growth of information-based technologies. When the project to map the human genome was only 1% complete in 7 years, for example, "linear" thinkers fretted about the slow pace. Kurzweil instead said "Great, we're almost done." Sure enough, the whole project was complete another 7 years later (1, 2, 4, 8, 16, etc.).

Kurzweil says "3D digital printing" for physical items will explode over the next decade - and that I know will deliver huge threats and opportunities for companies and their supply chains. Companies must pay attention to this starting immediately. I mean it. Kurzweil says 3D printing will soon be able to produce apparel items, as just one example.

Peter Unanue, EVP of Hispanic food manufacturer Goya Foods, gave a strong testimony that while you may be able to go from small to mid-sized with a limited technology capability, to go from mid-size to large you need a very strong supply chain technology foundation. It is better to be early than late in that evolution, was the message, or else you will constrain growth in the end.

Walmart exec Gary Maxwell said that in international markets, honest assessment of a country's real buyer needs, maturity in terms of infrastructure and supply chain knowledge/talent, price points that need to be hit and more must dictate a company's logistics strategy. Too many companies entering emerging markets over-invest in technology and automation, adding costs that make it tough to hit the price points and which provide a low ROI, he said.

"Best in market, not best in class," summarizes this approach.

All told, a very good event. My thoughts for JDA:

While I think the RedPrairie community was clearly shown respect, it could have been offered a little more "love." My conversations indicated that many felt a bit like outsiders. That is to a certain extent inevitable under the circumstances, but I will say there is a difference between "here's how your solutions will be included in our roadmap" and "here is why you are important to us" - you need some of both. I am confident JDA will get there.

There is so much opportunity in the consumer goods to retail sector that JDA tends to forget a bit in its messaging about some of the many other sectors where it has customers, especially from the i2 base (high tech, other discrete manufacturing, 3PLs, and others - RedPrairie has a lot of these too). JDA should make a more consistent effort at these events to take big picture themes and say "and here's how this concept applies to the high tech sector," etc.

That advice and $5.00 will get you a cup of coffee at Starbucks. Excellent and important event overall, as usual.

Did you attend Focus 2013? What are your thoughts? Any comments on Gilmore's observations? Let us know your thoughts at the Feedback button (email) or section (web form) below.