When it comes to improving order picking strategies and technologies, many companies are not sure where to start. Here's one smart place: I think the central question in order picking strategy is whether to move the picker to the part, or move the part to the picker.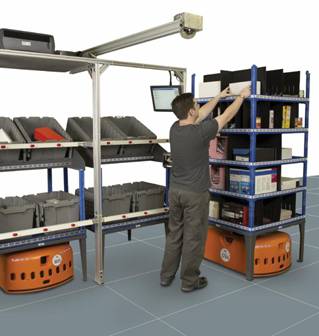 As stated in the recently published SCDigest Letter - Advanced Order Picking Systems, order picking and replenishment activities can represent more than 50% of distribution center labor costs. For most DC operations, selection of orders is the single most expensive part of the order fulfillment process. It is therefore appropriate that consideration be given to choosing the picking strategy before deciding on the equipment technology and system design. The evaluation of alternative pick strategies demands a thorough analysis and rational business case. It's not a matter of what has the most bells and whistles. Depending on the application, the right solution may also be the simplest solution and the one with the lowest cost.
The typical conveyor and sorting system approach involves bolt-to-the-floor stationary equipment and pickers that are mobile. The exception is where carousels are utilized to bring the product to the picker. Carousels can be effective when there are sufficient numbers of items of appropriate size and weight with relatively modest demand profiles.
A recent development by Kiva Systems (as demonstrated at NA08) utilizes robots (small wheeled AGVs) to deliver a constant stream of items to stationary pickers. With Kiva's Mobile Fulfillment Solution, products are stored on small sets of shelves known as inventory pods. When a particular SKU is needed, the management control system dispatches a robot (guided by optical markers placed on the floor) to pick up the required inventory pod and deliver it to the appropriate picking station. Here, a picker selects items from slots in the inventory pod, and places the item in the appropriate customer container, as directed by the computer screen and a laser light. When the picker is finished with a particular inventory pod, the robot takes it back to storage, or to another picking station, while at the same time another inventory pod is moved into the pick station and the pick cycle continues.