One thing that has long intrigued me is to what extent if any traditional supply chain processes and people might have in the distribution of electronic products.

I remember first asking the question at a supply chain forum at Penn State. During a panel discussion, the panelists, which included me, were asked to name key supply chain issues for the future. I first offered a few more traditional concerns, but ended with by suggesting that whether traditional supply chain practitioners should have any role in digital distribution was a question worth pondering.

In the almost 10 years now since that event, I don't believe I have once heard the topic discussed again. While electronic Content obviously today are primarily various types of entertainment media (books, music, games, movies, etc.), this could change in the future – perhaps some products might be delivered as files that a consumer or business takes to their own 3D printing company of choice.

Anyways, digital distribution today is almost exclusively the domain of IT staff and marketers.

With that brief backdrop, I was interested to hear of what Sony DADC is doing with digital distribution. Sony DADC is a division of Sony that for most of its life was focused on distributing Blu-Rays, DVDs and CDs for the entertainment businesses of its parent company.

As more and more of that business was moving to electronic delivery, Sony DADC was understandably worried about its future. Executives there made the choice to get into the third party distribution business, doing fulfillment for a growing host of other media companies, including third party services for Redbox, among more than 50 others. While the overall levels of physical media distribution continue to fall, Sony DADC's own business has grown rapidly, as it continues to pick up business from others that decide outsourcing is the better path.

Distributed Order Management is Key

Key to the success of the transformed business is a distributed order management (DOM) system. The DOM contains a powerful rules engine, which is needed to manage the specific inventory and fulfillment requirements of these numerous media company clients, each with its own specific rules and business processes. The DOM system elegantly handles this uniqueness in a way that is transparent to actual order execution.

That is all cool enough, and at the Gartner Supply Chain Executive Forum last May, John Postik, global CIO for Sony DADC, described how the DOM software (provided by Softeon, which also implemented the WMS as well as several other applications for Sony) is allowing Sony unprecedented levels of flexibility and speed in on-boarding new clients and meeting client-specific rules.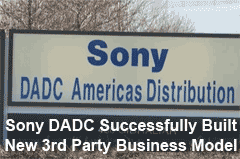 But guess what? It turns out there are also equally complex rules regarding digital distribution. Different songs, music videos, mobile ring tones, etc. are released globally to different e-tailers at different release dates. Each content owner has a different set of deliverability rules by territory, e-tailer, genre, and more, such as delivering only specific codecs (mp3, avi, mp4, etc.).

There are also different rules about pricing. Digital pricing has complex models due to the fact that consumer has various options – streaming, downloads, buy a single track or a single episode etc., This requires flexibility to support different price options by track, album, episode, price by region/territory, retail price, or any combination.

To the DOM system, a client is a client and a rule is a rule, whether the product is a physical or digital one. On the digital supply chain side, the Softeon system, which it calls Digital Virtual Warehouse, enables Sony DADC to easily configure all these client, product, retailer, and e-tailer specific rules in advance, before the release date(s), so when the time arrives, the electronic distribution is executed just right, in a highly automated fashion. All digital orders are created and pushed automatically to that e-tailer in that region depending on the release/street date. Release dates can be based on region/territory and other criteria like rights and clearances in that territory.

That is very cool. The DOM system and digital warehouse allow Sony DADC to offer an integrated service to clients that provides both physical and digital distribution across different pieces of content.

Will we see more of this? I am not sure. But in any scenario that involves both physical and digital versions of the same product, it just might make some sense.

DOM software generally can be very powerful – more companies should take a look.

Let me know your thoughts at the Feedback section below.