From SCDigest's On-Target E-Magazine

Sept. 26, 2012

Logistics News: European Expo Features New Highly Aerodynamic Tractor-Trailer Designs
Germany's MAN Says New Design will Reduce Fuel and Carbon Emissions by an Average of 25%; Sleek Curves Replace Traditional Boxy Design

SCDigest Editorial Staff
German truck maker MAN unveiled this week an aerodynamic class 8 tractor-trailer the company says can cut fuel consumption and carbon dioxide emissions by some 25%. With both diesel gas costs and greenhouse gas emissions continuing to be major sources of concern for carriers and shippers, the new truck platform may gain substantial interest.

SCDigest Says:

MAN says it made extensive use of a wind tunnel in developing the design and reaching their aerodynamic targets.

What Do You Say?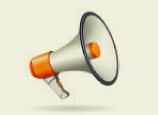 The new prototype was displayed at the IAA Commercial Vehicles expo in Hanover, Germany. MAN says the vehicle has the same load capacity of a conventional truck, while at the same time achieving the low drag coefficient of a passenger car.

MAN is providing the tractor (the Concept S), while partner Krone developed the AeroLiner trailer.

In fact, MAN says that to achieve substantial improvements in aerodynamics, it is essential to look at the tractor and trailer as one system.

The opportunities from better aerodynamics are substantial, the company also noted. It cited data showing that overcoming wind resistance requires up to 37% of the total energy used by the truck, depending on the route and wind conditions.

The rectangular profile of most existing trucks today arose from the focus of the design being to maximize cargo capacity - but times are changing.
The new MAN truck-trailer keeps basically the same capacity, but in order to achieve that and achieve the aerodynamics both the tractor and the trailer had to be elongated, for example to accommodate a curved radiator in the front of the tractor. The added total length of two to three meters for the combined system puts the new truck beyond the limits currently allowed by most current European regulations.

MAN executives say the new tractor-trailer could be available to the market as soon as the next generation of its trucks are designed for production in just a few years. But that is only if the current length limits are relaxed, so that MAN can be confident in making the additional investments in design and production.

MAN's engineers focused on airflow around the train as a whole, starting with the tractor's rounded front section, reduction in the size of its mirrors, and streamlined, integrated fuel tanks. In a newly developed concept, the spoiler is integrated in a form-fitting manner into the roof of the driver's cab. The closes the gap between tractor and trailer completely, allowing an even airflow over the vehicle, without separation.
MAN's New Aerodynamic Tractor-Trailer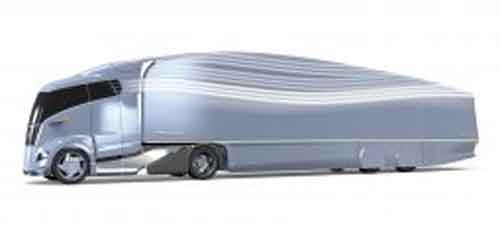 Full-size side finishers and a tapered rear in the trailer add the the lower wind resistance. This change has the additional benefit of reducing noise inside the cabin.

MAN says it made extensive use of a wind tunnel in developing the design and reaching their aerodynamic targets.

(Transportation Management Article Continued Below)