From SCDigest's On-Target E-Magazine

Aug. 1 , 2011

Logistics News: US Truckload Carriers Enjoy Mostly Strong Second Quarter, but as Usual Recently, Logistics and Intermodal Lead the Way
Carriers Say Capacity Discipline Key to Improved Rates and Utilization; Driver Shortage Getting Worse
SCDigest Editorial Staff
Truckload carriers in the United States enjoyed generally strong results in the second quarter, according the earnings reports filed by public company truckers in recent weeks.
As has been the trend for years, many of the carriers saw more strength in brokerage, logistics and intermodal operations than in core truckload carriage.
SCDigest Says:

Heartland noted that its operating results were negatively impacted by "tight driver availability" and that it is "challenged by the shrinking pool of qualified drivers."

What Do You Say?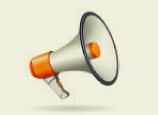 As shown in the table below, overall operating revenue for the eight public carriers analyzed by SCDigest rose by double digits in Q2, but those gains are a little deceptive. Fuel surcharge revenue accounted for a good portion of that increase for those more focused on traditional TL carriage, and those with strong logistics services offerings saw much of their overall growth there.
JB Hunt once again serves a prime example, where traditional carriage revenue rose only 4.3% in Q2, versus 18.3% and 28.6%, respectively, in its Dedicated/Logistics and Intermodal units. Similarly, Werner saw only a 2.2% gain in its core truckload operations, versus a 11.1% rise in Dedicated and other logistics-related services.
Its dedicated and intermodal businesses "once again revealed a higher degree of resiliency than that of traditional, full truckload transportation models," said John Roberts, JB Hunt's President and CEO.
Comparisons across carriers and these different business lines can sometimes be challenging because truckers report their numbers differently and often classify these services differently. JB Hunt, for example, provides quite a bit of data on each of its lines of business, whereas others lump all non-core trucking data into just one segment.
Marten Transport bucked the trend a bit, seeing its core carriage revenues up more than 11%, which the company says was achieved from a combination of having more trucks on the road and more revenue achieved per truck.
The profit picture improved for almost everyone, with more than 20% gains for seven of the eight carriers analyzed (Knight Transportation, with earnings up just 4.2%, was the exception). Swift Transportation swung from a $23 million loss in Q2 2010 to a $19 million dollar profit in 2011, while Celadon saw its profit more than double. Werner saw profits rise more than 30% on revenue gains of just 11%.
Q2 and Year to Date Truckload Carrier Results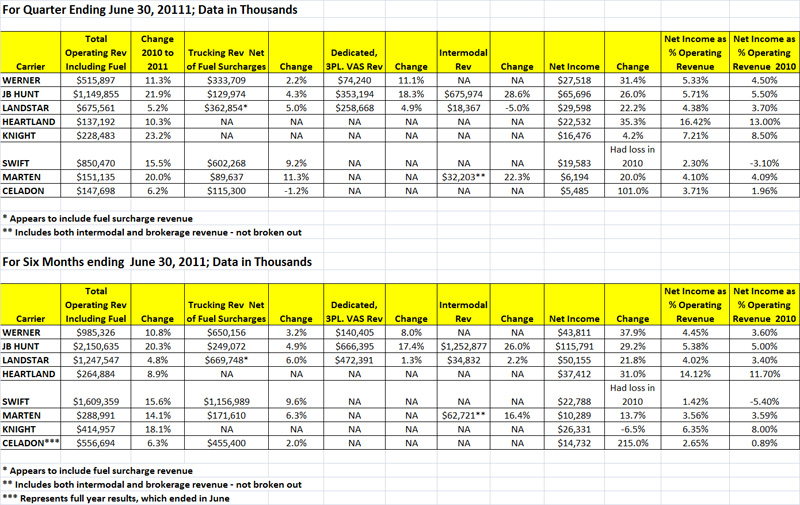 Source: Company Releases, SCDigest Analysis
The number are much the same on a year to date basis, as also shown in the chart (note: Celadon ended its fiscal year in June and so reported full year numbers rather than six month data.
In comments accompanying the earnings releases, several of the carriers noted continued discipline in the industry in terms of fleet capacity was a big part of the improving financial equation.
For example, Werner noted that "We continue to believe that favorable truckload trends are caused to a greater degree by industry capacity constraints than economic recovery." It said it saw relatively weak demand in April and May, but some volume recovery in June.
It added that "Capacity in our industry remains constrained by both economic and safety/regulatory factors. From 2007 to 2010, the number of new trucks purchased was well below historical replacement levels for our industry. This led to the oldest average industry truck age in 40 years by the end of 2010."
Henry Gerkens, Landstar's CEO, added that he "would characterize the overall second quarter freight environment as a little choppy, but moving in an upward direction."
The capacity balance let to a somewhat more favorable rate environment in the quarter, several of the carriers said. Celadon, for example, said rates were up 4% in the quarter.
(Transportation Management Article Continued Below)