Recently, SCDigest editor Dan Gilmore highlighted supply chain predictions for 2014 from a number of supply chain gurus. You can find that column here: Supply Chain Guru Predictions for 2015.
As promised, we then are the full text predictions from pundits Gene Tyndall, Mike Regan, George Stalk, Marc Wulfraat, David Schneider, and Chris Gopal. Good stuff. See Predictions from Supply Chain Gurus for 2015 - Full Text Version.
SCDigest Says:

What does that mean? That the inventory of many companies, including arch competitors, would be both stored and delivered together in a shared network.


After also summarizing predictions from some leading supply chain anallyst firms, such as Gartner and IDC Manufacturing Insights, this week here we are going to provude some additional detail, starting with Gartner's 2015 "Predicts" for global logistics.
Gartner analysts Dwight Klappich, Greg Aimi, Steven Steutermann, Ray Barger Jr, David Gonzalez, Christian Titze, and Chad Eschinger combined to put the global logistics predictions together.
There were four main predictions from the group, as follows:
• Through 2018, no more than 5% of companies will leverage multi-enterprise grid functionality, a set of unique capabilities of end-to-end supply chain visibility solutions.
• By 2018, 20% of companies will seek technology to optimize inbound freight collaboration between buyers, suppliers and third-party logistics (3PL) providers.
• By 2018, 25% of leading consumer products manufacturers will participate in shared distribution networks to reduce costs and use fewer resources.
• By 2018, 20% of companies will run their logistics organization as profit centers, servicing both internal and external customers.
Here, we are going to look at the second and third of those predictions in more detail.
With regard to the need to optimize inbound freight collaboration between buyers, suppliers and third-party logistics providers, Gartner says you should start with what CEOs are thinking.
Gartner's recent CEO study found that the top two strategic business priorities are growth, the overwhelming top priority, followed by cost management. Further, the CEO respondents' No. 1 technology investment priority in the next five years is business analytics.
"Therefore, chief supply chain officers (CSCOs), logistics leaders and chief procurement officers (CPOs) must link and align with these priorities and invest to maximize supply chain execution (SCE) and supply management contributions to the business," Gartner says.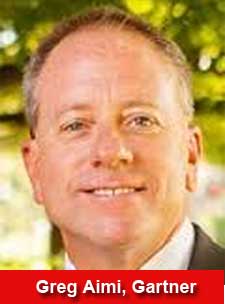 Gartner sees one untapped area where companies can both enable growth and control costs is through leveraging big data analytics for inbound logistics.
It notes that "A challenge for many companies is that they don't have an organization specifically empowered to support inbound logistics. Most companies tend to pay for the product, including the transportation costs, commonly referred to as "prepaid freight," and the supplier takes care of transportation. To bring that transportation in-house, shippers need more than just analytics. They also need an organization that can support inbound logistics."
Gartner adds that 'Most logistics organizations lack the tools and ability to analyze and orchestrate supply management contract and purchase order (PO) requirements with inbound logistics, 3PL providers and carriers to reduce overall inbound freight costs. However, logistics operations could assess current inbound freight activities, using tools like inbound transportation network modeling, while working with supply management to assess embedded inbound freight spend and to determine savings potential if orders and inbound deliveries were better orchestrated."
According to Gartner research, logistics costs as a percentage of revenue vary by industry vertical but are typically in the 4% to 5% range or higher. A significant proportion of these costs arises from inbound logistics, particularly for discrete manufacturing companies. Use of supply chain analytics to orchestrate inbound logistics could result in substantial cost savings. Companies need to first determine what inbound freight makes sense to move from prepaid to collect, and then determine what the implications are, from an operational standpoint, if the company takes over execution of collect movements.
For example, if a supplier offers a pickup date of Tuesday, when the normal route for the company's carrier has it arriving on Thursday, then the logistics planner loses the ability to coordinate this pickup with other freight moving on this lane. The planner would then need to schedule a special pickup on Tuesday, possibly using a less-than-truckload carrier, which would increase overall cost. While the shipment is on time, the lack of orchestration means the company incurred extra costs to execute to the terms of the PO.
"An analytic and optimization tool that aids buyers and logistics planners to identify mismatches and identify options (with business rules), as well as align planned pickups when scheduling POs and carriers, could help achieve the CEOs, CSCOs and CPOs goal of improved cost management and better margins," Gartner says, adding that "companies seeking to improve their supply chain maturity will be looking for such analytic/optimization tools to reduce inbound freight costs."
---
(Supply Chain Trends and Issues Article - Continued Below)