We're repeating here as our graphic of the week a chart we used in our review of the Annual Third Party Logistics study, released as always at the CSCMP conference last week, and led by Dr. John Langley of Penn State. (To see the full article, go to: Annual 3PL Study Finds Little Change in Outsourcing Levels Year over Year.)
From this year's report is a chart on the level of client/shipper statisfaction with 3PL IT capabilities, metrics that the report has tracked for many years, perhaps since its inception 16 years ago.
The good news: shipper satisfaction with 3PL IT capabilities has doubled over the last 10 years.
The bad news: that doubling was from what now seems like an incredibly low level of just 27% in 2002, and now stands at a still mediocre 54%.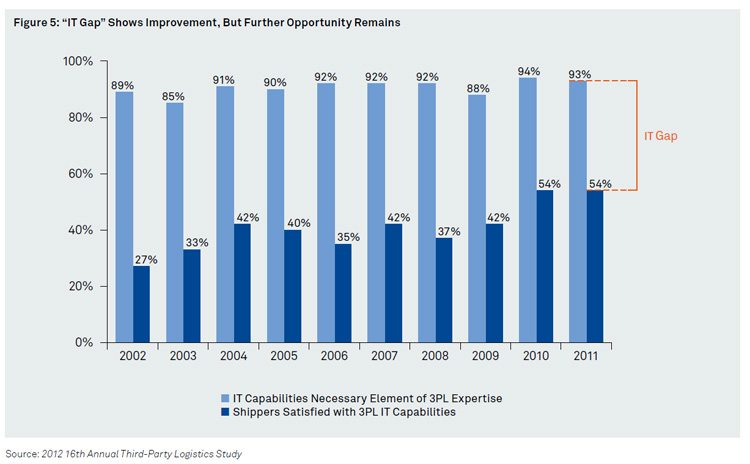 Source: Annual 3PL Study
So, that still leaves a large gap between how important shippers believe 3PL IT capabilities are, and where they perceive them to be, as noted in the chart.
We think there may be some latency in the perceptions, as many if not most large 3PLs are using today the same sorts of leading commercial packages as the shippers themselves are. Perhaps it has to do with their skills in using those tools, however, and/or that mid-sized and smaller 3PLs are still more technology challenged.
Have a comment? Send it at the Feedback button below.