Earlier this week, SCDigest editor Dan Gilmore did a review of the interesting new book The One-Page Report, of course, by South African authors Peter Handlinger and Greg Landwehr.
The book describes how to create an effective one-page report, providing a visual view of the data and meaning, such as is used in the so-called A3 documents in the Lean world. (The authors both formerly worked at Toyota.)
We liked one of the example reports used in the book, on a manufacturing improvement project for a fictional steel company, enough that we thought was worth repeating here, as our Graphic of the Week. This chart was taken from the full review, which can be found here: Excellent Advice on How to Create a Rocking "One Pager" in Excel. (This is a slightly higher resolution version.)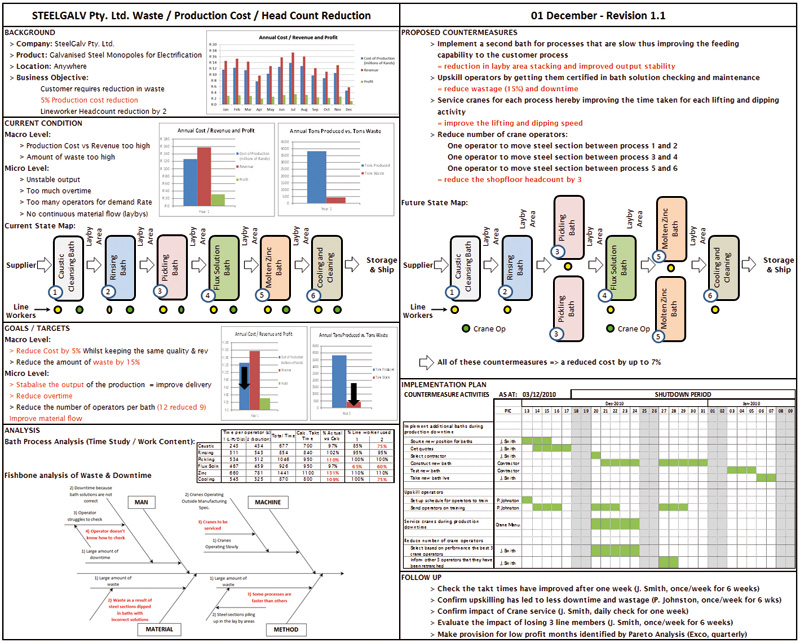 Source: The One Page Report...Of Course
As noted in the full review, the real differentiator in the book is that it demonstrates in very clear terms how to build such a one pager in Excel, as indeed this example was. The authors found in their consulting work that lack of skills to use the more advanced capabilities in Excel was the top barrier to doing such work.
We think there is lots of room in supply chain for this approach, whether in formal Lean projects or everyday work.