From SCDigest's On-Target e-Magazine
- June 24, 2015 -
Global Supply Chain News: Major Changes in Which Countries have the Largest Economies, Coming, New Assessment Says



China to Overtake US in 2026, India, Indonesia to Rise Sharply in "New World Order"
SCDigest Editorial Staff
China will overtake the US as the world's largest economy by 2026 in terms of nominal GDP, according to a new set of predictions from the Intelligence Unit research arm of The Economist magazine (EIU).

SCDigest Says:

We will note the rise of Indonesia from out of the top 10 in 2014 to fourth place by 2050, while all the Euro countries in the top 10 fall at least two places in addition to Russia and Italy falling out.

What Do You Say?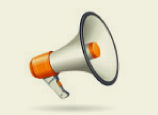 Some analysts believe the China already has or soon will overtake the US as the largest economy when calculated based on "purchasing power parity." That approach basically counts a loaf of bread as the same level of output between countries, even if the price for that bread is much higher in the US than in other nations.
So, it is more of a measure of the number of units of production adjusted for price differences to calculate the size of the economy, even if in terms of real purchasing power the US market is still much larger in dollar terms, as is the case currently.
But The Economist estimates China will surpass the US in a little more than a decade even when using a traditional calculation of GDP that doesn't try to adjust for purchasing power parity, and be far larger by 2050.
Years before then, India will jump six places from its current number 9 position to be the third largest economy, replacing current number 3 Japan.
In addition, Mexico and Indonesia will displace Russia and Italy among the top 10 economies by 2050.
Somewhat surprisingly, India and China will each be richer than the next five nations - Indonesia, Germany, Japan, Brazil, and the U.K. - combined, representing "a scale of wealth relative to the rest of the top ten that is unique in recorded history," according to the EIU.
As shown in the chart nearby, The Economist estimates that China's nominal GDP will be an astounding $105 trillion in 2050, versus about $71 trillion for the US and $63 trillion for India.
So that is about $239 trillion of GDP together for China, the US and India in 2050 - versus about $50 trillion for the next 5 countries combined.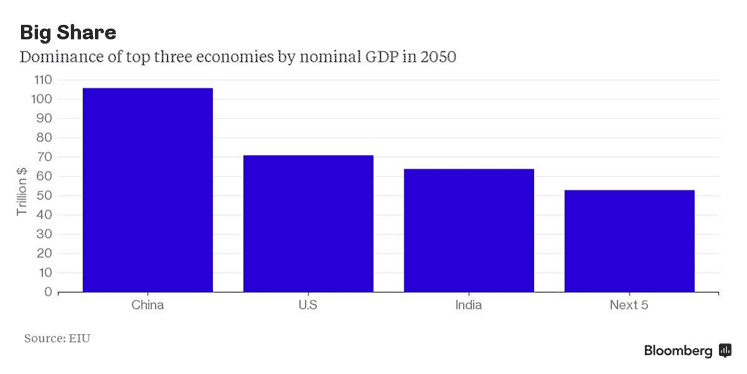 Mexico and Indonesia will displace Russia and Italy among the top 10 economies over the nxt 35 year.



(Global Supply Chain Article Continued Below)