From SCDigest's On-Target e-Magazine
- Oct. 16, 2013 -
Global Supply Chain News: Continuing Good News for Ocean Shippers, as Container Lines Just Can't Bring Capacity Down
Despite Over Supply, Just 1.7% of Capacity is Idled, While Many New Big Ships Still Coming Soon
SCDigest Editorial Staff
Over capacity in the container shipping industry remains a major problem for carriers, putting a near-constant ceiling on rates, and leading to a lot of red ink for many of the major players.
Idling ships might help bring that supply-demand picture into better balance, but most ocean carriers just cannot seem to muster the will to do so, in part concerned that they might suffer market share losses that become permanent, perhaps as they become the first carriers to idle a lot of ships whole competitors stand pat.

SCDigest Says:

Drewry also notes that the increasing number of consortia and alliances amongst carriers, such as the merger of the Grand and New World Alliances early last year, can complicate decisions about idling capacity.

What Do You Say?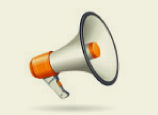 That insight according to the analysts at Drewry Maritime Research, in their most recent Container Insights blog.
"Although ocean carriers appear to have much to gain by laying up more vessel capacity in order to increase freight rates, the jury is still out on the extent of what will happen in practice," Drewry says.
Maersk Line CEO Soren Skou recently predicted that overcapacity is likely to remain a problem for carriers for several years to come, and that capacity should be withdrawn by the industry as a whole to achieve a more favorable balance.
But Drewry's research finds that despite significant overcapacity in the market, only 293,000 TEU, or 1.7% of the global container fleet, was idle or inactive in mid-September - and that surprisingly the percent of idled ships has been continuously declining since the beginning of 2013.
A major issue, Drewry says, is that most of the vessels that need to be laid up are over 8,000 TEU, but ocean carriers don't like idling their own large vessels.
As shown in the graphic below from Drewry, only two such large ships had been taken out this year through Sept, 10, although more are scheduled to be temporarily idled due to the approaching low volume winter season.
By far the ships most subject to idling have been very small ships of under 2000 TEU that have been falling out of favor anyways, due to high operating costs per container and orders for new, much larger ships.
Drewry says many carriers have been moving ships out of Asia to US West Coast routes and especially Asia to Europe tours, but then redeploying them on "North-South" lanes, postponing the inevitable given the level of container volumes versus capacity.
Meanwhile, new ships keep coming. Another 61 vessels over 10,000 TEU are due for delivery in 2014, on top of the 25 delivered so far this year, and the 14 still due before the end of 2013.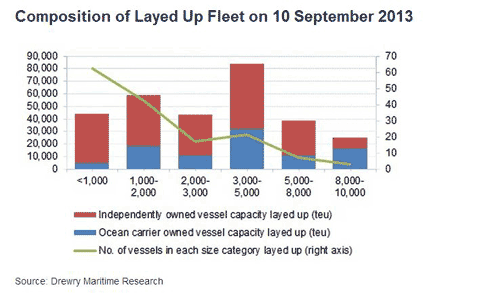 Too much capacity versus container demand means pricing will stay low, often below carrier costs. And that situation is hammering the carriers' profits and cash flow.

(Global Supply Chain Article Continued Below)