Related to the last point, what sort of language is used in questions is also important. What may seem like every day terms to supply management professionals may not well relate to the business users. (SCDigest would suggest having a few business user do a test of the survey as well, gaining feedback about any questions that are confusing or not clear.)
Procurement Satisfaction Surveys Often Ask Business Units to Rate Importance of a
Functional Area and then How they View the Related Effectiveness of Supply Managenment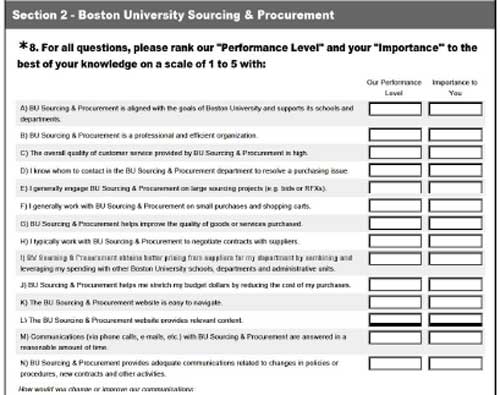 Source: Inside Supply Management/Boston University
Results should also be broadly shared - both the positive and the negative.
Finally, be patient - the survey and process won't be perfect at first. Dow says its feedback program took 4-5 years to really get right.
One technique that appears to be in fairly wide use among companies doing this kind of survey work is to ask business managers to rate the importance of a given function or process within the supply organization (say on a scale of 1 to 5 or 1 to 7) and then ask how well they feel procurement is performing in that area.
This will obviously indicate what line of business "customers" think is most important to their success, and perhaps show disconnects or gaps (e.g., supply management is performing very well in areas business managers think are less important, and vice-versa).
On the other hand, where business importance and supply management effectiveness are both rated high, it can be used to celebrate an area of success and reinforce value.
It is important to remember, the article says, that data is not necessarily information or insight. That takes some effort to really analyze the data that comes back and organize it in a way that is understandable both to the supply management organization and the business. Too often, procurement organizations pay too little attention to this almost last but critical step in the process, diluting the effort's impact.
The final step is really the development of an action plan based on insights from the survey data. The survey results, in fact, provide a great platform for meeting with line of business executives to review and finalize action plans for the next year or some other time frame.
Taylor says Dows' process "helps us with alignment at the top and is a great reinforcement of our value down through the organization."
And, for a supply chain function that is often challenged to articulate its value, the feedback process itself frequently serves to increase the understanding of procurement's value and the perception of its effectiveness.
"Our customer surveys help us sell the value proposition procurement brings. It shows we recognize their needs, we are listening and we are delivering," Siegfried quotes Richard Stack, director, sourcing and procurement for Boston University, as saying.
The article makes available Boston University's satisfaction survey here: Boston University's Procurement Satisfaction Survey.
Do you do these types of procurement satisfaction surveys? Do they deliver real value and insight? Keys to success? Let us know your thoughts at the Feedback section below.