From SCDigest's On-Target e-Magazine
- July 11, 2012 -
Global Logistics News: Ocean Container Capacity Grew Faster than Demand Over Past 12 Months - Again

Industry Saw 6.5% Growth in Container Capacity Since Last July, Alphaliner Says, Led by Maersk and MSC
SCDigest Editorial Staff
Despite record losses in 2011 and long runner overcapacity in the industry, container shipping lines continue to add capacity, according to a recent report from the analysts at Alphaliner.
Their research shows that the top 20 global container carriers added 844,000 twenty-foot equivalent units (TEU) to their operated fleet during the last twelve months.
SCDigest Says:

China exports, a huge driver of total global container volumes, have risen 9.2% in the first six months of the year, a healthy increase for most countries, but well below levels China has seen in many recent years.

What Do You Say?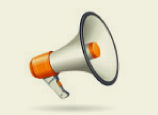 This despite continued overcapacity in a generally weak shipping environment, especially in exports to Europe, and heavy losses by carriers. The industry saw a record $6+ billion in losses in 2011, according to Drewry Shipping Consultants, and also experienced what Drewry called "appalling" first quarter financial results.
At the start of July, the total liner capacity has reached 16.53 million TEU, of which 16.05 MTEU is made up of fully cellular ships, according to Alphaliner's latest fleet statistics.
Total capacity grew by 6.5% overall in the last twelve months, led by the top 20 carriers, which increased their aggregate capacity operated by 6.4%. Of that, the two largest carriers, Maersk Lines and MSC, account for more than half of the capacity additions, having added 232,000 and 218,000 TEU, respectively, since July 2011. That means capacity was up 9.8% at Maersk, and 10.9% in MSC, as competition in the industry for market share remains fierce, benefitting shippers.
That 6.5% capacity growth can be considered versus projected volume growth in containers of just 4.3% in 2012, according to Drewry - and a global economic slowdown that appears in progress might take that tepid growth down even further.
Capacity grows through a combination of new deliveries for ships ordered by carriers several years ago, minus any ships the carriers decide to shuttle in the face of overcapacity or to retire older, smaller ships that are more costly to operate. Carriers can also gain capacity when ships they have chartered out to others are returned at the end of the lease period and put back into operation.
As shown in the graphic below, only two of the top 20 carriers, CSAV and Zim, shed capacity during the period. CSAV's capacity was lowered by about half during the last twelve months, down from 544,000 TEU last July to about 269,000 TEU currently, following massive losses. Zim's capacity is down only slightly.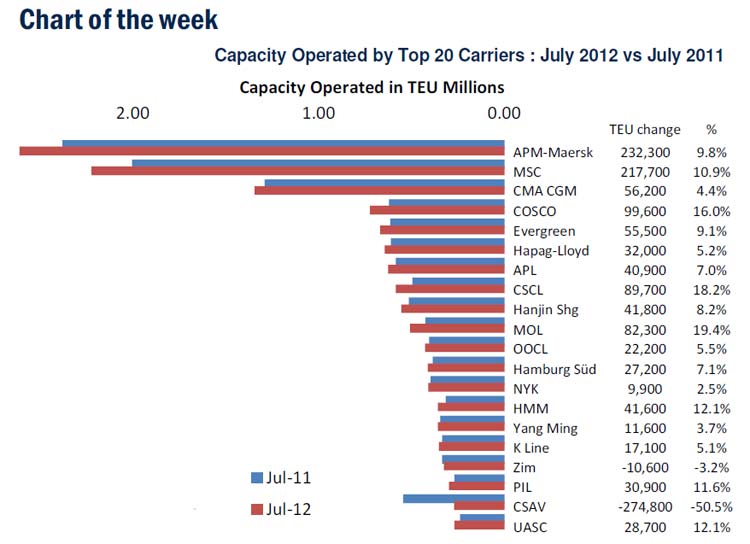 Source: Alphaliner

Drewry is saying that despite the capacity glut and terrible Q1, it believes the industry as a whole could come close to break even for the full year, as most container lines are operating above the break-even level on the major east-west trades because of the successful implementation of significant rate increases earlier in the year. Lower oil prices are also driving down the cost of bunker fuel, further helping the bottom line.

(Global Supply Chain Article Continued Below)