Amazon.com shocked the materials handling world early in 2012 when it announced it was acquiring Kiva Systems for an astounding $775 million. Kiva was the inventor of an innovative robotic order picking system, in which AGV-like orange robots move inventory on carriers to deliver product to pick stations.
Kiva customers included Staples, Crate & Barrel, and a few other dot com sites that Amazon later acquired, such as Zappos and Diapers.com.

Gilmore Says:

This would be consistent with my theory that Kiva is not selling to others now simply because there is no capacity to deliver to anyone beyond Amazon's own needs immediate plans and needs.

What Do You Say?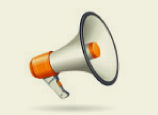 There were two surprises in this transaction: (1) the enormous price Amazon paid for a company that had a relatively few number of customers and annual revenue that was a small fraction of the purchase price; (2) that Amazon would buy a supply chain technology provider. The small history of such strategies - companies buying technology vendors - is not encouraging, for all kinds of reasons.
The fact that Amazon followed up the acquisition with a deafening silence as to its plans, not only at the time but over the course of the next year, naturally led to much speculation. For awhile after the deal was announced, Wall Street analysts during Amazon's quarterly earnings calls would ask about the company's intentions for Kiva, but the answer was always "we'll let you know as soon as we're ready."

In the Q4 earnings call held earlier this week, there was not any discussion by Amazon about its Kiva plans, or question about it from the analysts. I think they have forgotten about the subject for now. I think I will get on the Q1 call in three months and ask myself.
All this naturally led to speculation in many quarters that Amazon would not sell the technology to others, for competitive reasons.

There were riffs on that. I suggested that given the nearly 100 distribution centers Amazon has globally, rolling out Kiva's technology to those facilities would simply totally consume the manufacturing and implementation capacity of Kiva for a number of years.

Another logical thread was that Amazon was analyzing how much competitive advantage the Kiva system might give it, and therefore did not want major competitors such as Walmart to have these capabilities. Frankly, seeing what Amazon is doing, that would include almost every retailer.
This past summer, an ex-Kiva employee told SCDigest that "to date Kiva had made about 6000 robots in its history. Amazon is ordering 18,000 for its own operations. And Amazon is hiring production and project management people like crazy for the Kiva operation."
This would be consistent with my theory that Kiva is not selling to others now simply because there is no capacity to deliver to anyone beyond Amazon's own immediate plans and needs.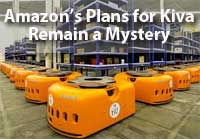 But maybe that will change. After missing ProMat this year, word is that Kiva once again grabbed some prime real estate for the ProMat 2015 show, in a process that as usual took place during the middle of this year's show. (ProMat is a bi-annual event.)
So, a logical line of thinking is that:

1. Amazon's needs for the next couple of years will totally consume Kiva's capacity to deliver.

2. Given that, there is no need to spend any money marketing the solution now.

3. That by 2015 that backlog will have been worked through at least in part, and Amazon will be able to sell the Kiva system to others, so the marketing recommences.
Now will Amazon sell Kiva to say Walmart.com? Even if my theory above is true, that is a whole other question.
There is one other wild card possibility, of which other rumors have been floating. That is that Amazon really views the Kiva approach as a lynch pin in aggressive plans to further build out its third party fulfillment business for other retailers and manufacturers.
If so, is it possible the Kiva space reserved for ProMat 2015 will really be used to market those capabilities, using a working display of Kiva robots to show just what Amazon could do for you in fulfillment?
While I still favor my theory, this last one actually makes more logical sense, as given Amazon's size ( $61 billion in 2012 revenues, growing 20+% plus each year) it would be almost impossible for Kiva by itself to make much of an impact on the company's revenue or profit… Unless it was by powering its third-party fulfillment business.
Owning something like Kiva and operating it like any other material handing company would simply be a distraction for Amazon in the end, which is why many of us questioned the sense of the deal at the time. I would bet any money that under that scenario Amazon will spit it back out or sell it off in the end.
But if the goal is 3PL dominance, then a lot of this suddenly makes sense, and Kiva becomes core, not a distraction.

Let me know your thoughts at the Feedback section below.