We consistently find that SCDigest readers very much enjoy articles and videos on subjects related to what we might call "supply chain finance."
Earlier this week, we summarized a recent report from the National Center for the Middle Market, an organization affiliated with Ohio State University, that looked at what it calls "margin management" in terms of interest and adoption by middle market companies (those between $10 million and $1 billion in sales, by the Center's definition). See Mid-Market Margin Management.
Just what is margin management? The report says it is simply the practice understanding where money is made and lost in a business. And that is actually a lot more difficult than it sounds.
At the end of the report, the Center provided a nice glossary of terms, which from our view is also a good summary of most if not all of the margin management tools available out there, just about all of which are connected to the supply chain. That list is offered as our graphic of the week below.
The Margin Management Tools Set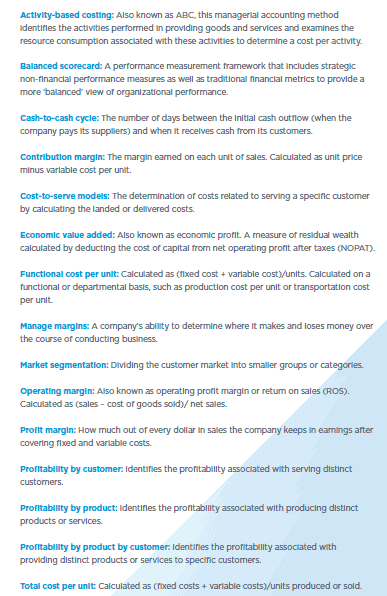 Source: National Center for the Middle Market
The list may be worth printing out and keeping in a desk drawer somewhere.
The quiz will be next week.
Any Feedback on our Supply Chain Graphic of the Week? Let us know your thoughts at the Feedback section below.