Last week, Chief Supply Chain Officer Insights (SCDigest's research arm), published a new report on Closing the Gaps in S&OP, an important new benchmark report based in part on survey results from almost 400 industry professionals.
The study covered probably more ground than any S&OP study to date, and really focused on best practices in S&OP/Integrated Business Planning (IBP) versus what companies are doing today - it is an excellent report.
One of the charts in the report is replicated below, looking at how much and in what areas companies are using scenario planning as part of the S&OP process.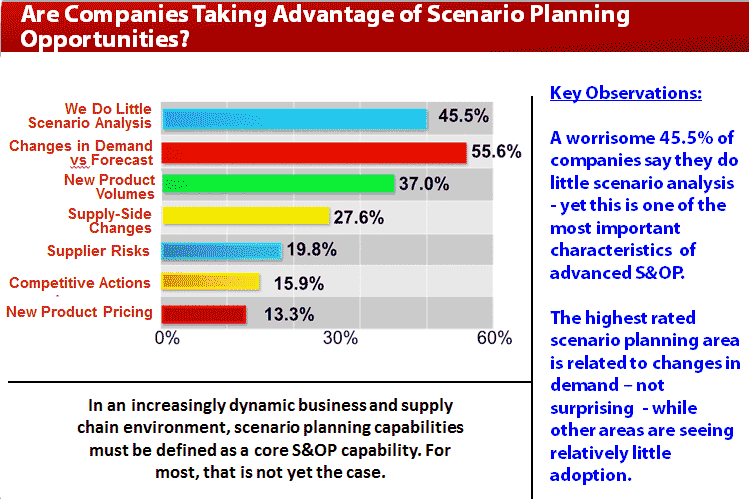 Source: Closing the Gaps in S&OP 2013 Report
As can be seen, under half do no scenario planning at all. Just 55% use it at the most basic level, to understand the impact of changes in demand. It falls off fairly rapidly from there, to just about 16%, for example, in terms of looking at the impact of various potential actions by competitors.
Why is this so? We offer three potential answers:
1. Many companies are simply still not at a level of S&OP maturity where scenario planning becomes part of the process.
2. On a related note, many companies do not have the more advanced technology support generally needed to do more substantial scenario planning (very hard to do in spreadsheets).
3. Companies just feel they don't have the time to add this step into their S&OP processes.
Yet, as the report notes, scenario planning "is one of the most important characteristics of advanced S&OP."
To download the full report, go here: Closing the Gaps in S&OP 2013

Or, go the S&OP report resources page, which includes not only the report, but additional S&OP articles, white papers, selected charts and other information.
Any Feedback on our Supply Chain Graphic of the Week? Let us know your thoughts at the Feedback section below.