Can the impact of poor US logistics and other infrastructure be quantified?
That is literally the multi-trillion question, as it is key to cost justifying, if you will, additional investments in roads, bridges, ports, waterways, rail lines, etc.
Every four years, the American Society of Civil Engineers (ASCE) issues a report grading US infrastructure across a number of areas, developing an overall average grade across all of them. The last such report in 2009 gave America a "D" rating. Another report will be released sometime in 2013.
As a prelude to that, however, the ASCE has developed a series of smaller reports under the headline of "Failure to Act." The latest one focused on the economic impact of US infrastructure problems, some of which is summarized in the infographic below.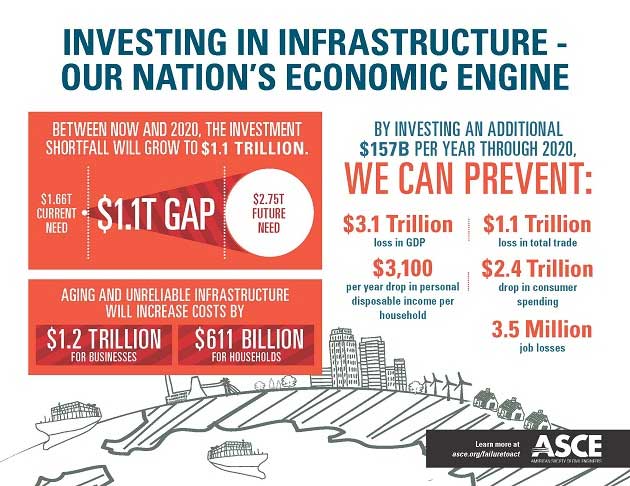 As can be seen the $1.1 trillion gap in funding for infrastructure between what the ASCE believes is needed in investment against the projected funding levels on the current path through 2020 will have a number of dire economic consequences, the ASCE believes: a $3 trillion loss of GDP growth, average loss of $3000 in disposable income per family, etc.
Is this right? We're frankly not quite sure, as the methodology used to calculate these estimates isn't detailed in the report. We are going to try to get that data, as it is essential to the analysis.
You can find a more detailed summary of the report here: Poor US Infrastructure has Huge Economic Costs, Engineering Group Says, While Massachusetts is Planning Major Increases in Transportation Taxes
Any Feedback on our Supply Chain Graphic of the Week? Let us know your thoughts at the Feedback button below.