As the megatrend towards material handling automation continues to gain momentum, we will see greater deployment of automation technology in the larger universe of warehousing and distribution applications. This will open the door to new and more productive methods of solving DC storage, processing, and quick response challenges.
Consider the rebirth of AGVs, which have been serving a variety of manufacturing operations for a very long time, primarily moving materials along a fixed path from point "A" to point "B". More recently however, AGVs have been gaining traction in DCs primarily because of advanced guidance technology that allows the vehicles to move with much greater flexibility than ever before (see "New Life For AGVs In Distribution").
This ability is key to their adoption in the DC because of the ever changing nature of product flow paths, which distinguishes distribution from manufacturing. That is to say - in the dynamic environment that characterizes the typical distribution operation, a flow path that was unobstructed and available yesterday may be unavailable today.
In the following somewhat limited space we report on how this new more versatile technology is being put to work in just a few everyday warehousing and distribution operations. For a more in-depth analysis, look for our 2011 Automated Case Picking (ACP) update report coming soon.
Automated Pallet Movement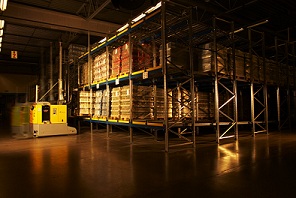 In the most robust (minimum touch, lights-out) automated DCs the entire storage process has been automated by laser-guided vehicles – including pick up of one or two pallet loads in receiving and/or at the end of production lines, delivery to multi-level high-density gravity flow racks or floor storage area, and delivery from production and/or storage to case picking or shipping (www.elettric80.it).

As it relates to automated pallet movement of finished product, some distributors are deploying AGVs to systematically load trailers. In this application, AGVs that are fully integrated with the WMS, pick up full pallets of finished goods from stretch wrappers and deliver them into their assigned shipping trailers. The system software coordinates efficient and safe vehicle movement and shares information with external input/output operations at the dock, on the conveyors, and with other software such as the warehouse control system (WCS) (www.jbtc-agv.com).

These fully automated electric-powered AGVs can also handle the regular supply of empty pallets and other consumables from various depots to production areas where they are required.

Operating around the clock, an important feature is the completely automated battery exchange capability. When the AGV battery is running low, the vehicle travels independently to the changing area. Once there, the control system directs the vehicle to a station where the discharged battery is automatically removed and exchanged for a fully charged one. The procedure takes about two minutes, after which the AGV is ready for another 10 to 12 hours of operation.

In addition to providing a more stable operation, the fully automatic handling of pallet loads from receiving and/or production, to storage, case picking, and shipping, is considerably more cost effective than less automated methods. The system's flexibility allows the AGV operation to be continuously updated to accommodate changes in flow path, handling conditions, and procedures.
Increasing Productivity In Low Volume Processing Applications
Most large DCs have systems and methods in-place designed to move high volumes of product. However, within many of these operations there are a large number of slow moving SKUs and other low volume material handling requirements that are addressed by people pushing carts between multiple picking and processing areas. In these situations, when people are away from their workstation pushing carts, that's lost production time which quickly adds up. Whereas, a conveyor solution may not be justified based on the low volume requirements, an AGV solution may prove to be a cost effective alternative.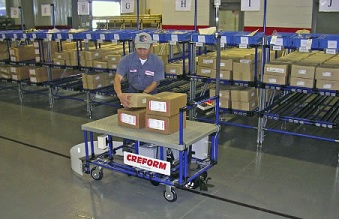 Low end AGVs (www.creform.com) that follow an adhesive-backed magnetic tape on the floor designating the guide path can increase productivity in low volume full case and split case picking/processing applications by eliminating much of the non-productive walking. The vehicles, which read the path through a magnetic induction sensor mounted on the vehicle, are constructed from plastic-coated steel pipe, joints and hardware accessories for modularity and configuration flexibility. With this design, vehicle configurations can be as simple or as complex as is required.

Installation is very quick – just a matter of laying the tape on the floor. Once installed the vehicles run in a continuous loop path, which can be easily reconfigured. The vehicles are programmed to stop at designated areas where they are manually loaded or unloaded. The major benefit is that product and customer orders move automatically on the AGVs.
In today's quick response logistics environment, DCs are often required to provide order assembly operations - a function that in the recent past was more closely associated with manufacturing. DCs that have these requirements spread across many assembly stations, and are operating multiple shifts, need an efficient, accurate, and cost effective parts delivery method that can be integrated into the DC enviroment.

Depending on the scope of the operation, manual delivery methods may not reliably support throughput requirements leading to part shortages and processing delays. In addition, providing a sufficient number of workers to deliver parts to all of the various assembly stations in a timely manner during peak production periods may not be manageable.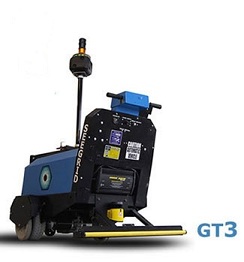 Companies in this predicament need a more flexible, cost-effective delivery system capable of supporting a three shift operation six days a week. Deploying an autonomous robot tugger to deliver part bins, totes or carts from a centralized parts distribution depot to multiple assembly stations may be the solution.

The GT3 tugger (www.seegrid.com) employs patented industrial mobile robotics technology to move independently throughout the facility. First, this high-tech tugger builds a 3D map of the environment utilizing onboard cameras. Then, independent reasoning ability enables the tugger to navigate a predetermined path throughout the facility to complete multiple delivery tasks.

Because of its versatility, the tugger can traverse multiple routes for the first and second shifts, and subsequently be changed to follow a completely different route for the third shift. This flexibility to change the routes easily and frequently is a huge benefit providing real value for the DC.