From SCDigest's On-Target E-Magazine

- July 22, 2015 -
Supply Chain News: A Look at the LTL Market by John Larkin

Stifel Sees Fairly Rosy Outlook for Beleaguered Sector, As Margins Back to Pre-Recession Levels, Possible Boost from eCommerce Deliveries
SCDigest Editorial Staff
Respected transportation sector analyst John Larkin, head of Stifel's Transportation& Logistics Equity Research - and who provides his transportation weekly analysis on SCDigest.com each Monday - recently gave an interesting presentation on the past, current and future of the US less-than-truckload (LTL) transport sector to a conference sponsored by 3PL Ozburn Hessey Logistics.
Here we are going to focus on Larkin's view of the current and future of the LTL group, though we plan to add his summary of the history of the sector to our Supply Chain History Project web site- whenever we get that off the ground.
SCDigest Says:

"LTL has bottomed out in terms of market share lost and is clawing some of it back," Larkin said.

What Do You Say?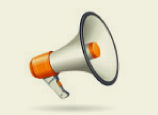 First, the LTL sector in the US continues to contract a bit relative to other modes, as truckload, rail and/or intermodal are just more cost effective versus the pick-up and delivery intensive LTL mode. Larkin calculates that LTL revenues are down to just 12% or so of the truckload market, for example.
But, absolute gains in LTL freight volumes have been decent, such that tonnage in 2014 passed the pre-recession highs. Larkin expects tonnage to grown in the 3-4% range over the next couple of years, before falling back to about 2.5- 3% annual growth after that.
In parallel, the LTL sector continues to get more concentrated. The top five carriers by revenue (FedEx Freight, YRC Worldwide, Con-way Freight, UPS Freight and Old Dominion) now control almost 55% of the market, as shown in the graphic below. FedEx Freight is the largest LTL provider, with about a 16% overall share.
The LTL market is more concentrated than the full truckload sector, where Larkin says the largest carrier "has only 2%, and depending on how you count it's maybe as little as 1%" market share.
Yet, despite being much more fragmented, in general the truckload carriers have been much more profitable than the LTL group (Old Dominion being a notable exception).
Another chart from Larkin provided below shows the average operating ratio - or operating expense divided by operating revenue, a key metric in the transport sector - for the LTL carriers as a whole dating all the way back to 2002.
Prior to the recession starting in 2008, the LTL sector had an average OR of about 93.5%, meaning an operating margin of about 6.5% before other expenses, such as financing. Even that is certainly not a healthy number.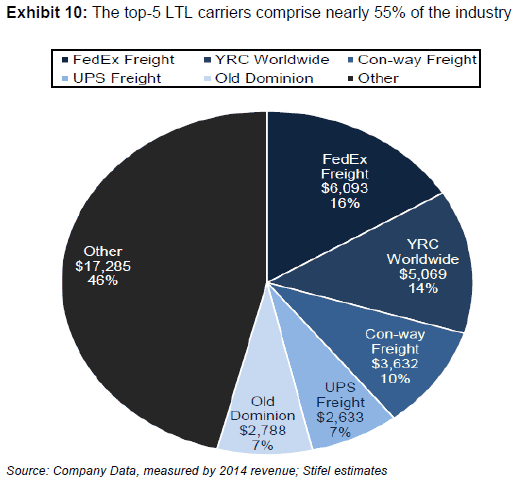 But things got really ugly during 2009 and 2010, when ORs at LTL surged to almost the 100% level, meaning operating expense equaled operating revenue, before other costs, and led to lots of red ink at many LTL carriers.

(Distribution/Materials Handling Story Continues Below )