From SCDigest's On-Target e-Magazine
- June 16, 2015 -
Supply Chain News: Bets on Ever Larger Megaships a Disaster for Container Carriers So Far



Some Rates have Fallen to Record Low Levels, as Carriers Continue to Order Ever Larger Megaships even as Volume Growth Slows, Rates Tank
SCDigest Editorial Staff
With the container freight market in the tank, it seems certainly a bit of an odd time to be placing an order for a big new set of container ships.
But of course that's what giant Maersk Lines did a few weeks ago, confirming rumors that it had placed an order for 11 new megaships capable of carrying 19,600 TEU, with options for six additional vessels from South Korea's Daewoo Shipbuildng.
The 11 ships on order are expected to be delivered in 2017 and 2018, at a cost of some $1.8 billion in total.

SCDigest Says:

"Ordering ships that take years to build is always something of a gamble. As things stand, the roulette wheel has landed on red when all the carriers had put their chips on black," Drewry notes in one of its blog posts.

What Do You Say?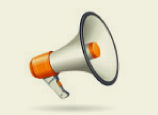 That after Maersk received 20 of its so-called Triple E vessels over the pastseveral years, designed to carry about 18,000 TEU. Maersk and other carriers believe these latest generation megaships significantly reduce the cost to move a container, hence the continued investment.

However, a new report from the International Transport Forum, an arm of the Organization for Economic Co-operation and Development, says 60% of the savings claimed by carriers from the larger ships are coming from more fuel efficient engines, not the result of the added scale, exaggerating the cost benefits of these ever growing vessels.
"These vessels will help us stay competitive in the Asia-Europe trade and will be key in our strategy to grow with the market. We expect to order more vessels, which we can add to our fleet from 2017 and onwards," said Soren Toft, Maersk Line's chief operating officer.
But that mind set comes as global trade volumes continue to be well below levels generally seen over the past two decades, and container rates are at some of their lowest levels ever.
The World Trade Organization says global trade averaged only 2.4% annual growth from 2012 to 2014, and forecasts only a modest 3.3% expansion this year. Since 1990, by way of comparison, international trade has averaged 5.1% growth before this deceleration in recent years.
Still the megaships keep coming, and rates keep falling.
The analysts at Alphaliner report that freight rates on Asia to Europe routes have dropped to their lowest levels on record "as carriers face off in a damaging rate war amidst weak vessel utilization. "
The SCFI spot rate index that measures rates from Shanghai to North Europe reached an all-time low of $243 per TEU on June 12 and could fall further, with rates as low as $150 per TEU reportedly offered by carriers.
That puts current spot rates incredibly far below breakeven levels, estimated at about $800 per TEU by Alphaliner. Effective freight rates, after deducting fuel surcharges, are now negative for carriers with BAF (bunker adjustment factor) averaging $337 per TEU in June.
The year-to-date average is $742 per standard 20-foot container, down 36% from the $1,151 average for the first five months of 2014.
While rates from the Asia to the US West Coast have held up marginally better, rates continue to slump sharply worldwide in the face of all the capacity, as shown in the graphic below from Drewry Shipping.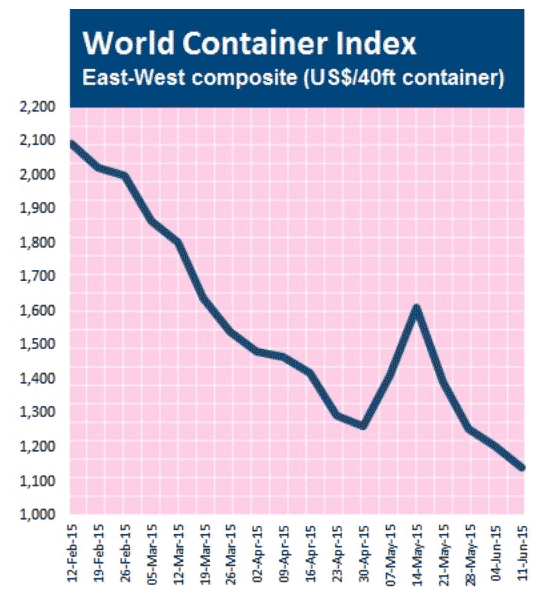 Source: Drewry
Although carriers have announced another round of general rate increases (GRIs) ranging from $900 to $1,200 per TEU starting on 1 July, any gains are likely to be short lived if not accompanied by effective capacity rationalization measures - something ocean carriers seem to be simply incapable of enacting, with some of them such as Maersk vowing never to lose even a point of market share even in the dismal environment. They'll lose money on every container, but make it up on volume, as they say.

(Global Supply Chain Article Continued Below)