From SCDigest's On-Target e-Magazine
- July 11, 2012 -
Supply Chain News: Purchasing and Procurement Professionals - How Does Your Salary Measure Up?
Average Comp was Down in 2011, but Median was Up to $90,000, Annual ISM Survey Finds; Women CPOs Raking it In
SDigest Editorial Staff
In May, the Institute for Supply Management (ISM) released its annual salary survey for purchasing and procurement professionals, also worth a look to find trends and see how your pay grade measures up.
SCDigest Says:

We're not quite sure why, but there is quite a variance in compensation depending on the industry. For the second straight year, by far the highest average was in the accommodations and food service industry.

What Do You Say?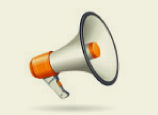 The headline news is that supply management professionals is now $102,218, a decline of 1.39% compared with 2010, when the average first moved into six-figure territory. The figures are self-reported by survey respondents and include both regular salary and any bonuses received.
However, most of that decline must have come at the top, as the median salary increased 3.45% from 2010 to $90,000. The percentage of supply management professionals earning $100,000 or more continued to climb, increasing from 38 to 41% in 2011 compared with 2010.
The highest compensation reported among this year's respondents was $682,000.
Among the respondents who received a bonus in 2011, the average bonus received was $20,792, which represented approximately 20% of the total gross salary received. However, it is not clear from the ISM report what percentage of supply managers received a bonus in 2011.
Bonuses probably played a key factor in whether "salary" went up or down. For those respondents that said they received a salary increase in 2011, the average was 6.7%, up sharply from 3.5% and 2.8% reported in 2010 and 2009, respectively. For those that saw compensation decrease last year, the average decline was 10.1%.
Of all respondents, 79% (compared with 66% in 2010) indicated their salaries increased, with 7% reporting salary declines in 2011. It seems to us changes in always volatile bonus levels could account for a significant portion of the increases and decreases in compensation, as for example, the fact the managers don't too often see their salaries cut, but often do see sharp declines or increases in bonus levels depending on the year.
Of course, a variety of factors go into what determines a supply manager's compensation, some directly, such as position level, some indirectly, such as level of education, which often impacts the position level manager starts at and/or reaches in the company.
The ISM report breaks out several of these factors:
Position Level: Chief Purchasing/Procurement Officers saw average compensation of just over $290,000 last year. Interestingly, women CPOs averaged more than $387,000, while men came in at $252,000. Our guess there: since there are far fewer women CPOs, they are in greater demand than men. "Manager" level purchasing employees came in with an average salary of $102,000. The full list of compensation by position level is shown in the graphic below.
Average Compensation by Position and Gender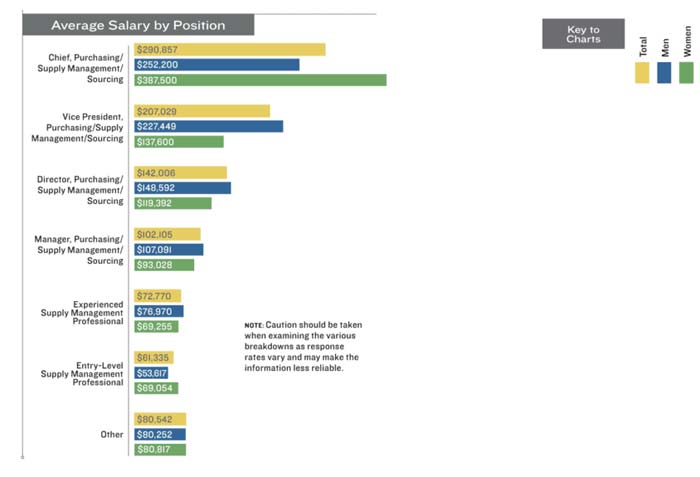 Source: ISM
Experience: Naturally enough, experience correlates with position level and therefore compensation. The average salary for supply management professionals with 11 years of experience or more was $107,000, while the average salary for those with two years or less of experience was $69,000 (which is not too bad for two years of experience, it seems to us.)
(Sourcing and Procurement Article Continues Below)