From SCDigest's On-Target e-Magazine
Jan. 4, 2011
Global Supply Chain: Yet Another Report Sees China's Manufacturing Advantage Shrinking

Total Landed Costs for US Companies Lowest in Mexico, 2011 Manufacturing-Outsourcing Cost Index Finds
SCDigest Editorial Staff
In the latest in a string of analyses over the past 18 months finding the US is likely to regain manufacturing volumes as costs in China continue to rise (see New Study from Boston Consulting Finds China Manufacturing Cost Advantage Over US to Disappear by 2015), the latest Manufacturing-Outsourcing Cost Index from the consultants at AlixPartners finds similar trends, saying that China's current advantages are likely to eroded - but that what happens in the three critical cost drivers there are key.
SCDigest Says:

if all three assumptions were to prove correct, US and China costs into the US would be roughly equal by 2015.

What Do You Say?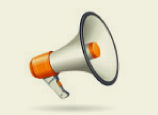 The new report tracks average total landed costs into the US for a basket of parts and components across seven countries, including the US. The other countries are: China, India, Russia, Vietnam, Romania, and Mexico.

In the last year, Mexico has emerged as the country with the lowest total landed costs, coming in at about 75% of the US level. In last year's report, Mexico had been in a virtual dead heat with all the other countries except China for lowest cost source. However, all those other countries saw their relative costs rise about 10 percentage points over the past year (largely due to a falling dollar), while Mexico's relative costs rose only about 5%. (See graphic below).
China's relative costs rose sharply, to about 88% of US costs.
However, AlixPartners says that moving forward, it "expects LCCs' competitiveness with the U.S. to erode," and that Asian low cost countries will likely be more impacted than Mexico.
All told, the current savings opportunities for low cost country sourcing are back to about where they were in 2005 and 2006 the report says, after some temporary changes in the figures related to the financial collapse and global recession.
China Faces Challenges

Alix says that since 2007, the competitive landscape for outsourcing has shifted significantly to favor Mexico, some locations in Europe, and several locations in Asia other than China.

Outsourcing Costs in Various LCCs Versus US Costs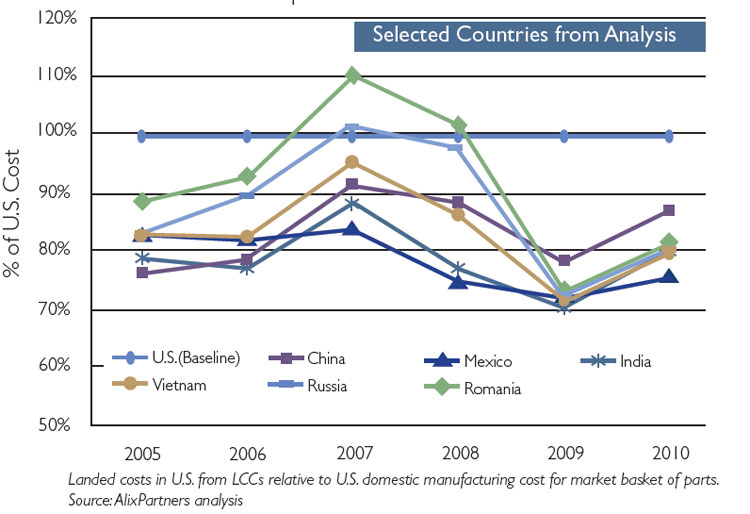 (Global Supply Chain Article Continued Below)