What on earth does that mean? In great summary, it says that companies have to structure themselves to both achieve continuous improvement (i.e., lower costs) while driving product and supply chain innovation at the same time. It's harder than it sounds, especially in getting the right org structure and metrics to do both well.

I also liked the observation that in many companies, top level strategies and metrics are clear, as are individual goals and metrics for specific roles in the organization. The issue is in the "murky middle" - the translation of the top level goals into performance metrics at the individual level. If this isn't well managed, like a balloon if costs are squeezed on one area, they often pop up in another, resulting in little or no total improvement.

I thoroughly enjoyed the second day keynote address by Sean Willems, Logility Chief Scientist after Logility acquired Optiant, the inventory optimization company he co-founded, a few years ago. An academic, Willems also recently took the post as the Haslem chair of supply analytics at the University of Tennessee just a short while ago.

His presentation on the "efficient frontier" - in essence, another term for supply chain tradeoff curves, but with some new wrinkles - was outstanding, and a 2015 presentation of the year candidate for sure (if for no other reason that it aligned very well with some thinking I have been doing lately). I covered this in detail in last week's First Thoughts column, which you will find here: Understanding the Supply Chain ''Efficient Frontier''

But I also really enjoyed his brief anecdote about what how some his students have recently responded after he asked them to wrote down a question they still have after a lecture on calculating optimized inventory levels.

Here were a few of those submitted questions:

"This is all just simple math. What is hard about this in the real world?"

"Why doesn't everyone do this since it's pretty simple, but effective?

"If inventory management is this simple, why do companies need consultants? Why don't they just hire smart people?"

"Can supply chain planners secretly use their own forecast instead of the one marketing gives them?"
We need more humor in supply chain, a notion I need to frequently remind myself. These all made me laugh.
John Ball, Sr. Director of Optimization (have to love that title) at the foods division of JR Simplot (think McDonald's French fries, but now more than that) gave a basic but solid review of how over the past few years the company has moved from operating much in silos with very dated technology to a much more integrated approach to supply chain running much more modern tools (from Logility, naturally enough).
Those tools have really provided a platform for the company to pursue new growth strategies (new lines of business, acquisitions) that it just could not have done very efficiently before. My question when I hear this specific type of presentation usually is this: How many more JR Simplots are there out there, operating in a way no longer really competitive in 2015, with dated technology that puts it at a competitive disadvantage? Business and technology leadership is needed desperately at these companies. There are many cases studies, such as the JR Simplot story, of the results of transforming supply chains.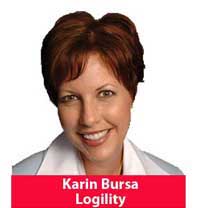 From a breakout session perspective, I also really enjoyed a presentation by Toby Norwood and Brian Wieland, both operations research engineers at Intel - even though I only understood about half of it.
The company has been using the Optiant multi-echelon inventory optimization (MEIO) solution for more than a decade in one major product area, and achieved many benefits. The message here was that MEIO is not something that you install and then sit back and receive the benefits. Rather, it is a platform through which you can increase benefits over time by working to achieve continuous operational improvements.
In Intel's case, this case come from much work not to improve forecast accuracy (that is coming next) but believe it or not, just to really understand the true level of forecast inaccuracy. Simply by improving the understanding of forecast inaccuracy, the parameters to the MEIO solution can be adjusted to improve the safety stock levels it recommends (by lowering the co-efficient of variance).
It has done that using techniques such as "kernel smoothing" and more (hence the 50% of the presentation I didn't understand) to great effect, ultimately reducing inventories by 17% from the initial MEIO results. It has also increased the percentage of "no touch" inventory level recommendations coming out of MEIO (meaning there is no adjustment by planners) from around 65% early on to some 95% currently - indicating deep trust in the MEIO results today.
So all told a good day and half with Logility and its customers, and good effort again from Karin Bursa and her marketing team at Logility in pulling together a good event. (Alas I had to leave before the party aboard the USS Midway Wednesday evening).
Adding as always my two cents, Logility in general seems to be in a good spot. But I think the company itself needs to be a bit "bimodal," continuing the relatively conservative practices that have led to success (and importantly stability) while perhaps upping the excitement and thought leadership quotient a few notches, as it grows into a bigger company. Leveraging Willems even more is one avenue to do that.

Any reaction to our trip report for Logility 2015? Were you there? What were your thoughts? Please let us know your thoughts at the Feedback section (email) or button below.
SCDigest is Twittering!
Follow us now at https://twitter.com/scdigest