Category: Transportation and Logistics
Supply Chain News: ATRI Updates Cost of Congestion for Truckers for First Time since 2016
Transportation Research Group Finds Congestion added $94.6 Billion in Trucking Costs in 2021



We all know highway and road congestion is frustrating. For truckers, it also levies a high cost.

Supply Chain Digest Says...

The report concludes by noting that when ATRI crunches the numbers, 2022 will almost certainly see even greater congestion costs for trucking.


---
What do you say?
Click here to send us your comments

Just how high?

The American Transportation Research Institute (ATRI) is out with its latest estimate of those costs, estimated for the first time since 2016, looking at costs from 2017 to 2021. The headline news: congestion costs to truckers came in at a substantial $94.6 billion dollars in 2021, based on a total of 1.27 billion hours of lost productivity.
Additionally, when the total congestion costs of $94.6 billion are distributed across all registered tractor-trailers in the US, the average annual cost of congestion per truck is $6,824. This is equivalent to three% of the average annual revenue generated per truck in the truckload sector in 2021.
ATRI's analysis also found that the trucking industry wasted over 6.7 billion gallons of diesel fuel in 2021 due to congestion, with corresponding CO2 emissions
How is this estimate calculated? A critical piece is use of data from ATRI's its unique truck GPS database. It also involves the following cost-related components:

Cost per Hour: The marginal unit cost per hour to operate a Class 7/8 combination truck, which can be multiplied by hours of delay, resulting in a total congestion cost.

Volume/Vehicle Miles Traveled (VMT): The volume of combination truck traffic by geographic and temporal segment measures the number of trucks that are impacted by delay. Truck VMT is the total of all truck miles traveled in a given year in a corridor, state, region or nationally.
Speed: Average highway speeds for combination trucks by geographic and temporal segment identifies the deviation from free flow speed (and thus additional travel time).

(See More Below)


The average cost to operate a truck was $74.65 per hour in 2021, ATRI says (see chart below.)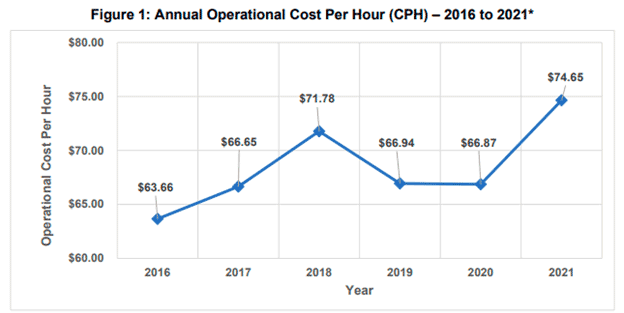 Source: Cass ATRI
However, the cost of congestion per truck of $6824 in 2021 was only up 5.3% five years after 2016, when the cost was $6478 per truck.
The report concludes by noting that when ATRI crunches the numbers, 2022 will almost certainly see even greater congestion costs for trucking. The trucking industry's operational costs in 2022 increased 21.3% over the prior year.
This in part is due to increased fuel and labor costs. Likewise, ATRI's bottleneck analysis for 2022 showed increased congestion, a key driver in the Cost of Congestion report calculations, with the average peak hour truck speed across the top bottlenecks dropping 6.1% to 36.3 MPH in 2022. What remains to be seen are the final national VMT figures for 2022 – these too are likely to increase.

As the necessary data points are available, ATRI plans to continue updating this research annually.

The full report is available here: Cost of Congestion to the Trucking Industry: 2023 Update

Any thoughts on this Cass report? Let us know your thoughts at the Feedback section below.


Features

Resources

Follow Us

Supply Chain Digest news is available via RSS

Newsletter

Subscribe to our insightful weekly newsletter. Get immediate access to premium contents. Its's easy and free
Enter your email below to subscribe:
Join the thousands of supply chain, logistics, technology and marketing professionals who rely on Supply Chain Digest for the best in insight, news, tools, opinion, education and solution.
h e