Category: Transportation and Logistics
Supply Chain News: Amazon Fulfillment Center Workers in UK Walk, Complain Bathroom Breaks are Timed
Take too Long in the Loo, Prepare to be Challenged, Workers Say
About 300 workers at an Amazon Fulfillment Center in Coventry in the UK were preparing to walk off the job Wednesday, amid numerous complaints that include allegations workers' bathroom visits are watched closely by supervisors for "excess" time spent in the loo.
Supply Chain Digest Says...

Just 300 of the 1500 or so workers at the FC are planning to walk out, the union says. Planned walkouts at Amazon FCs both in the US and Europe have largely fizzled over a number of years.


---
What do you say?
Click here to send us your comments

Workers at the facility are members of the GMB union.
As first reported by the BBC, workers told the network about what they alleged were "severe" conditions, claiming they are constantly monitored and chastised for "idle time" lasting just a few minutes.
Amazon, however, said it has a system "that recognizes great performance."
Pay is also an issue, workers say, complaining about a recent pay raise of 5%, taking base wages to 10.50 Euros per hour, or about $11.23 in US dollars. That is well below Amazon's US minimum wage of $15.00, with employees in some markets at $20.00 or more.
Workers are also of course facing pressure for wages to keep up with inflation.
Two Amazon workers said that the robots in the warehouse are treated better than workers.
The two described to the BBC how even a trip to the restroom can lead to questions by supervisors.
"The thing with stopping work is that they want to know why," said Garfield Hilton, "So if the time is beyond a couple of minutes they can see it on the system."
That's a problem, Hilton said, because it is not always possible to find restrooms nearby in the giant FC, and the effort to locate one and come back to the job can sometimes take as long as 15 minutes.
"They will then question you, 'What were you doing?'" Hilton says.
The workers said time when they are not scanning is logged, and when it cumulatively goes beyond some threshold workers are challenged.
Also, instead of scanning tasks, workers might be asked to move pallets. "So when there's problems with a pallet or a box, that time will accrue," said another FC worker, Darren Westwood.
(See More Below)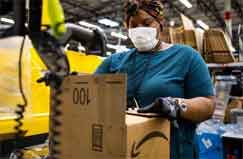 "Technically it could add up to 30 minutes. [The managers] will come down and say, 'during today, you've had 34 minutes of idle time. What were you doing?" when the slack time was beyond a worker's control.
A spokesman for Amazon in the UK said: "Performance is only measured when an employee is at their station and logged in to do their job. If an employee logs out, which they can do at any time, the performance management tool is paused."
Just 300 of the 1500 or so workers at the FC are planning to walk out, the union says. Planned walkouts at Amazon FCs both in the US and Europe have largely fizzled over a number of years.
Westwood said there was a huge range of different nationalities who work at the Coventry FC, many who are afraid to stand up to Amazon.
"They don't understand this is the UK - we can organize a union, we can protest, we can withdraw our labor."
"Coventry might be the start [of the strikes], but it won't be the finish," union organizer Amanda Gearing said from the picket line. "We know there are workers in other centers that feel exactly the same."
We've heard that before, but it never rises to much in the way of action.
Any thoughts on this Amazon story? Let us know your thoughts at the Feedback section below.

Features

Resources

Follow Us

Supply Chain Digest news is available via RSS

Newsletter

Subscribe to our insightful weekly newsletter. Get immediate access to premium contents. Its's easy and free
Enter your email below to subscribe:
Join the thousands of supply chain, logistics, technology and marketing professionals who rely on Supply Chain Digest for the best in insight, news, tools, opinion, education and solution.
h e