Category: RFID, Automated Data Collection, and Internet of Things
RFID, AIDC and IoT News: Understanding Bar Code Print and Apply Systems in Distribution Centers

Labels for Inbound Receiving, Parcel Shipments and Retail GSI-128 Labels are Common Applications, But Just How Does the Applicator Know What Retail Label to Print?

| | |
| --- | --- |
| March 23, 2021 | SCDigest Editorial Staff |
| | |
Label printer-applicators are of course very prevalent in manufacturing operations, but there is strong growth distribution center applications as well, notably for print and apply of shipping labels, and especially for GS1-128 labels (formerly the UCC-128) to meet retail compliance requirements, and for parcel carrier compliant labels, especially for ecommerce fulfillment.
The big difference in print and apply (PANDA) applications in distribution centers as opposed to manufacturing is the dynamic nature of the labelling requirements. In general, manufacturing applications involve batches of product that for a time are uniform in size/shape (e.g., cartons of the same SKU), and perhaps more importantly may have the same static product information and bar code identifiers for every label in the batch.
Supply Chain Digest Says...

To make this work, the software controlling the print and apply system needs to receive a full distribution of what SKUs (cases) of product are expected for which customers over some time period, such as a wave.

---
What do you say?
Click here to send us your comments

Click here to see reader feedback
Contrast that with compliance shipping labels or parcel shipping applications, where the size of every box coming down a conveyor line might be different, and more challengingly, not only will some of the data on the label likely change with every label printed, the format (design) of the label itself can vary from retailer to retailer even under the broad GS1-128 standard.
That requirement not only adds to the processing time needed to print and apply a label, it means the printer-applicator needs to be controlled by an integrated software application, often a module of a warehouse control system (WCS), though it might also controlled by a standalone application or be directly controlled by the WMS.
Benefits of Automated Print and Apply in the DC
As the name implies, automated print and apply systems (and they are certainly systems, not just labeling machines) are primarily designed to reduce the labor costs required to label cartons. In receiving operations, for example, floor loaded cartons might be placed on to a conveyor to have a simple bar code serial number label applied to each box. That identifier would later be used in picking and/or pallet build, and the auto labeling process would generally be a lot more efficient than having receiving workers manually applying those labels to each carton.
On the outbound side, print and apply is often used to eliminate "pick by label" processes that can be made more efficient by having a PANDA system apply the shipping label downstream.
For parcel shliping labels, the labels may for the carrier's own designs, or have carriers data including the right bar code, integrated into a retail compliant label. Here again, the goal is to let a machine do the labor of applying the labels rather than a DC worker at a pack statiions.

The print and apply system would be on a conveyor that serves one or more parcel processing lines, where operators pack orders into shipping carton before pushing the case on to the conveyor for automated labeling.
This implies the carton has some bar code identifier on it that can be read by the PANDA system scanner.
Typical Shipping Label Application Flow

GS1-128 labels are an operational reality for most consumer goods manufacturers, as these labels are required by their retail customers, each with their own data and format requirements.
(See More Below)


Automated shipping label systems work in tandem with a mechanized picking environments. This would involve, for example, a batch "pick-to-belt" scenario, where operators pick all the cases for each SKU in a "wave," stopping at each SKU location just once across different customers. This can drive significant reductions in total operator travel time versus discrete order picking, where each set of picks is handled separately.
Workers then places those batch picked cases on a conveyor for takeaway, where they are transported to a carton sortation system.
Somewhere between the pick modules and the sortation system will be one or more print and apply stations. But how does the print and apply system know what label to print for each carton?
There are different options, but a common approach is to use the case bar code (GS1-14) that operates similar to a GTIN-12 (UPC) bar code on individual items, though it uses instead the "I 2 of 5" bar code symbology. The GS1-14 identifies what SKU is in the case and the quantity, based on a pack size digit at the front of the bar code data. The item number for each SKU in the GS1-14 is in fact the same as the item number in the GTIN-12 (UPC). And as with the GTIN-12, every SKU has an identical bar code identifier - there is no serialization. Often of course, especially in the consumer packaged goods sector, the GS1-14 bar code is printed right on the carton itself, usually with an inkjet printer as part of the carton manufacturing process.
To make this work, the software controlling the print and apply system needs to receive a full distribution of what SKUs (cases) of product are expected for which customers over some time period, such as a wave, as well as all the other information needed to print a shipping level (shipment address, "mark for" information if appropriate, SKU number, sometimes purchasing information such as PO number and buying department, etc. (See GS1-128 label example below.)
Example GS1-128 Serial Shipping Label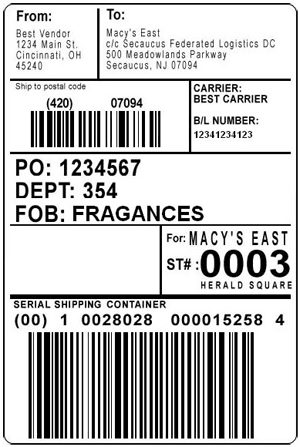 As cartons approach the print and apply system, the GS1-14 SKU bar code is scanned. That triggers the print and apply control software to find the next order for that SKU in the wave. The control systems selects the appropriate retail label format (Target, Macy's, Dillard's, etc.) and sends that as well as other information needed on that retailer's label to the printer-applicator. That would include the serial number for the GS1-128 bar code that uniquely identifies each carton (that number could come from the control system or from from the WMS or other enterprise system).
After the label is printed and verified by a post-application scan, the label information is passed back to the overall WCS, which now knows the carton with a given serial number belongs with some specific customer order. From that point, the system scan the GS1-128 number to identify and track the carton through the merge and sorting processes, and then diversion down the appropriate lane for palletization or direct truck loading.
That same information would generally be also passed back to the WMS, which might use it to confirm the right cartons are placed on the correct pallets at the end of the divert, etc., as it takes control back over from the WCS when the sortation is complete.
That describes the process flow for automatically printing and applying shipping labels in a scenario of pick-to-belt with downstream sortation. Next week, we'll look more specifically at the components of the print and apply system itself.
What's your take on printer-applicators in the DC? What would you add to our process description? Let us know your thoughts at the Feedback section (web form) below.
Steven Murray

Sr. Warehouse Process Analyst, Supply Chain Visions and WERC
Regarding receiving operations - I would prefer to see distributors work with their suppliers/clients to adopt standardized labels and marking on the supply side (Gs1-128, ITF-14, UPC) and completely eliminate any need for applying labels during the inbound process. The time honored task of printing and applying LPNs and internal product labeling during receiving operations are unnecessary, time wasting and costly tasks in today's world.
Features

Resources

Follow Us

Supply Chain Digest news is available via RSS

Newsletter

Subscribe to our insightful weekly newsletter. Get immediate access to premium contents. Its's easy and free
Enter your email below to subscribe:
Join the thousands of supply chain, logistics, technology and marketing professionals who rely on Supply Chain Digest for the best in insight, news, tools, opinion, education and solution.