From SCDigest's On-Target e-Magazine
- July 22, 2015 -
Global Supply Chain News: Western Apparel Companies Increasingly Look to Africa for Sourcing, but Many Challenges Remain for the Continent



Monthly Wages Average Just $21 in Ethiopia Versus a Whopping $67 in Bangladesh; Plus, You Can Grow Your Own Cotton
SCDigest Editorial Staff
It seems almost inevitable, but as wages rise in China and to a lesser extent elsewhere in Asia, Western apparel retailers and brand companies will do what they have always done - look for new sourcing locations that can deliver even lower costs.

SCDigest Says:

If conflict broke out in a relatively peaceful country like Ethiopia, it could set back progress on the continent for many years.

What Do You Say?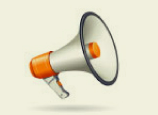 Now, that search is taking many of those companies to perhaps the last undeveloped region: sub-Saharan Africa.
The Wall Street Journal reports that several clothing giants are beginning to source in Africa, including PVH Corp., Walmart, J.C. Penney, Levi Strauss, H&M, Tesco and more. VF expects to start getting some of its pants sewn in Ethiopia later this year.
The allure? Still lower labor costs is certainly a big factor. Average monthly apparel factory wages in Ethiopia are said to be just $21, versus a whopping $67 in Bangladesh, and $150-300 in China, depending on the region, meaning China labor is 7 to 15 time more costly right now.
But it's more than just even lower wages in Africa than in Asia inside or outside of China. First, most African nations have free trade agreements with the US, reducing net landed costs even further. Electricity rates are on the low side on many countries as well.
Second, many African nations can grow their own cotton, simplifying supply chain operations versus manufacturing in the many Asian countries where cotton does not grow.
Ethiopia was recently identified as a top sourcing destination by apparel companies, according to a survey by McKinsey, making it the first time an African country was mentioned alongside more well-known low cost countries such as Bangladesh, Vietnam and Myanmar. Egypt also made the top 10 list. (See graphic below).
VF, in fact, has taken some unconventional steps to open sourcing from Africa, teaming with its biggest rival, PVH to invite some 20 existing suppliers from countries such as China, India and Sri Lanka on a 10-day trip in 2014, hoping to convince then to open factories in Africa. The suppliers were promised orders if they made such investments.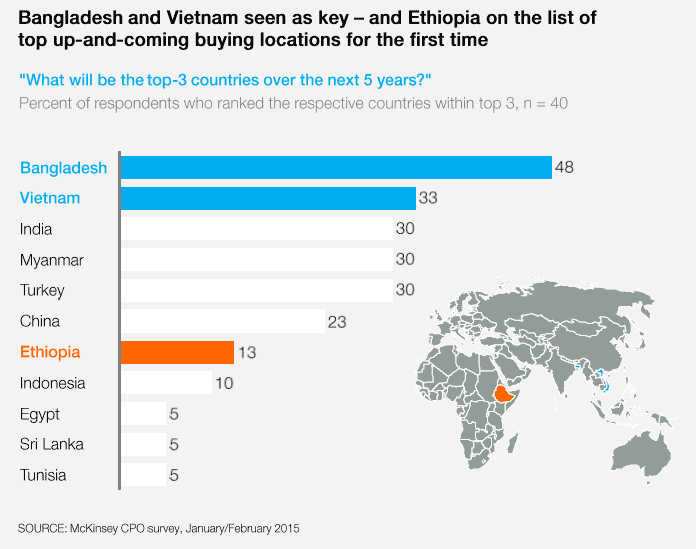 But it will take time. Despite much higher wages than other low cost countries, China was by far the globe's top apparel exporter, shipping some $177 billion of clothes in 2013, according to the World Trade Organization, nearly eight times more than No. 3 Bangladesh. Perhaps surprisingly, Italy held the number 2 spot in 2013, the last year for which WTO data is available.


(Global Supply Chain Article Continued Below)