From SCDigest's OnTarget e-Magazine
- Sept. 16, 2014 -
RFID News Round-Up for Sept. 16, 2014
Macy's Says Item-Level RFID Continues to Drive Value; Missouri Legislature Says No to RFID Student Tracking; Research Shows Benefits of Farm to Store Food Tracking Technology
SCDigest Editorial Staff
Below we summarize some of the top news stories of the week on RFID and Auto ID:
Macy's Says RFID Continues to Deliver Value, Scope to Further Expand
Macy's, among the first US retailers to widely embrace item-level RFID tracking in store, said this week it is gaining considerable benefits from the technology, and that it will soon expand use of RFID into new product categories.

SCDigest Says:

This would enable distributors to send strawberries to customer of a first expired, first out (FEFO) basis, rather than a first in, first out basis (FIFO) as is about universally used currently.

What Do You Say?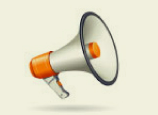 In a press release, Macy's said that it is "seeing tangible results from their adoption of radio frequency identification technology that began rolling out in 2011. Macy's, Inc. was among the first retailers to implement RFID on a broad national scale to improve the accuracy of item-level inventory counting, with an emphasis on basic size-intensive replenishment categories so the company can ensure that all appropriate styles and sizes are properly in place on the selling floor and available for sale."
It added that "In recent omni-channel pilots in fashion categories - social dresses, men's sports coats and men's slacks - Macy's documented RFID's ability to significantly improve sales, gross margins and markdowns by better leveraging inventory counts that are real-time and accurate. Additional rollout of RFID tagging in fashion categories is planned for 2015."
In parallel with this update, Macy's announced plans for piloting same day deliveries for on-line orders from eight of its Macy's stores and four of its Bloomingdale's banner location. On-line orders will be fulfilled locally from these brick and mortar locations.
Macy's has been offering buy on-line, pick up in-store capabilities for some time, which its CEO has said will in the end heavily depend on the in-store inventory accuracy RFID will bring. It can be assumed the same-day delivery service will also be heavily dependent on RFID as well, so that when a customer order is confirmed based on inventory records showing that item is in inventory at a given store that it really is there.


Missouri Passes Law Banning Student Tracking with RFID


There won't be any RFID tracking of students in the state of Missouri, after the legislature there overrode last week the governor's a veto of a bill banning such activity by the state's school systems.
Tracking of students as they move throughout the school, usually with either back packs containing active RFID tags or student badges similarly RFID tagged, has been growing - and controversial.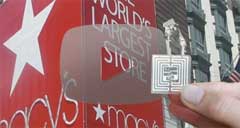 School systems say the technology can be used to reduce truancy - and do a better job counting students to qualify for additional subsidies from the state. Some consumer groups, however, view such moves as invasions of privacy, with the issue coming to a head in the San Antonio area last year when a female student was initially expelled for refusing to wear the RFID badge. The school system eventually abandoned the program. (See Maybe SpyChips Book had a Point, as Students and Parents Protest Personal Tagging at Texas Schools.)

Last year, concerns over privacy led Colorado and eight other states to end their contracts with inBloom, a start-up cloud service that stored student tracking data for school districts. 
"The ultimate concern is that we don't want to turn into a surveillance society," says Jay Stanley, a senior policy analyst with the American Civil Liberties Union.
In Missouri, lawmakers supporting the bill banning RFID technology said the legislation was necessary to block potential tracking programs before schools start investing taxpayer money into such technology.

(RFID and AIDC Story Continued Below)