From SCDigest's On-Target E-Magazine

- June 4, 2013 -
Supply Chain News: Lack of Clarity on Costs, Benefits Hamper Many MES Deployments
Too Many Companies Buy First, Figure Out Details Later, Gartner Research Finds
SCDigest Editorial Staff


Deployments of Manufacturing Executions Systems (MES) have long had a reputation for being challenged in many cases.
Is that due to the technology itself, or the details surrounding the decision to move ahead and the plan to achieve specific results and benefits?

SCDigest Says:

The research found that use of a COE, common in many other areas of enterprise software, is relatively immature as a best practice for MES.

What Do You Say?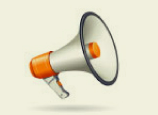 More the latter, it seems, based on a recent research note from Gartner analysts Simon Jacobson and Michael Dornan.

The research note and findings were based part of a survey Gartner performed in conjunction with MESA International, a trade group that in part represents the interests of MES providers. Typically, respondents represented large global manufacturing companies of 10,000 employees or more.
"A fuzzy understanding of cost, ROI and business case justification is the largest obstacle to achieving value," the Gartner analysts say. "It contributes toward and creates roadblocks in the form of competition with other IT projects and resourcing issues."
Almost unbelievably, the survey found that 63% of companies said that the biggest obstacle to MES deployment success was that the cost, business case or ROI for the project was not properly understood.
That was true in many areas of supply chain software through the 1990s and maybe early 2000s, but has been largely addressed in most other areas after that. Is manufacturing and MES really so mysterious even here in 2013?
Other barriers to MES success cited as high include "resourcing and personnel issues," and the related category that the MES deployments are "overshadowed" by the IT needs of ERP projects. (See graphic below).
Gartner notes smartly that the lack of clarify on goals and benefits itself may in fact be a prime reason why MES projects struggle with resource issues, as executives put resources where the payback is most clear.

The lack of a "clear understanding of costs and the measurable impacts on business performance that MES will bring are catalysts for other obstacles," Jacobson and Dornan say.
Interestingly, respondents who indicated they are using a "homegrown" MES application seemed to face less personnel and resourcing issues, as these projects tended to use local/site IT resources and be less dependent on central IT staff often caught up in big ERP efforts.
The Largest Obstacles to a Successful MES Strategy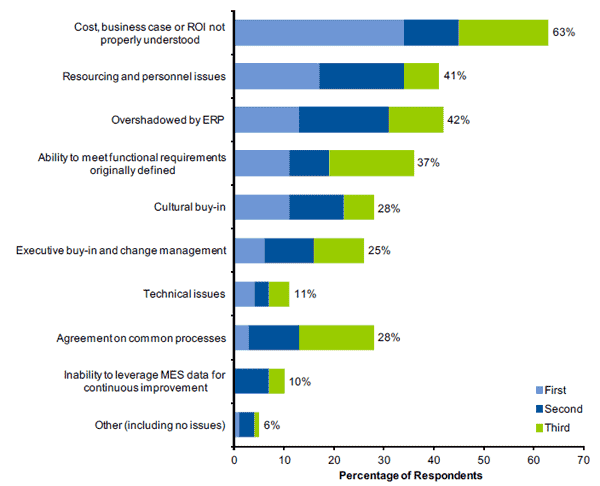 Source: Gartner


(Manufacturing Article Continued Below)