From SCDigest's On-Target e-Magazine
- June 19, 2013 -
Supply Chain News: The Three Traits that Define Procurement Leaders
Large IBM Study Identifies Key Characteristics of Best Procurement Organizations
SDigest Editorial Staff
What does it take for a company's procurement/sourcing organization to be world class?
Excellence in three areas, according to a new chief procurement officer study from the BM Institute for Business Value. The report was based on survey responses from more than 1100 senior procurement executives in companies across the globe greater than $1 billion in size, making it one of the largest such studies ever.

SCDigest Says:

It is probably not a surprise, but internal collaboration between the procurement organization and other departments and groups in the company is key to overall sourcing success.

What Do You Say?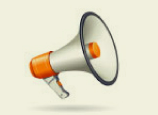 IBM says it has discovered three key points of differentiation that separate high-performing procurement organizations from the rest of the pack:

• Effective delivery of traditional procurement capabilities

• Influence within the enterprise over both purchasing and strategic decisions

• Identification of innovative ideas from a diverse range of inputs
It says just 15% or so of companies excelling in all three of these areas.
"Leading procurement organizations that combine fundamental capabilities with both influence and innovation unlock possibilities and potential that lagging organizations covet, but are unable to attain," the report says. "On the other hand, lower-performing organizations tend to focus on creating and improving basic capabilities. They work to build expertise in delivering spend savings and cost reductions to the enterprise, with many struggling to accomplish even this."
Impact on Profitability
The research indicates that procurement excellence has a direct impact on company profitability.
As shown in the chart below, for example, the 15% of companies that were considered procurement leaders had average profit margins of 7.12%, almost a full percent higher than the average respondent, more than half a percent higher than companies that had only achieved functional confidence in procurement (the "capable" group), and about 1.5 percentage points above the "emerging" organizations (those not reaching the capable stage yet in terms of the basics).
Procurement Excellence is Closely Associated with Improved Profitability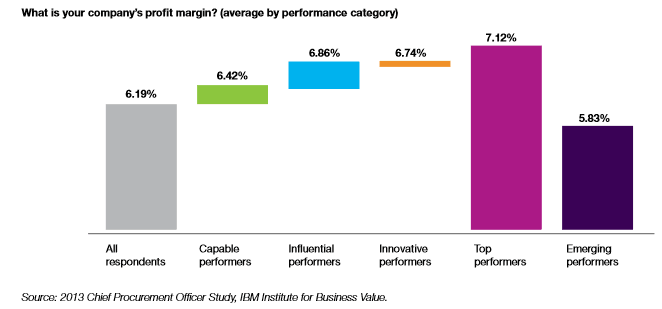 Not surprisingly, top performing organizations placed a much higher focus on procurement metrics and goal achievement than did less well performing companies.


(Sourcing and Procurement Article Continues Below)