From SCDigest's On-Target E-Magazine

- Oct. 17, 2012 -
Logistics News: 17th Annual 3rd Party Logistics Study Review and Comment Part 2


A Special Look at Supply Chain Innovation and Risk Mitigation Across Shippers and 3PLs
SCDigest Editorial Staff

As always the annual third-party logistics (3PL) study was released last week at the annual CSCMP conference in Atlanta, an effort led for the 17th consecutive year by Dr. John Langley of Penn State University, with support from Capgemini, Panalpina, eyefortransport, and Korn/Ferry International.
Last week, we summarized some of the core data in the survey of more than 2000 3PL users, non-users, and 3PLs themselves. (See Our Review of the Annual Third Party Logistics Study.)

SCDigest Says:

If a 3PL finds a potential source of innovation that would lower total supply chain costs but increase its costs, the current contract is often an obstacle to that innovation moving forward.

What Do You Say?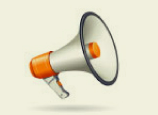 We continue in part 2 this week with a look at some of the more strategic issues the report usually includes to provide additional insight to the industry. Some of this additional insight came from the Accelerated Solutions Environment (ASE), a setting created by Capgemini for rapid analysis and decision-making with clients, where again this year a group of shippers and 3PLs met over the summer for a day to discuss a range of issues for this year's report.
One such topic was supply chain innovation, an area where companies generally have been putting more and more effort, especially in expecting their 3PLs to find innovated ways to reduce costs.
"3PLs and shippers can't simply continue to make incremental improvements to what they do now; constant innovation is required to discover new paths to growth and differentiation," the report notes. "But innovation is becoming more challenging as the logistics industry matures and markets become more global. Fundamental changes are required in 3PL-shipper relationships to create a foundation for the innovation shippers need to solve their supply chain challenges."

"Many 3PLs are too reactive," said Quentin Tse, formerly VP Network Strategic Sourcing, Ericsson North America, at the Accelerated Solutions Environment. "They need to become more proactive. 3PLs and customers need embedded partnerships where 3PLs are more strategically involved with their customers."

Of course, as noted in several previous 3PL reports, many 3PLs say the reason they can't get more strategic and innovative is because shippers hire them mostly for transaction-oriented work (e.g., transportation execution), and often fail to give them adequate information around their plans and strategies.

The report cited examples of shippers saying that innovation of just a continuous improvement variety is no longer enough.

"All of my 3PLs can innovate. This is part of the selection of partners," says Johan Jemdahl, Vice President, Supply Chain Operations EMEA, at Cisco Systems. "But it's about disruptive innovation and how providers can help us change the game to improve our supply chain."

That describes a very challenging wall for 3PLs to crawl over for sure - and one we would argue is exceedingly tough for shippers or 3PLs to achieve, though certainly to get there requires tighter collaboration and information sharing than characterizes most relationships today.
The report also notes that performance metrics can often be a barrier to 3PL innovation. For example, if a 3PL finds a potential source of innovation that would lower total supply chain costs but increase its costs, the current contract is often an obstacle to that innovation moving forward - and who wants to redo the contract in midstream? The sort of regular cycle of standard 3-5 year contracts is a hard pattern to change, said one shipper executive.
Given all that, there is a modest but probably understandable disconnect between shippers and 3PLs on the sources and drivers of innovation, as seen in the chart below.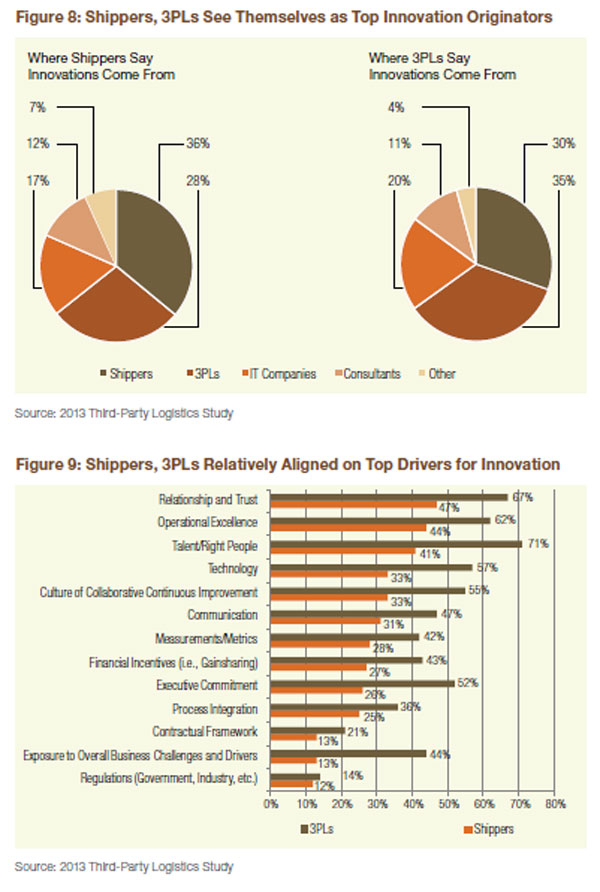 As can be seen, 36% of shippers say innovation usually comes from themselves, versus 28% saying 3PLs are generally the source. Conversely, 35% of 3PLs say they usually drive the innovation, versus 30% citing shippers. But these figures are really not that different, and it is probably natural that each side would think it deserves a little more of the credit.

On innovation drivers, the ranking of a selection of drivers is in general pretty close across shippers and 3PLs, but the percentage selecting a given driver tends to be much higher for 3PLs. For example, while "relationship and trust" was the number 1 ranked driver for shippers and number 2 for 3PLs, 67% of 3PL respondents selected this driver as important, versus just 47% of shippers (which to us seems unusually low - how can you innovate without good relationships and trust?).


(Distribution/Materials Handling Story Continues Below )